There's still time to do-up some patio or pathway containers that are not only spectacular, but water-wise too. Look for drought-tolerant plants such as succulents, grasses, and lavenders. Create displays that are as simple as this bottom-of-the-sea inspired combination of echeveria and Oracle Stonecrop. (Be sure to provide good drainage.) Alternatively, use a layered mix of spillers and thrillers. Here are three containers we're crushing on, along with the "recipe" for each.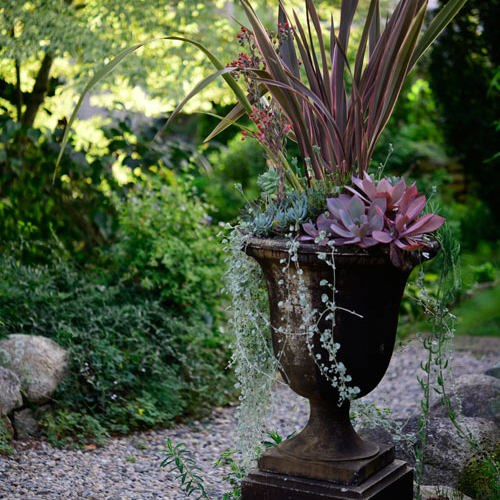 Dark Shadows
What: Inspired by the dark bronze hue of the container, pink and purple tinged plants add depth against silvery accents. (This one's tinted cast concrete, but a can of spray paint also works wonders).
Ingredients:
Care: Once established this grouping needs only occasional water to thrive. Provide good drainage (toss a large handful of gravel in the bottom of container) and place in full sun.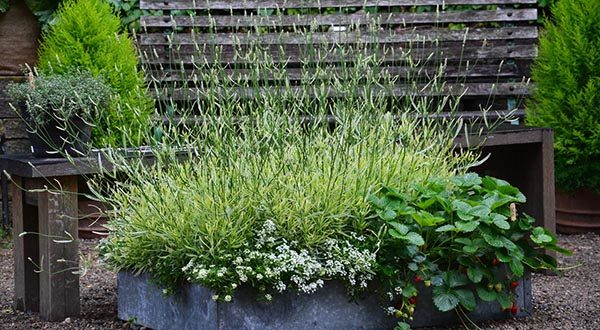 Kitchen Garden
What: A low zinc trough is filled with a mix of perennials, annuals, and edibles. For a container that's a sweet summer treat.
Ingredients:
Care: While lavender and alyssum require less frequent waterings, strawberries need more moisture. Installing a simple drip irrigation system is a good solution.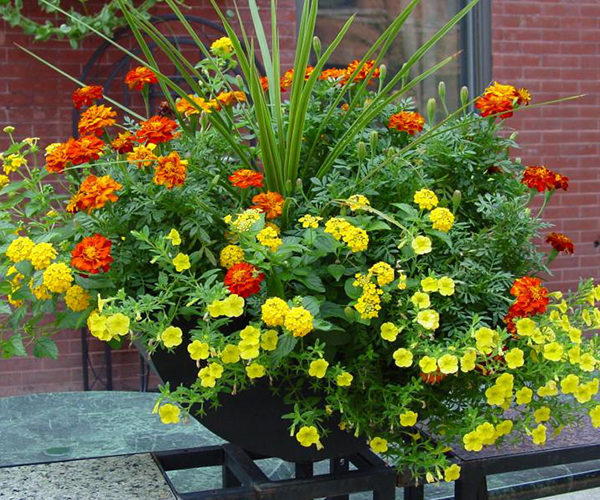 Color Me Happy
What: Not everyone loves succulents and that's okay. There are annuals that are water-wise and add brilliant color to the mid-to-late summer garden.
Ingredients: 
Care: These are sun-loving plants that can take the heat and still bloom like crazy right into fall. In colder zones these will be annuals, while in warmer climates, several are perennial. Water deeply and thoroughly weekly (more often in extreme heat).
More Waterwise Plants Perfect For Containers