Lantanas and lavenders are lovely in pots set in full sun, but how about something different to jazz-up hot spots? We've got five easy-care shrubs that are a just-right fit for pots. Some might be entirely new to you while other are compact versions of plants you already know and love. Each is lovely, refined and perfectly scaled that you don't need to create mixed planting that needs primping all season. We call them "one-pot-wonders." Plant once, enjoy with minimal care all summer long. These will require water and feeding, but otherwise, they're happy left to their own devices.
We've chosen plants for a wide range of zones, but know that many of you face fierce summer heat. If you need specific recommendations for hot spots in your yard, please don't hesitate to leave a comment. We can help! (Check out this post for other plants that might work in your zone. Not sure of your zone? Map here.)
You'll find a dozen places for this compact, spreading version of this heat-loving beauty, but it's a show-stopper when left to trail over the edge of a container. And, it's vibrant flowers bloom longer than most bougainvilleas. Zone: 10 – 11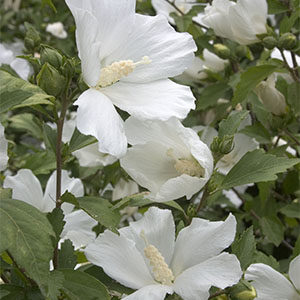 You'll need a large pot and plenty of room, but if you need something AMAZING to anchor a bed, soften a corner, or dress up a wall, this easy care beauty rewards with large, pure-white flowers that bloom abundantly and continuously all summer long. Zone: 5 – 9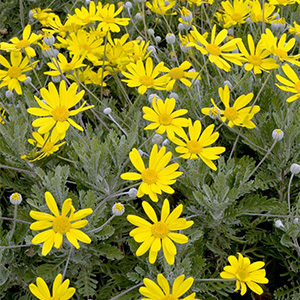 Yes, you see its larger sister everywhere, but for a good reason — bright flowers nearly year-round. We've scaled it down to a dwarf and compact size. Still boasts the blooms, but fits an 18-in. pot, perfect for where you need a shot of happy color. Zone: 8 – 11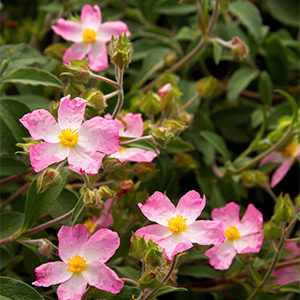 An under-utilized gem for pots in hot, sunny spots. An elegant, refined shrub with grey-green evergreen foliage and loads of rose-like, single, pink flowers that bloom for months. And, bees, butterflies and birds love it. Zone: 8 – 10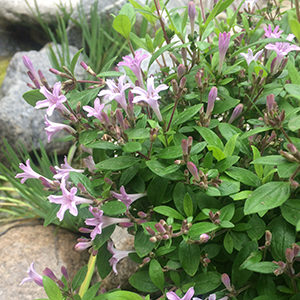 It's rarely seen in gardens, much less pots, but you're going to change that! Compact flowering-machine that's clothed in fragrant, violet-pink, lilac-like blooms from late spring to frost. Might slow down a bit in high summer, but back in fall. Zone: 5 – 9
Summer Container Care Tips
Pot up to a larger container which increases room for lots of roots and provides more soil for holding moisture.
Use a high-quality potting soil and consider adding water-holding crystals to the soil mix. Allowing soil to dry out is the number one way to stress and damage your plants.
You'll be watering frequently which leaches nutrients at a rapid rate. Feed regularly with a diluted liquid fertilizer (we like fish or seaweed emulsions).
Group container where possible to allow the pots and plants to shade each other, especially in hot, afternoon sun.
When possible, give plants some shade during the hottest part of the day. This is more about reducing your watering chores than impacting the plants.
Speaking of watering, make sure to thoroughly moisten the root ball. Best way is to water once, let drain, water a second time, and top off with a third drink. Too much? Drip irrigation kits for pots are not expensive and readily-available at garden centers. Add a timer for even less work!
Top off with a few inches of mulch. It not only adds a finishing touch, but it really does help to hold moisture.