Who says winter gardens have to be boring? With a little long-term thinking, your garden can be interesting all year long, no matter where you live. It's all in the planning.
This Pacific Northwest garden is a beautiful example of how well thought out combinations can draw the eye, add a welcoming come-and-sit-down feel, as well as surprise and delight. Combining colors and forms, both contrasting and cohesive creates big impact. These combinations give the space a sense of belonging and draw the eye to different areas of the design.
Color Combinations
The color combinations in this yard offer a host of design lessons. The contrasting colors of Little Rascal® Holly in its winter hues, paired with Splendens Thrift in its "off" season are beautifully matched with the dark container and the deep colored Coral Bells in both front and back. These two varieties continue show off as spring transitions to summer. The holly turns a crisp green, and the thrift boasts beautiful deep-pink springtime blooms, giving the garden a sense of change. The deciduous Emperor I® Japanese Maple keeps the transition cohesive as purple colored leaves emerge in the spring.
Color and form come into play with Grande™ Black Coral Bells planted with Ice Dance Japanese Sedge. The dramatic dark-burgundy color of the Grande™ Black Coral Bells' crinkly leaves provide a bold companion for the spiky green sedge. It's not just the color that is captivating. The sharpness of the Sedge is softened by the almost fluffy mounded Coral Bells. The placement of both varieties is contrasting and eye-catching.
"The plum colors in the garden add a fun contrast and give the space a sense of moodiness," says Justin Hancock, Monrovia Horticultural Craftsman. "The use of plums versus the typical hot colors of orange or red make the garden unique."
It's not just the plants that add color elements to the garden. The warm golden mulch creates a design element all on its own, contrasting with the gray of the stepping stones, yet tying in with the rustic wood in the rocker and the coppery ends of the container grasses.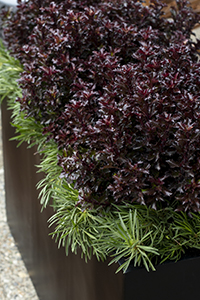 Winter Container Garden with Little Rascal Ilex and Splendens Armeria
Combining Form
The concave stone birdbath ties the stonework and the pathway together, giving them defined purpose. While the Elijah Blue Fescue takes on the look of organic steppingstones.
We love the different forms of evergreens in the garden. The unique shape of Weeping Blue Atlas Cedar and Burly Blue™ Juniper add a natural element to the fence and stones. The spruce adds a touch of playfulness while the juniper stretches out in the landscape and provides an unexpected choice in the container. The repetition adds a sense of organization to the space. "Repetition is a secret weapon in garden design," says Justin. "It gives the eye a natural way to move through the garden."
The addition of warm, white lights and candles are not only utilitarian, they add to the comfort of the space and make you want to linger.
One of the most surprising elements of this garden is that there isn't a single bloom to be found at this time of year. "Yet, it is still a really beautiful space," says Justin. "When you're working with foliage you don't have to worry about things going in and out of bloom." Even if you've planned out plant combinations specifically for bloom time, Mother Nature may not be in sync with your schedule. Foliage allows you to create color in your design even without blooms, ensuring there is always something beautiful to enjoy.
We'd love to hear what you think about the design. Share your thoughts with us!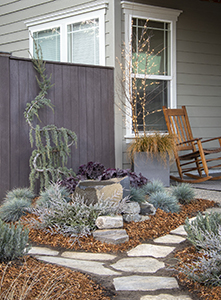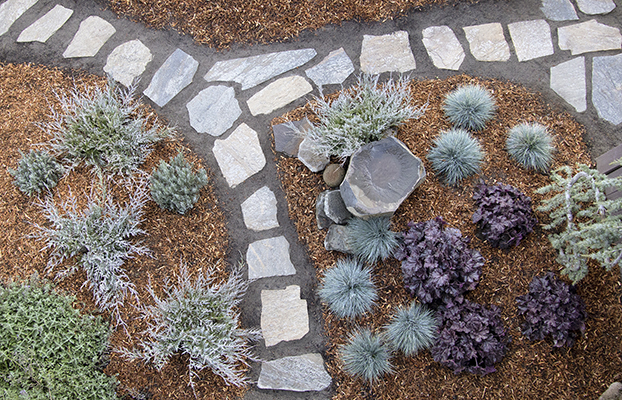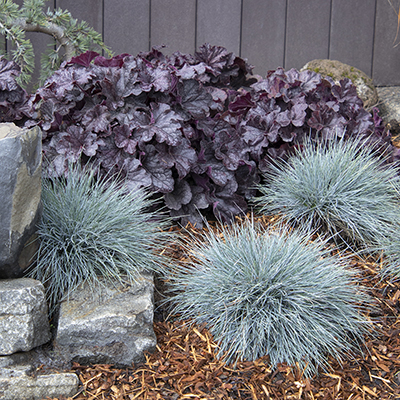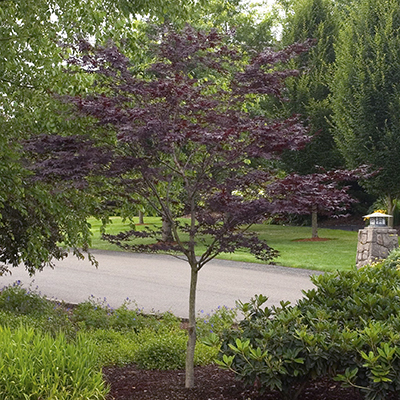 Zone: 5 – 8
Emperor I® Japanese Maple shows off beautiful, purple-red foliage in spring and summer that turns eye-catching scarlet come autumn. It enjoys full sun or part shade and grows 15 feet tall and wide.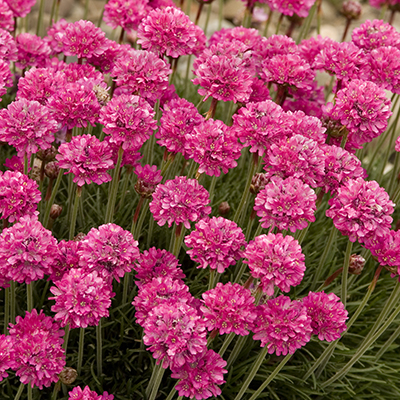 Zone: 3 – 9
This easy-care perennial bears grassy green foliage that stays evergreen in mild climates. Come spring, it bursts into bloom with charming heads of purple-pink flowers. It enjoys full sun and grows 12 inches tall and wide.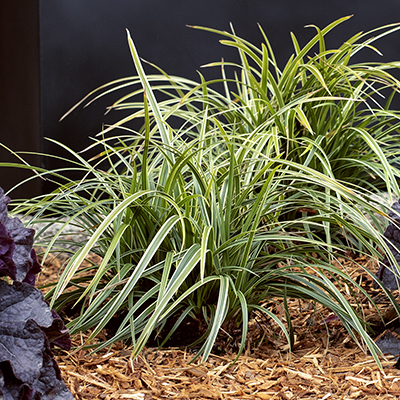 Zone: 5 – 9
A semi-evergreen perennial, Ice Dance sedge features fabulously variegated grass-like foliage. Over time, it slowly spreads to become an easy-care groundcover. It enjoys part shade and grows 1 foot tall and several feet wide.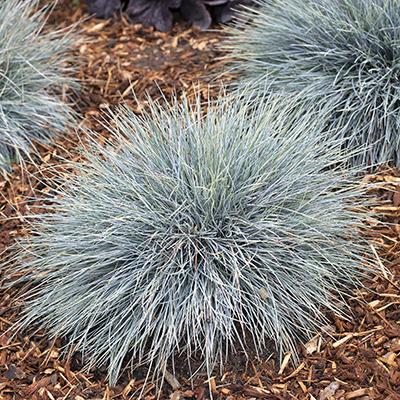 Zone: 4 – 11
An outstanding ornamental grass, Elijah Blue Fescue features silvery-blue foliage from spring to fall. In mild-winter areas it stays evergreen; in colder climates it goes dormant. It enjoys full sun and grows 12 inches tall and wide.
Zone: 4 – 9
Big and bold, this selection is loved for its large and darkly colored burgundy leaves. It thrives in cold climates and tolerates heat and humidity. It's evergreen in mild-winter climates. It enjoys part shade and grows 24 inches tall and 18 inches wide.
Zone: 5 – 9
Little Rascal® Holly is an evergreen shrub with bright green foliage spring to autumn. Come fall, the leaves go a luscious shade of burgundy purple. It enjoys full sun and grows 24 inches tall and 36 inches wide.
Zone: 3 – 8
Hardy, drought-tolerant, and low-growing, Burly Blue™ Juniper has it all! You can count on it to add year-round impact to your garden. It enjoys full sun and grows 24 inches tall and 96 inches wide.
Zone: 6 – 9
Weeping Blue Atlas Cedar is a dramatically different form of Cedar. Its weeping branches add an elegant, graceful look to the garden all year long. It enjoys full sun and grows 20 feet tall and wide.