Golden-yellow leafed plants brighten the landscape. Imbuing spaces with either a radiant luminosity or a splash of instant sunshine, depending on the hue.
Ranging from chartreuse to molten, they have a complexity that adds depth and contrast while meshing companionably with other colors.
It can be true that a little of this color goes a long way. However, experiment with a few of these that add the Midas touch to your garden.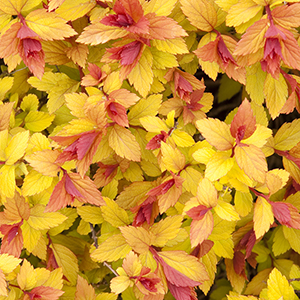 Clusters of small pink flowers contrast with bright gold mature foliage that turns rich russet red in fall. Use to brighten and fill in beds and borders. Full sun.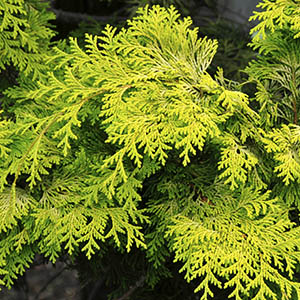 Sprays of feathery bright golden-yellow foliage distinguish this tall conifer noted for exceptional winter color. Great for a fast-growing screen. Partial to full sun.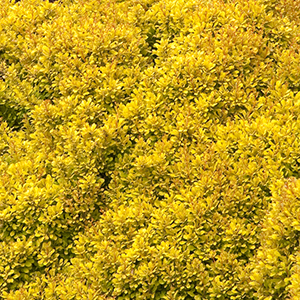 Radiant, non-burning foliage with a golden-orange cast most of the season. Compact form; adds punch to low borders. Full sun.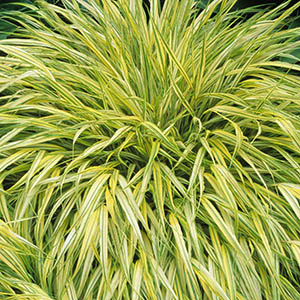 Foliage emerges in spring, with slender stems holding bright yellow leaves with thin green stripes. Useful as a groundcover or in a pot. Partial sun.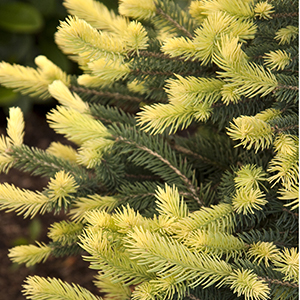 Heralds spring with bright yellow-gold new growth in stunning contrast to the mature blue-green foliage. Ideal for accent, windbreak or screen. Full sun.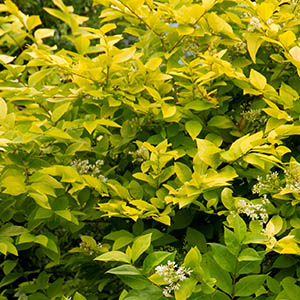 Unusual, golden-hued deciduous privet is beautifully colored. Both during the growing season and in the fall when it takes on a fiery tint. Ideal for tall hedge. Full sun.
Large, tall, evergreen upright shrub with golden yellow foliage provides multi-season interest for an easy-care, colorful hedge. Partial to full sun.
New growth unfurls yellow to burnt orange; fall foliage displays shades of gold to red. Right sized for small gardens with limited space. Partial to full sun.