Ah, the allure of a path billowy with flowers, plumes, foliage, herbs, and groundcovers. They have made their way from adjacent beds over edging and across pavers. Navigating it requires a slower footfall and much meandering. Hands brush over lavenders and ornamental grasses. It's straight out of the English garden playbook. But how to get this look without ending up with a border that looks like you've forgotten to tend it? The trick is to design so that it's soft and undulating, but also with just the right amount of structure. Here are some of the best ideas we've seen for pathways that feel natural.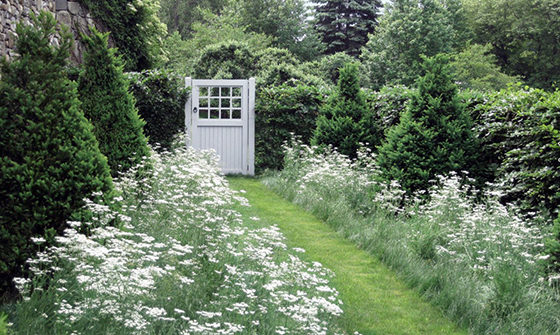 Mow right through it
Perhaps the simplest (but romantic) way to create a path is taking a mower and plow a walkway though it. In this walled courtyard, beds of Queen Anne's lace soften the impact of the formal sheared conifers. It's color connects to the white of the gate. Have a side yard and want something easy but drop dead? This might be it!  (Also works with daisies and ornamental grasses.)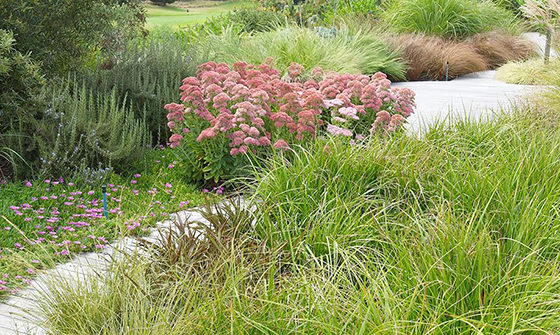 Plant in wide swaths
Grasses are a natural foil to create the juxtaposition between man and nature. They sway and swirl while instinctively nestling up to hardscape such as this plank boardwalk. Rather than a bit of this and that, try massing various grasses (tamed only by pink-flowering sedum 'Autumn Joy') to add a seaside vibe. This border uses only three grasses (dwarf maiden, dwarf fountain, sea oats) interspersed with a bit of groundcover for a visual break.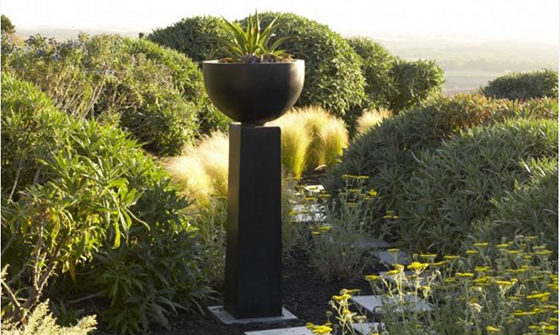 Mix metaphors
Billowy pathway borders do not solely belong to the cottage aesthetic. This modern urn and mounds of echium demonstrate how to add the call of the wild to even streamlined designs. The device used here is to focus on a few plants and mass them for impact. Also to balance it out with the use of contemporary hardscape materials. Adding the softness are yellow-flowers yarrow and Wind Dancer Lovegrass. The bonus here—low-water and low-maintenance!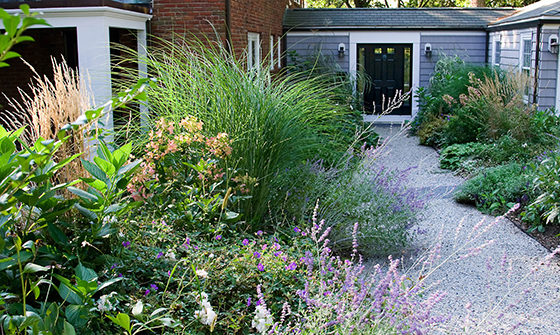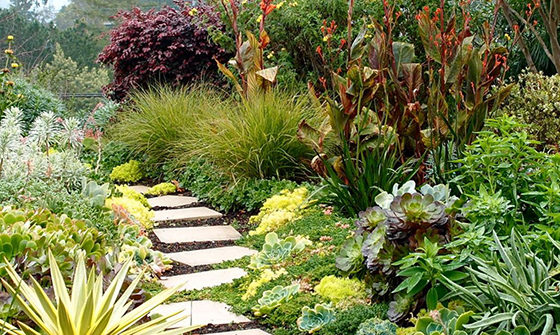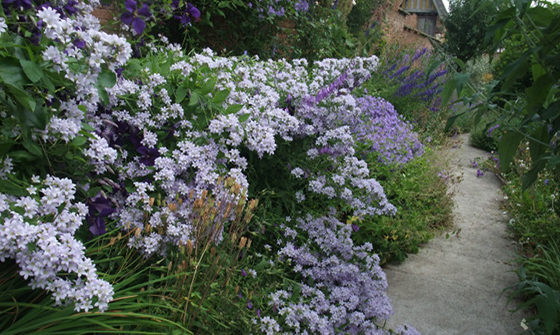 Embrace Sensuous Disarray
This idea is for you! If you have stretches of blank walls along paths and you don't want to spend hours tending to perennial borders. Train vines in a single color, such as these three different purple clematis, to start cladding the walls. Once the main stems are in place, let new branches grow where they like to create this frothy fullness. Add other plants for texture (here delphiniums and cranesbill geranium), and then just let it be.
Things to Remember:
Put away the clippers. Remember you love this look. Nothing worse than a tidy, pruned pathway that's meant to spill and sprawl.
Unless you're intending to have ONE BIG MOMENT, layer in a few plants. Ones that will look great before and after the main event.
When in doubt, a few flats of annuals tucked into blank spots does the trick!
Start Planting Your Border!