Poor agapanthus, choice plant of curbside gardens in lots of warm season zones. It's not her fault that she's so useful, easy-to-grow, and brings a whimsical elegance. However, in being so, she suffers from a case of over-familiarity. Let's rethink this wonderfully versatile perennial. Mix it into all kinds of landscapes and picking varieties with a range of colors and sizes. We'll start right here with white-flowering agapanthus that delivers the "shock and awe" element of this modern landscape. This is done by poking up between sheared boxwood balls and tufts of ornamental grasses. Wow.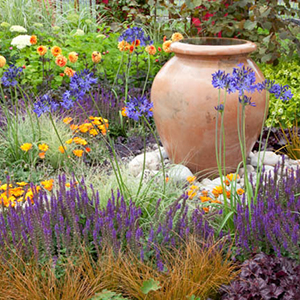 In a Cottage Garden
Because agapanthus has such an elegant form, it's often used in a more formal garden. Although, look at it here, living it up in full, fluffy cottage-style garden. Fabulous!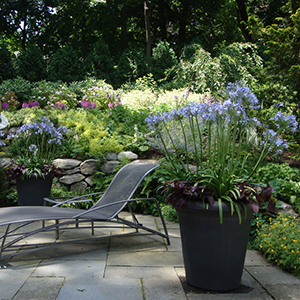 In a Contemporary Setting
Packing a simple container with tall-stemmed agapanthus plays off the modern-but- warm mood of this garden. The blue flower amps up the nearby bluestone paving.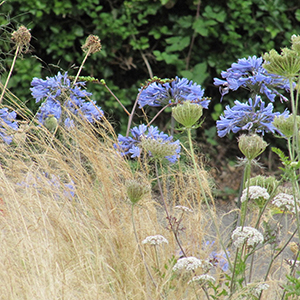 In a Natural Setting
Blowsy grasses, seed heads of wildflowers, and stands of Queen Anne's lace might not be your first thought with agapanthus. However, this smaller-flowering variety is relaxed and at home there.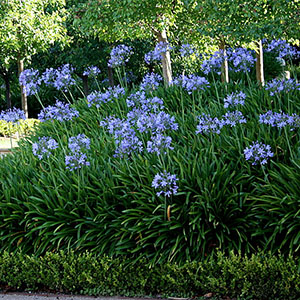 In a Single-Hue Border
With nothing of equal or taller height to compete, agapanthus becomes the main event in this totally eye-popping pathway border. Even the strappy foliage adds to the playful tone.
Intrigued? Here are some of our favorite agapanthus.