If you live in a warmer zone, gardenias are just one of the much-envied garden treasures you can grow. Once planted in partial to full sun, in organically rich, slightly acidic, well-drained soil they love (yes, they have needs). Given a few years to settle, they bloom on repeat from late spring through early summer.
But what if you could have a gardenia that performs better?
Monrovia is the only grower who offers a range of grafted gardenias. Gardenia varieties are improved when grafted onto Gardenia thunbergii rootstock. This is due to its superior root system and its resistance to root-knot nematodes.* A key benefit to the southeastern part of the United States. This vigorous rootstock is also more efficient at soil nutrient uptake.
If you've had troubles with gardenias, consider trying one of these four varieties. And let us know how they did in your garden. If you have questions, let me know! Oh, and if you need inspiration for using your gardenias in cut flower arrangements, here are a few ideas.
*While most nematodes–translucent, unsegmented worms –are beneficial, a few species of these are plant parasites.
First Love® Gardenia (Grafted)
Fragrant white blooms are larger than any other gardenia and the first to bloom. A superb evergreen landscape accent or container plant for courtyards or patio. Up to 8′ tall and 6 ' wide. Partial to full sun. Zone: 8 – 11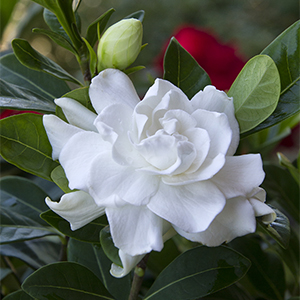 Smaller in size (so good for containers and borders). Although that same profusion of fragrant white blooms with glossy evergreen foliage. Up to 4′ tall and 3′ wide. Partial to full sun.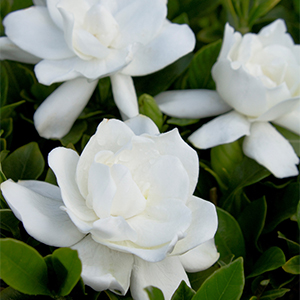 A prolific bloomer with large, double, sweetly fragrant, velvety white flowers. Medium sized, it's ideal for mixed borders or a low hedge. Up to 5′ tall and 3′ wide. Partial to full sun.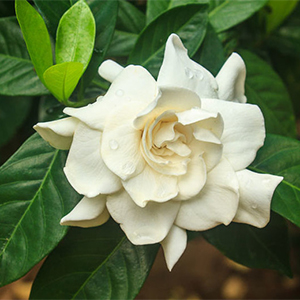 This most popular, upright Gardenia is an excellent single specimen capable of scenting an entire courtyard or patio garden. Shady foundation? Wow. Up to 5′ tall and 3′ wide. Partial to full sun.