North American native butterfly weed (Asclepias tuberosa) has been named the Perennial Plant Association's 2017 Plant of Year.
It's easy to see why! Butterfly weed combines brilliant beauty, hardiness, and is beloved by pollinators. (Zone: 4 – 11). Here's one of our favorites for you to plant this season.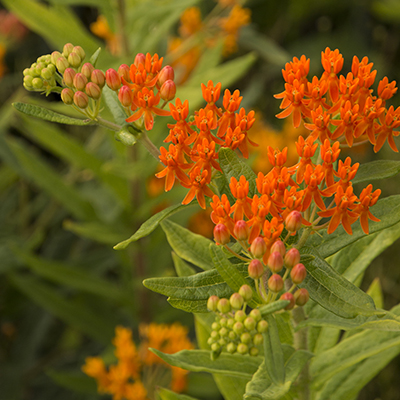 This easy-care, well behaved plant has fiery shades of red, orange, and yellow. Plus, it needs little attention and provides wonderful high summer color. Ideal for meadows and borders.
Five reasons to add butterfly weed to your garden:
Bright orange flowers are a

 

nectar source

 

for many butterflies.
Strappy leaves are a

 

food source for monarch butterfly caterpillars.
Rarely subject to

 

serious insect or disease problems.
Deer usually avoid

 

butterfly weed.
Grows in full sun and is one of the best

 

water-wise

 

plants.
Ring the dinner bell for bees and butterflies by planting butterfly weed along side other pollinator-magnets. Try these: butterfly bush, bee balm, and coneflower.
More Butterfly Weed Options!