Roses and clematis. Clematis and roses. Just a match made in horticulture heaven.
Not only are they one of the most classic combinations, they're highly compatible in several key areas. This includes sunlight, soil, water and nutrient requirements, which makes them pretty easy to grow. Select a site in full sun with evenly moist but well-drained soil and prune in early spring. Then, feed monthly with a diluted liquid fertilizer such as fish emulsion (these plants love it!).
Among many varieties of roses and clematis, it's easy to find plants that will flower together from spring through fall. The easiest way to ensure that your clematis and roses bloom together is to plant roses that are continuously flowering. (Varieties such as this Sweet Drift® Groundcover Rose or older ones such as New Dawn are good candidates.)
You could truss up your perfect pairing onto a trellis. Although, consider letting them spill and sprawl over a wall or raised planter as seen here. The effect of a waterfall of flowers is simply magic.
Love the look but only have a container? Try these together.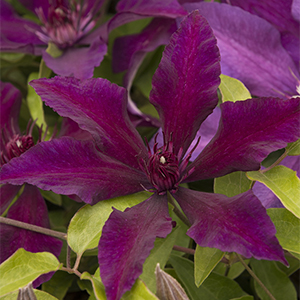 Topping out at only 4-ft tall, this prolific, compact climber offers show-stopping large, purple flowers over a long season. Zone: 4 – 9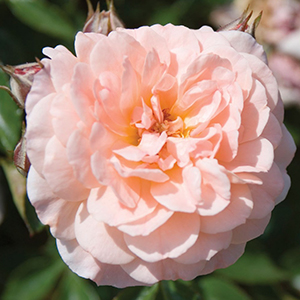 Clusters of apricot-colored flowers begin blooming in spring and carry on right through summer. Tumble to just 3-ft, so pot-perfect. Zone: 4 – 11