Overlooking Puget Sound, this half-acre woodland garden accompanying a sprawling log cabin is a lush, textured sanctuary punctuated with color. We asked designer Susan Calhoun to share her process of creating the woodland garden (located in Zone 7 – 8a), along with some of her favorite plants. She also shared tips for how to go about creating your own garden from scratch. 
Join us on this serene tour through a beautiful woodland garden, and an in-depth conversation with a designer who is an expert at creating them. 
Q: What did the garden look like before you started working on it? 
Susan: The owner of the property was a new Bloedel Reserve board member.   His intent was to hold events at his new home to do fundraising and he wanted a garden that would reflect the curated plant pallet that visitors to Bloedel would expect to see. 
I knew the Horticultural Manager who was in charge of plant procurement at Bloedel, and asked to purchase some of the rare plants from there to add to this garden.  We were only able to get a limited amount, and we sourced similar plants from Monrovia to complete this lush, beautiful garden.
Q: What inspiration did you take from the site? 
Susan: I was inspired by the large, century-old trees that were at the site, and the sounds of eagles and osprey winging through the trees to watch.  This is a very special piece of forest that deserved a garden that blended with it.  Key elements of evergreens, dogwoods, and native plants were existing.  Using more of the same from Monrovia added to the privacy that the owners craved.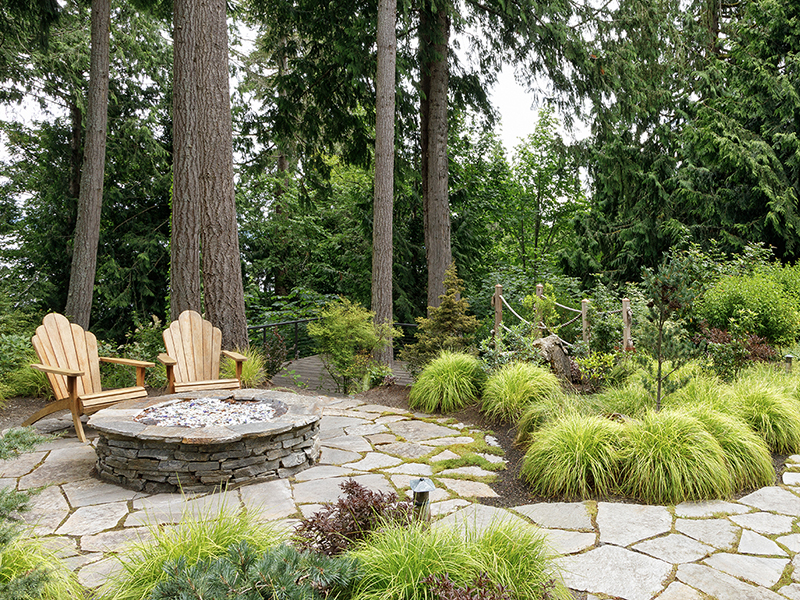 Q: What's another consideration you have, especially when starting a garden? 
I had to keep in mind that a couple with grandchildren and dogs live there, so we made it dog- and family-friendly.
As for the design, I like to start with circulation. Where do you want to go? How do you want to get there? I make sure there's access. Then you can build the beds. In this garden, I made sure that a pathway came down from the big steps leading down from the deck.
There's a path to the bridge, which allows access to a deck where a tent for sleepovers is staged. There's also a firepit among the big trees and a Japanese soaking tub. All of these needed paths that created circulation. Plus, the owner told me how many people he planned to entertain. I needed to make sure people could wander through the whole garden. I start with that circulation through the garden, and then I layer from there. 
Q: Were there any challenges in working with this particular site? 
Drainage was a real issue here because of the clay soil. We installed a lot of French drains to dry it out. It did have a lawn in the area where the Miscanthus (Maiden Grass) is, but it never looked its best because it didn't get enough sun. So, we took it out and created a lawn over a septic system instead and that was sufficient for the dogs. 
We did a lot of soil amendments because of the acidic clay soil. Twice a year we'll mulch it with a compost mulch. We're feeding the soil at the same time as breaking up that clay. After a couple of years, the soil's now a lot better.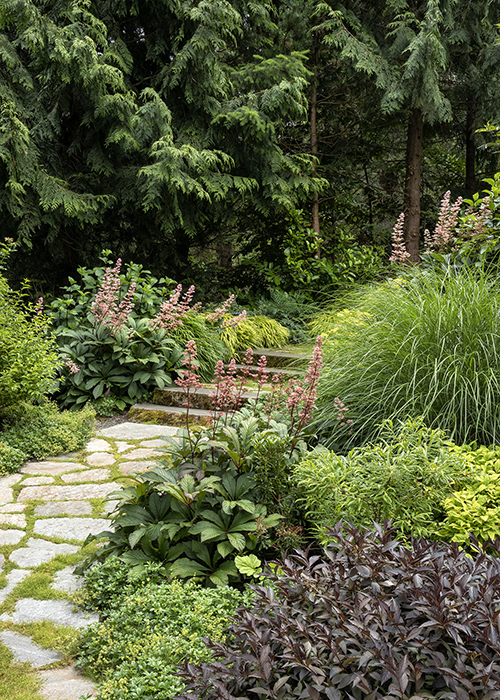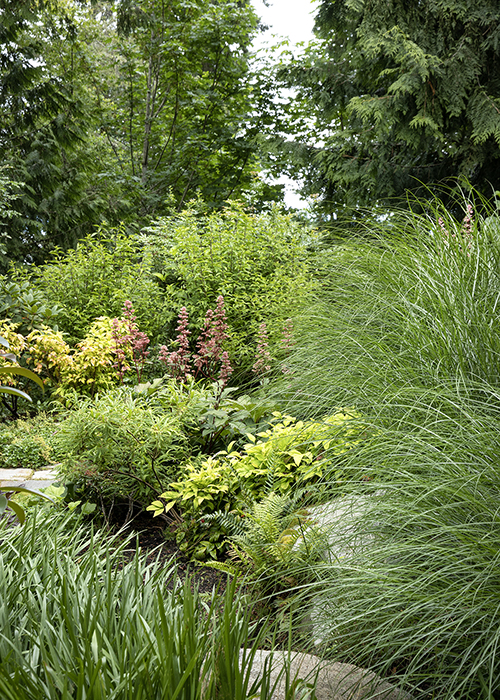 Q: The space is very striking and full of charming contrasts between the softness of many of the plants and the hardscape that includes paths lined with pavers, a firepit with Adirondack chairs, a little footbridge, and a Japanese tub. What were you thinking about in terms of both the overall impact and the little moments that occur in a garden? 
One of my goals as a designer is to create a space that people want to be in.  This garden has little places to stop and enjoy the garden, places to discover, because it isn't viewed all at the same time, and places to sit and rest while immersed in the garden. Connection with the natural world is important in our busy lives and this garden creates that connection.  
This house also has a wrap-around deck where much of the entertaining starts. The view from above needed to be amazing as well. I call this a top-down garden. Using natural-looking plants that look good from overhead as well as from a path or sitting area gives a whole other perspective of the garden.  This will draw visitors into the garden to experience it up close and personal.  Sweet pops of color like Astrantia (masterwort) and rare orchids, with tassel ferns that look like palms from above make the garden a place you want to explore. 
Q: Do you have a specific aesthetic with specific plants you like to incorporate in your projects, or do you approach all of your projects with unique solutions? 
Every site is different and every client is different. I do a lot of exploration about both. The client has specific needs and wants, ranging from color choices to maintenance choices.  I spend time listening to the client and assessing their needs before I choose plants.  Who uses the garden is also important, and the timing of the use is as well.  These clients are mostly here during the summer and have grandchildren and dogs to consider.  
Assessing the specifics of the site like soil and exposure is the next step.  Plants need to thrive here not just survive. In this case, the addition of tough, dog-friendly plants was necessary to steer playful romps away from more precious plants.  Planting non-poisonous plants, with limited berries was also on my list of cautions for children. I have good plant knowledge and using a company like Monrovia for its many choices makes it easy to source plants. 
Get the Look with These Plants
A large, lush mound of unique, round, deeply divided, toothy, green foliage with bronze-colored margins, and exquisite deep reddish-pink plumes in summer. Use in woodland or bog gardens as a bold flowering accent. Thrives in damp areas of the woodland garden. Partial to full sun. Up to 3' tall, 5' wide. Zones 5-8. 
A graceful, colorful groundcover for shaded borders and container gardens. Slender stems holding bright yellow leaves with thin green stripes create a tiny bamboo-like effect. Foliage becomes pink-tinged as the weather cools in autumn. Naturalizes well; clumps spread gently. Up to 18" tall and wide.  Zones 4-9.
Rosy-pink flowers add a touch of romance when displayed against the dark glossy foliage, which contrasts beautifully with the rosy-pink flowers, making for a high-impact display in the garden. This variety produces copious amounts of flowers in spring and will re-bloom throughout the summer. Partial to full sun. Up to 5' tall and wide. Zones 4-8.
This deep shade-loving fern produces two distinctly different types of fronds on one plant: evergreen, outward-reaching sterile fronds with denser leaflets, creating a slightly flattened rosette year-round, and stiffly upright, fertile fronds with narrower, less dense leaflets that last through summer. Partial to full shade. Up to 20" tall, 24" wide. Zones 5-8. 
Highly ornamental clumps of green and creamy white striped blades, perfect for a continuous display as edging or a groundcover. Dainty spikes of gold flowers from late summer to fall. Grows in full sun in cool climates; best with some shade in hot, dry locations. Partial to full sun. Up to 18" tall and wide. Zones 3-9.
Vivid golden yellow flowers held on stems in open, airy sprays above the scalloped, shiny, gray-green leaves. Its creeping habit and form are valuable for edging a border or along flagstone paths. Partial to full sun. Up to 2' tall and wide. Zones 3-9.
Q: So, there are points of contrast—with color and texture. What about repetition? You seem to create rhythms with plants in this garden. 
I do like to focus on texture in plantings.  Using differing sizes, types of leaves, bloom time, and evergreens are good ways to make an interesting garden that looks good year-round.  Using bulbs and fall color keeps the interest going from early spring to late fall.  In shady areas like this forest, variegated plants often play a key role in keeping things light.
Repeating a plant at intervals along a path makes people feel relaxed as they walk. Single plants, focal points,  then stand out and your eye can rest between. Grouping plants in a sweep also creates drama. A mass of ferns creates a mosaic of pattern from above, and you can look across them to other areas of the garden because they are in a low sweep.  An added benefit of repetition is the ease of maintenance.  Beginning gardeners know what to do with a plant that is repeated so it makes it easy. 
Get the Look with These Plants
Graceful, airy mounds with plumes of snow-white, feathery flowers. Works well in pots and tubs. Creates a very showy landscape accent in moist areas, such as around pools and water features, in a shaded to dappled shade setting. Full to partial shade. Up to 1' tall, 3' wide. Zones 4-9.
A dome of tiny florets with a collar form unusual deep reddish purple flowers on black stems. Basal, divided foliage spreads by underground runners to form a dense clump. Ideal in the perennial border, along streams, or naturalized under trees. Partial shade to partial sun. Up to 24" wide, 28" tall. Zones 4-7.
This versatile, compact form of maiden grass makes a great accent in smaller gardens and is gorgeous massed in larger-scale landscapes. Flowers at an early age. Showy clumps are topped by silvery white blooms in summer, which persist as the foliage turns golden bronze in autumn. Partial to full sun. Up to 4' tall, 3' wide. Zones 5-9.
Susan

 on the Importance of Good Soil—and How to Get It

 
Good soil is the basis for your whole garden.  It's important to choose the right plants for your soil, as well as be a good steward of your soil and make sure it has what it needs to grow healthy plants. 
You could do a soil test to determine if it's alkaline or acid, or what the pH is. But you should take a look at the site and see what's growing, even if it's weeds. For instance, if you get chickweed growing, that means you've got great, airy soil.  
And don't believe it when someone tells you that you can't change the structure of the soil, even clay, even sand. If you use compost, if you regularly amend it and get earthworms in there, you'll bring the soil alive. It just takes effort.  
Good soil is also the best way to deal with garden pests. If your plants are happy and healthy, and they've got great soil, they're able to stave off infections. Yes, you can put out nematodes and ladybugs. That will make it better. But if you've got good working soil and it's alive, then everything else about your garden is going to be much better, much more beautiful. 
Advice on How to Start Your DIY Garden Design
If you're just starting a garden, start small and create one bed at a time. Then you'll know what you like and what grows well. Dig your soil, add compost, and start planting. Pay attention to sun and shade. And be persistent in failure because you'll learn. Read blogs and gardening books, and get advice from neighbors who have beautiful gardens. If you're having challenges, ask your local nurseries if they have garden mentors who can pay a visit and answer questions. And even keep a garden journal to keep track of when you planted, how they're doing, if there were fails, and what you did right. 
If you're unsure of where to start in terms of plants, ask yourself what kind of garden you want. Will it be a vegetable garden? Will it be all evergreens or a Japanese-style garden? People sometimes get stuck on color, but the reason I like a lot of texture is textures are easier to pair than colors, which may not turn out as you expect. If you focus on texture, where you have some nice big fat glossy leaves with some thin grasses and just mix up textures, the flowers become the icing on the cake. And, then we get back to the soil. Make sure that what you're putting together for a specific look all have the same soil, light, and watering needs.  
Start small, and create good soil and a limited palette. Then build as you're having more success.  
"One of my favorite hydrangeas." Brilliant, crisp-white lacecap blooms arise from dramatic black stems. This rebloomer flowers all summer and into fall. A compact variety with bright green thick foliage, perfect for massing in the landscape or for use in containers.  Partial shade to partial sun. Up to 3' tall and wide. Zones 4-9.
"Red is an unusual color in hydrangeas." A parade of color with long-lasting, bi-color blooms that are white, edged in rich rosy red, and mature to deep pink. Robust, dark green, leathery foliage has fantastic maroon color in spring and fall. A compact mophead variety, perfect for massing and in pots. Partial shade. Up to 4' tall, 3' wide. Zones 4-9.
"A great groundcover rose and now comes in a standard." A profusion of soft red rosebuds open to lovely, semi-double, peachy amber blooms, that fade to a seashell pink as they age. The blossoms are fragrant - a first for the Flower Carpet® series of easy-care groundcover roses! Excellent heat and humidity tolerance. Full sun. Up to 3' tall, 4' wide. Zones 4-10. 
"I like the green foliage and tiny white flowers on this mondo grass variety." It adds great interest to shady beds and borders. White summer flowers are followed by showy blue fruit. Brought to Monrovia by Dan Hinkley, this unique species from Taiwan slowly spreads to form a small, dense patch. Full to partial shade. Zones 7-9. Up to 6" tall, spreading to 3' wide. 
"My go-to pachysandra with fragrance." Uniquely fragrant white flowers appear in early spring, repeating in autumn on this rarely encountered selection of Pachysandra, brought to Monrovia by plant explorer Dan Hinkley. Spreads by rhizomes to form a dense carpet of glossy, dark green foliage in shade or dappled sun. Up to 6" tall, spreading slowly by underground stems. Zones 6-9. 
"I love aucuba and this one is a dwarf, which is valuable in small gardens."  A fantastic Japanese laurel from the National Arboretum. Its compact rounded habit and exceptional blight resistance set it apart from others. Shiny bright green foliage matures to deep green. Thrives in shade and tolerates some drought once established.Full shade. Up to 6' tall, 10' wide, in 20 years or more. Zones 6-10.
Susan Calhoun (Plantswoman Design) is an award-winning landscape designer based in Bainbridge Island, WA.
WALP and WSNLA-certified, Susan's passion is residential garden design for homeowners across the Pacific Northwest. Susan's gardens have been featured in notable publications like Sunset and Fine Gardening. She is also a longtime contributor to the Northwest Flower & Garden Show, creating award-winning gardens year after year.