As we forecast in our 2019 trends report, garden centers across the country are becoming the "third place" for many consumers. Ardent and passionate, they're looking for a garden center "experience." One where they can not only shop for spectacular plants, but also get inspired by the beauty of your place. A place where they can take a class, read a few plant tags and ask some questions. Maybe even have a light lunch, and, most important, feel like part of the family–a regular.
These are not only great customers to cultivate, but also the best ambassadors for your brand. They're sure to tell their friends and share their love on social media. (Do you have your hashtag posted on signs around your garden center? You should!)
Here's one effective way to enhance the fantastic experience you are already providing. Have exciting, intimate, behind the scenes special events that reward your existing regulars, and attract new ones. Over the next three months we'll share ideas for special events. These are easy to pull off, and give your customers the all-access vibe we think they'll value. Here's part one.
For many of us who work at (or have worked) a garden center, there's nothing that beats the early morning. It's cool and misty, and the air is scented with a rich, earthy combination of soil, dampness, flowers, and greenery. Its just heavenly, right? Why not share this special time with your special customers.
Here's the idea:
Open an hour early and offer a morning "all access" tour of your garden center. Keep it small (10 guests is about right) so everyone can get up close, hear you, and ask questions.
Serve up a festive A.M. cocktail (see our tried and tested "Morning Mary" recipe below) and a few snack-y things.
Walk guests through the process of plants arriving and making it to the floor. (You may think this is not so much, but trust us, they'll be fascinated).
Lead them through the aisles pointing out what's new, cool, and special. Share some insight, tips, or stories about the plant's history or how you've used it.
Stage a few photo ready situations (nice if your sign is somewhere in view, but not the main image driver.) Place where guests can snap pictures for Instagram.
Provide them with a unique opportunity for some one-on-one time with you and your staff.
Make guests experts on your place. Then, let them loose to share what they've learned, and how valuable the experience truly was for them. Because, that's what your best customers (and those who will become your best customers) really want. Time with YOU.
Do this once a month and you'll have a mile long wait list (and brand evangelists, too!). Need a great Virgin Mary recipe (adding vodka is an option, of course)? Here's a super simple one that we tried and LOVE.
The Best Virgin Mary Recipe EVER!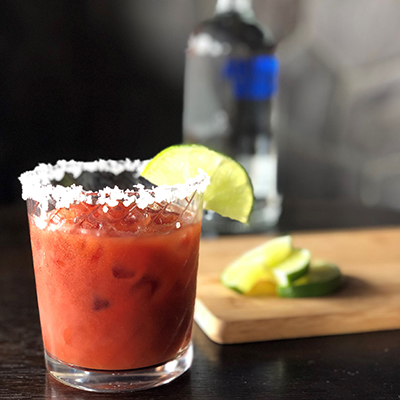 Slight shake of celery salt
1-oz. Worcestershire sauce
5 oz. tomato juice
2 tsp. Tabasco Chipotle Pepper Sauce (has to be this one!)
1 lime wedge
Margarita salt (optional)
2 oz. vodka (optional)
Spicy and smoky, this is one delicious, refreshing drink. Mix the first four ingredients and chill in the refrigerator. (This makes two drinks over ice, so multiply for a big batch). When you're ready to serve and want a salty note, dip the serving glass rims first in a little water. Alternatively swipe with the lime wedge, then into a tub of margarita salt. Pour drink into glasses, top with ice, then add a squeeze of lime juice from the wedge. If desired, add vodka, stir well.
(We know this is your busiest season and you're already putting in long hours.  Consider staging at least one awesome event this spring or summer. The investment in time and love really will pay off.)
Images: Tadd Storrer for Monrovia;  Special thanks to Christianson's Nursery, Mt Vernon, WA (shown above).