100 years! Earl May Seed & Nursery, with 28 locations in four states, is celebrating its centennial, a major milestone that had us wanting to know more about this leading-edge garden company.
We chatted with Blake Jensen (V.P. of Green Goods) to learn some of the history of this family-owned business, how they've grown from a small catalog company into a Midwest gardening institution, and finally, dig into what he's seeing trending in the gardening world right now. We think you'll really enjoy what he had to say.
Questions about plants or gardening in the Midwest in particular? Comment or leave a question below and we'll ask the team at Early May for their best advice.
How many: 28 stores
Where: Iowa, Nebraska, Missouri, and Kansas.
Fun fact: Earl May (company founder) won the award for World's Most Popular Radio Announcer in 1926. (More below.)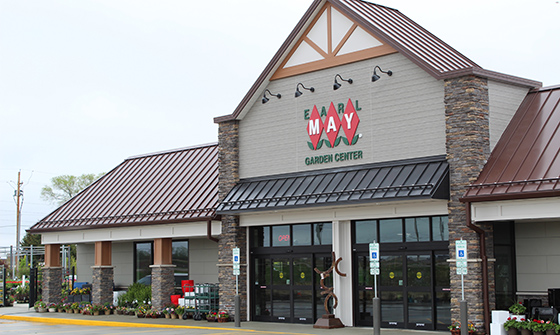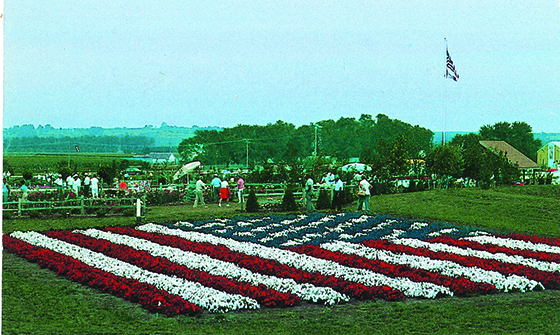 Monrovia: Your company has a rich history of helping homeowners get the garden they desire. What are some of the big stories from the last 10 years?
Blake: Gardening continues to evolve and one major change has been that as yards and planting spaces have grown smaller we've seen demand soar for trees, shrubs, and perennials suited for tight or narrow spaces. Everyone wants a nice variety of plants in the space they have, so these sorts of solution plants have major appeal. We're also seeing more emphasis placed on screen plants to create a sense of privacy in our yards which have become an extension of the interior of the home.
One trend that continues to grow is the "mad love" for herbs and succulents which are easy to grow. These type of plants are perfect when learning to grow and care for other types of plants. Lastly, advances by plant breeders have resulted in new plants that can withstand the stresses of our Midwest heat and humidity while having the hardiness to handle the extremes of our winter cold. I've seen an increase in new releases more readily available today than there ever would have been 15-20 years ago. A large shift has happened in the last 10 years, meaning our customers have quicker access to new varieties at the retail garden center.
Monrovia: Earl May (the company and it's founder, too) is an innovator that seems to have a history of being one step ahead of the curve (see history below). From the early days of catalogs to radio broadcasting to the modern garden center as we know it today–so, looking into your crystal ball, what do you think is the next "big thing"?
Blake: Garden center customers are looking for anything that helps them enjoy their outdoor spaces even more. Everyone's time is limited, so plants that are easy to maintain, provide long lasting color, and have that "showcase look" without all the work are sure to please. We're all trying to get younger customers to experience and enjoy growing plants by making their trip to the garden center an unforgettable experience. We continue to offer the types of plants and items that inspire both new and more seasoned homeowners and renters to dig into gardening.
Monrovia: Clearly, Earl May is an exciting destination for gardeners in your region. What do you to keep them so happy?
Blake: Our buyers work very hard to make sure our plants and products are specifically suited for the Midwest and even dial directly into each market. Because of our range of geography with our retail garden centers, our product mix will vary to provide the best, most-suited plants for each region. Our customers love how our products perform and thrive day in day out. Our plants are known for their sheer ability to perform in the garden, and our hard goods to be long-lasting. We are fortunate to have some great longevity among our retail team members and to have become that familiar face in so many of our communities. It's not uncommon for our team members to be honored for 25 or more years.
Monrovia: 100 years is a formidable achievement no matter your industry and a real hallmark for a garden center. How are you celebrating?
Blake: As part of our 100th anniversary celebration we are dedicated to planting trees in the communities we serve. We donated one tree back to our communities for every 10 trees sold during the month of April. These trees and plantings have been coordinated with each city in all of our retail markets. Trees planted will be symbolic of Earl May to be there for 100 more years.
Monrovia: So, Blake, you have access to just about any plant you want! What's in your own garden?
Blake: In the world of hardy perennials, it's hard to beat the great new colors and improved habit of coneflowers (Echinacea). The plants coming out now are more compact with a higher bloom count, longer-lasting flowers, very drought and heat tolerant, and low fuss. They fit the mold for many of today's gardeners. In shade trees, the traditional sugar maple belongs in most landscape settings. It's exceptional hardiness, ability to provide incredible shade, and turn those fall shades of red-orange-yellow are unforgettable.
Monrovia: Thank you Blake for giving us a peek behind the scenes at Earl May Seed & Nursery's garden centers. Here's to another 100 years of making beautiful gardens (and successful gardeners!).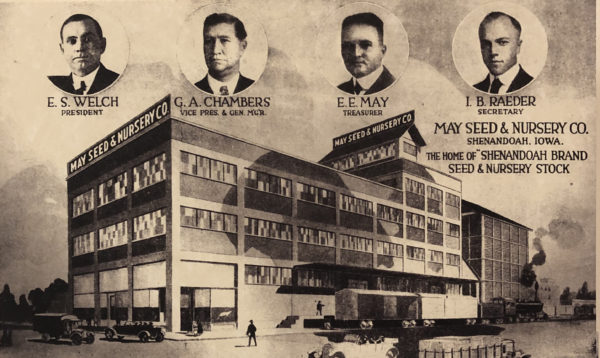 –The Earl May Seed & Nursery Company is actually named for its founder, Earl May who built a successful mail order seed company in 1919 and leveraged that success into the retail empire that it is 100 years later.
–Earl May had a talent for seeing the next big thing. He noted the great opportunity of emerging radio technology and in 1925 built radio station KMA, based in Iowa, to promote his brand and products. By 1926 KMA and Earl May himself were household names.
–By 1932 Earl May had opened the first stores that would become today's multi-store chain.
–At its height, the mail-order operation grew to over two million catalogs mailed per year offering everything from baby chickens, paint, clothing…and, of course, plants!
–Earl May Seed & Nursery Company remains a family-owned business.
Did you find this story useful and interesting? Please share it with others who also love to garden (use the icons at the top of this page). And, consider subscribing to our monthly newsletter (Plant Savvy, direct to your inbox the first Thursday of each month) to be in the know!