This year, rather than fill containers with the usual mounds of mums, celebrate harvest hues. Do so by redoing pots using perennials and shrubs as the backbone, dolled-up with seasonal annuals. Come the snowy or rainy season, when the seasonal color is done but containers still look great. You'll be glad you chose plants for structure and foliage rather than just bling. Here are a few fresh ideas to get you started.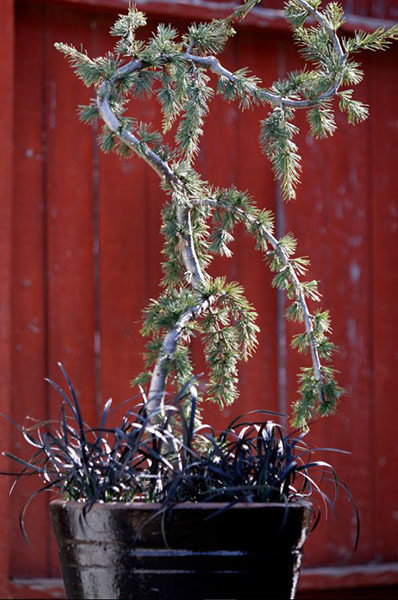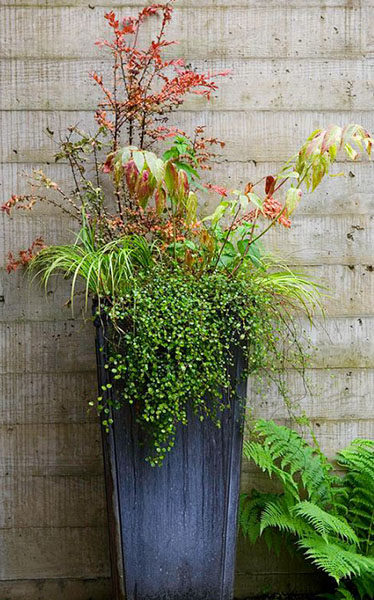 Strength in Numbers
Namely, two. But two plants that are such singular sensations, they need no embellishment to be simply stunning when planted together. Underplanting a Weeping Blue Atlas Cedar with the strappy blades of Black Mondo Grass. This might not be obvious, but it sure is a wow! Best in zones 6 – 9, but in colder regions, Harry Lauder's Walking Stick will also give the same effect.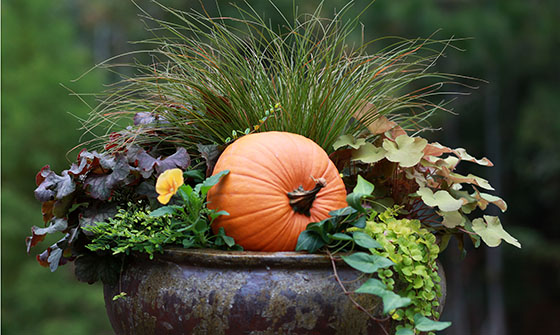 Use Me All Over The Place
Here's a wonderful idea for smaller spaces such as a front step, outdoor dining table, or topping a rock wall. These perennials might die back in the coldest zones. However, the grass, ivy and viola will take you into pre-holiday potted style. In zones 7 and above, they'll look good all winter, become all fabulous in spring. Want the look? Here's the recipe: Palace Purple Coral Bells, Caramel Coral Bells, Gold Fountains Sedge, Creeping Jenny. Thorndale English Ivy, MAGNIFISCENT™ Sunny Jim Viola.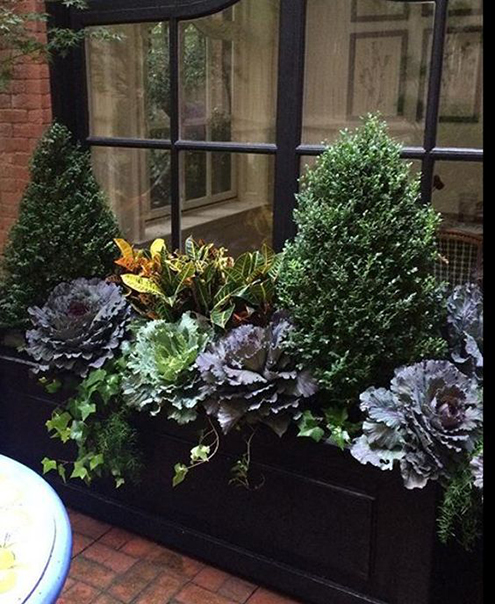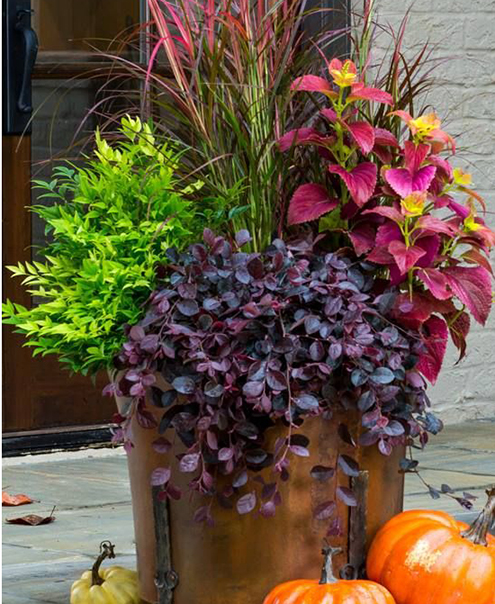 Play With Me
Invest in a pair of good-sized boxwood that can by shaped by simple pruning into a cone. (Or, buy them that way!) For instance, these Winter Gem Boxwood and add cascades of English Ivy to a elegant trough planter. Then, have fun with the seasons. In fall, pull out tired annuals. Swap in dark and light hued ornamental cabbages along with orange and yellow crotons. The crotons and Compact Sprenger Asparagus Fern peaking out can come inside at the first hint of frost. The rest will thrive all winter.
Foliage Rules
You simply can't go wrong composing a container with compact shrubs. Especially ones that are all about their colorful foliage and look great nearly year round months. Here Purple Pixie® Fringe Flower and Gulf Stream Heavenly Bamboo play to the purple side of fall. Abetted by Fireworks Fountain Grass and Alabama Sunset coleus. Now, the coleus will, of course not make the winter. (When it comes out, slip in cut branches in cold zones, and bedding plants like cyclamen.) Although the other plants should look pretty nice!