The long, hot days of summer can wear on plants and gardeners alike. But have no fear! There's a way to cool down in the garden, no pool (or shade) required. 
Try cooling down your hot garden with some heat-tolerant plants in cool shades. Several of our favorite heat-tolerant plants come in shades of icy blue, frosty silver, cool purple, and snowy white.These plants lend a much-needed chill to a hot garden. They also add a gorgeous contrast to warm-toned flowers and green foliage.
Take a look below for a variety of options that thrive around the country. These "cool" plants love a full-sun location unless otherwise noted.
What did we miss? Share in the comments or on social media @MonroviaPlants. We'd love to see your favorite cool plants!
Above: The cool tones of Blue Glow Agave and Silver Carpet groundcover (Dymondia margaretae) are a welcome sight in the heat of a sunny summer day. 
Blue Heat-Tolerant Succulents for Zones 8-11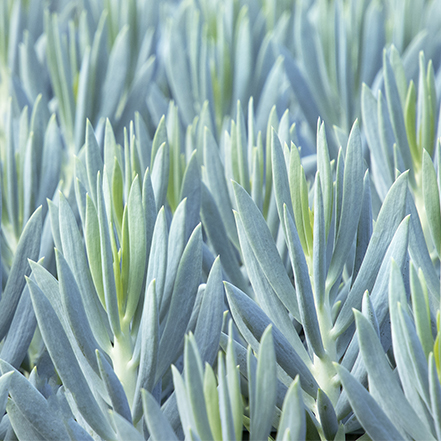 A big, bold, and drought-tolerant succulent with large, flattened blue-green leaves. It is happy in hot, sunny, and dry locations but have a cool, icy appearance. Perfect for adding structural interest and color contrast. Up to 5' in landscape, can be kept to 2' in containers. Zones 10-11.
A gorgeous choice for year-round beauty in hot, low-water gardens. Succulent pads are blue-gray in warm weather and turn a rich purple in cool weather. Bright yellow flowers bloom on the edges in late spring. Forms clumps up to 4' tall and 6' wide. Zones 8-11 (can be grown indoors in all zones).
Perfect for hot, sunny, and dry gardens, as well as humid Mediterranean-like climates. The cool blue-green leaves have distinctive yellow-edged red margins. Each leaf tip bears a short red spine. Leaves form a single, symmetrical and slow-growing rosette. Up to 18" tall by 24" wide. Zones 8-11.
Silver-Blue Heat-Tolerant Trees for Zones 6-10
A dramatic evergreen with pendant branchlets, icy blue needles, and a weeping habit that gives it a graceful waterfall effect. The sprawling horizontal habit is often trained into an upright serpentine form. Up to 20' tall and wide in natural form. Zones 6-9. 
A superior choice for evergreen structure and color, with silvery blue-green leaves and a rounded habit. Withstands high heat, drought, and wind once established. Also superb as a container specimen for bright indoor and outdoor spaces. Up to 40' tall and wide (shorter in containers). Zones 8-10.
A dwarf cedar that offers lovely low-maintenance structure and color to sunny spaces. The unique spreading form and blue-green foliage make it a great specimen. Ideal trained as a topiary for containers, as well. Up to 5' tall and 10' wide. Zones 6-9. 
Snowy White Heat-Tolerant Flowers for Zones 9-11
White flowers cover this spreading, evergreen groundcover year-round in warm zones. Allow its trailing habit to cascade over raised beds, stone walls, and hanging baskets for a soft effect. Heat and drought tolerant. Up to 12" tall and 6' wide. Zones 9-11(use as an annual in cooler zones). 
Photo by Paul Ruffino
An aromatic tropical shrub with glossy evergreen foliage and a compact form. White double flowers bloom nearly year-round. A lovely container specimen, and a fabulous hedge. Up to 8' tall and 4' wide. Zones 9-11 (can be wintered indoors in cooler zones). 
An elegant bougainvillea with clusters of clear white flower-like bracts and variegated green and white foliage. The strong climbing habit quickly covers arbors, trellises, and bare spots in the garden. Up to 20' with support. Zones 9-11 (use as an annual in cooler zones).
Silver-Purple Heat-Tolerant Flowering Shrubs for Zones 4-10
As well suited for cottage gardens as it is for wildflower gardens and xeriscapes, this Russian sage is easy-care, and heat and drought tolerant. The sprays of lavender-blue flowers add cool color to gardens summer through fall. Up to 18" tall and 26" wide. Zones 4-10.
A drought-tolerant, heat-loving, and easy-care shrub with improved hardiness, sterile flowers, and a dense, manageable size. Purple flowers bloom in the heat of summer. Performs well in a variety of conditions and climates. Up to 6' tall and 5' wide. Zones 5-9.
A lavender hybrid with superior heat tolerance and wide adaptability. This aromatic shrub has long stems of violet-blue flowers and gray-green foliage. Up to 3' tall and 4.5' wide. Zones 5-8.
Photo by Visions
Snowy White Heat-Tolerant Flowering Shrubs for Zones 4-9
Showy-white conical clusters of fragrant flowers cover this shrub from midsummer until fall, and appear just as things are heating up in the garden. Attracts butterflies and brightens up night gardens. Up to 6' tall and 5' wide. Zones 5-9.
This hardy, sturdy variety resists scorch and burn on hot summer days. The long-lasting, large blooms emerge as a pale green, turn pure white, and develop a blush of pink as they age. Part sun. Up to 3.5' tall and 3' wide. Zones 4-9. 
A tidy, self-cleaning, and re-blooming variety that is covered in showy white blooms in spring and summer. The profusion of flowers attracts butterflies. Lovely cut flower. Part sun. Up to 3' tall and wide. Zones 4-9.
Icy Blue Heat-Tolerant Conifers for Zones 2-8
A hardy dwarf evergreen shrub with a dense globe shape and cool-blue needles that hold their color all year long. While also brightening up in the heat of the summer. A colorful evergreen accent. Slow growing. Up to 5' tall and 6' wide. Zones 2-8.
This rugged spreading juniper has a denser habit than other creeping varieties. The blue-grey foliage is a beautiful cool-hued border, accent, or large-scale groundcover. Up to 2' tall and 8' wide. Zones 3-8.