Gardeners across the West are experiencing the hottest, driest growing conditions they've seen in decades. Most of the West is currently under severe to exceptional drought conditions. To help gardeners through these dry times, we curated a list of our favorite drought-tolerant plants. These are for gardens experiencing persistent drought.
As you deal with dry conditions, keep in mind that even drought-tolerant plants need water to get established. They may require additional irrigation in extreme conditions. Test soil moisture and keep an eye on the weather. This is to determine when plants need water to get through your driest, hottest stretches. In the meantime, like good Western gardeners, we'll keep hoping for rain. 
Get your free "Low-Water, High-Beauty" waterwise gardening guide and get more plant recommendations, design ideas, and water conservation tips.
10 Favorite Drought-Tolerant Perennials for Zones 4-9
Evolution™ Sedum (Purple Crush pictured with a Colorburst™ Yellow Cape Fuchsia here) is a Monrovia exclusive selection. It offers fantastic waterwise color and tough performance. Purple crush features pink summer flowers that bloom from dusty purple buds. Distinctive blue-green foliage has a deep purple house that adds to the display. Full to partial sun. Up to 15" tall and wide. Zones 4-9. 
An easy-care, prolific bloomer with large, red-eyed, molten gold-colored blooms on feathery, mildew-resistant foliage. This well-behaved selection of a favorite North American native invites butterflies and bees to the garden, as well. Full sun. Up to 24" tall and 30" wide.  Zones 4-9.
A spicy color palette of pink, coral, orange, and red light up the summer with a lively display. Even when rain refuses to fall. New flowers emerge throughout the summer and age to softer shades, adding to the variations of color. Full sun. Up to 20" tall, 18" wide. Zones 4-9.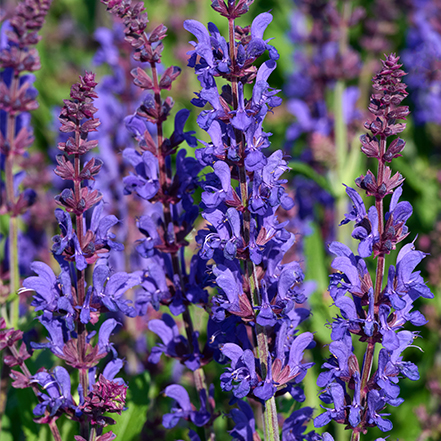 An extraordinarily vibrant meadow sage with beautifully vivid purple flower spikes loved by pollinators. Tough, easy to grow, drought-resistant, and reblooming. Full sun. Up to 12" wide, 16" tall. Zones 4-9.
A bold exclusive selection of a drought-tolerant favorite. With a profusion of talk, upright flower spikes that bloom from early summer to fall. The Harlequin™ beardtongue series features vibrant pink (pictured here), magenta, and purple colors. These were selected for its bushy, compact, vigorous, and disease-resistant qualities. Full sun. Up to 22" tall, 16" wide.  Zones 5-9.
A favorite pollinator-friendly, easy-care, and waterwise perennial that features lavender flower spikes and fragrant foliage. This fantastic selection is a sterile dwarf form of the popular Walker's Low Catmint. The low, spreading habit is perfect for cascading off walls and softening pathway edges. Also as combining with other heat-tolerant perennials in a container and as a colorful groundcover in a meadow-like garden. Full to partial sun. Up to 16" tall, 36" wide. Zones 5-9. 
Red stems hold large blush-pink blooms. These bloom from early spring through fall, adding soft color and fine texture to the garden. Perfect for sunny borders, rock gardens, and containers in hot, dry regions. Full sun. Up to 8" tall, 20" wide. Zones 5-10. 
A hummingbird favorite that adds cheerful, carefree summer color to sunny, dry, and hot beds, borders, or containers. A compact hybrid with a neat habit and increased hardiness, disease resistance, and even tolerance of wet, cold soils. Full sun. Up to 20" tall, 16" wide. Zones 5-10. 
A standout in the waterwise garden, with stunning, everblooming, six-foot-tall flower spikes. Those have warm coral-orange, trumpet-shaped blooms that attract hummingbirds. They tower over clumps of narrow, sword-shaped, gray-green foliage. Full sun. Up to 6' tall, 4' wide. Zones 5-9.
10 Favorite Drought-Tolerant Plants for Zones 7-11
This small garden tree has it all. Attractive bark, rosy pink flowers, strawberry-like edible fruit, habitat for birds, and a low canopy of deep green leaves. It's tough, too, tolerating poor or acidic soil and needing very little water (only occasionally, once established). Marina Strawberry Tree is a winner. Perfect for in a border, for mass planting, or as a specimen in a woodland or wildlife garden. (Your local birds will love this tree). Full sun. Up to 20' tall and 30' wide. Zones 7–9. 
A profusion of large, pure-white flower clusters cover White Cape Plumbago most of the year. This unfussy, shrubby climber is a workhorse in the back of mixed borders. Particularly along fence lines where it may be trained up and over. This is also one of the best warm-climate white flowers to reflect moonlight in night gardens. Full sun. Up to 4' tall and 6' wide. Zones 9–11. 
Count on the blood-red, bottlebrush-like flowers to cover this small, mounding shrub from spring into summer. In the warmest regions, it will bloom intermittently all year—great news for hummingbirds, which find the flowers irresistible. With blue-green leaves and dense branching, Little John can find a home in any garden. Full sun. Up to 3' tall and 5' wide. Zones 8–11. 
It's hard to choose a favorite season for this Southwestern native. From late winter to early spring, it explodes in a profusion of rich, dark flowers. Thick, blue-green leaves persist all summer until fall when they turn a glowing yellow. Accented by maroon seedpods that persist through winter. Full to partial sun. Up to 15' tall and 20' wide. Zones 6–9. 
This stunning agave forms dense, symmetrical rosettes from dramatic, blue-gray leaves that form large clumps. Each leaf tip bears a short—but sharp—midnight-blue spine. Absolutely brilliant as a specimen, in a container or rock garden. Especially captivating as an unexpected groundcover in mass plantings. Full sun. Rosettes up to 4' wide on 5' wide clumps; flower spikes up to 20' tall. Blooms at full maturity. Zones 6-9.   
With a 3- to 5-foot crown of burgundy-red, sword-like leaves perched atop a slender trunk. Bauer's Dracaena Palm is a ready-made focal point for any garden. The rich, dark foliage of this palm-like dracaena pops against any light-colored surface such as stucco or concrete. Easy care and great in coastal climates. Full to partial sun. Up to 5' trunk with a 3–5' wide crown of foliage. Zones 9–11. 
This tough, drought-resistant perennial provides vibrant color with clusters of unique, velvety, tubular, bright pink flowers. All on slender, fuzzy stalks emerging from clumps of upright, sword-like, green leaves. An excellent, long-lasting cut flower. Great for adding color and texture to borders and containers. Full to partial sun. Up to 14" tall; blooms reach up to 24" tall. Zones 9-11.
This low-growing, branching succulent creates a carpet of foliage consisting of upright, powdery blue-green leaves. Rooting itself as it grows, Blue Chalksticks is perfect for preventing erosion on sunny, dry hillsides. It takes very little care, tolerating poor soil and coastal conditions. Full sun. Up to 1' tall and 3' wide. Zones 10–11. 
This uniquely compact Lily of the Nile blooms weeks earlier than other cultivars. Masses of blue, firework-like flower clusters on upright stems rise just above clumps of short, wide, strap-like, green leaves. Baby Pete rarely sets seed pods, resulting in a longer bloom period.  Full to partial sun. Foliage up to 15" tall and 24" wide; blooms to 24" tall. Zones 8–11. 
In a planter box, along a fence or arbor, or even rambling as a blooming groundcover. It doesn't get better than a bougainvillea in the landscape. Easy-care Purple Queen covers itself in deep purple, petal-like bracts against deep-green foliage. Full sun. Up to 15' with support; 1½' tall and 8' wide as a groundcover. Zones 10–11.  
Grow Responsibly with Low-Water Gardening
The horticulturists and plant lovers at Monrovia are devoted to growing beautiful drought-tolerant plants. Plus growing them in a responsible manner. We recycle 95% of our irrigation run-off at each of our four growing locations. This saves 2.5 billion gallons of water per year.
Our "Low-Water, High Beauty" waterwise garden guide offers water conservation ideas for you on a smaller scale. Plus, make sure you test your knowledge with the "True or False" trivia. Here you'll get even more info about how to be a waterwise gardener. Sign up for the Grow Beautifully newsletter to get your "Low-Water, High Beauty" guide. 
Explore more low-water gardening tips and drought-tolerant plants here: