While other gardeners are losing cool in the face of frost warnings, you and your warm zone garden are lucky. Come fall and winter, temperatures become, well, temperate. And blooms slow down long enough for you to focus on foliage.
Often overlooked by novice gardeners, succulents in a warm climate are evergreen. Plus, they're perfect for adding year-round drama to the garden. If you haven't yet explored the joy and beauty of drought-tolerant, easy-care succulents, winter's cooler weather is an excellent time. Start your collection now.
On top of being a low-maintenance, climate-appropriate addition to your garden. Sculptural succulents also play a big role in great garden design. See what we mean in this free design guide. 
GET THE LOOK: Grow Weber's Agave (zone 8 – 11) as an evergreen, sculptural element in your warm climate border. It's a bold alternative to traditional shrubs and adds both a rustic and contemporary edge to your landscape.
4 sculptural succulents for small space and container gardens
With velvety looks and a smooth, tender touch, this plant is well suited for close encounters. Yet, its large, broad, and silvery-white leaves are a bold statement in your rock garden or a drought-tolerant border. Plant in matching containers next to your front door. Or, enjoy a few handfuls as a companion to green-leaved plants or colorful bloomers. Evergreen.
Tip: Pinch back upright stems to encourage lower, bushier growth.
Senecio candicans 'Senaw'
Reaches 10″ – 16″ tall and wide
Partial to full sun
Zone 8 – 11
Tendrils of luscious purple-burgundy red stems cluster with soft pink flowers in late summer to early fall. Tuck into the container, rockery, or a green wall, and stems will gently cascade. Also gorgeous as a groundcover and as a low accent in your borders. Evergreen in mild winter regions. Remove any older stems before next season's growth if you prefer the tidiest of gardens.
Tip: To refresh mature plants, pinch, snip, or prune out faded stems.
Sedum 'Firecracker'
Reaches 6″ – 8″ tall and wide
Full sun
Zone 4 – 10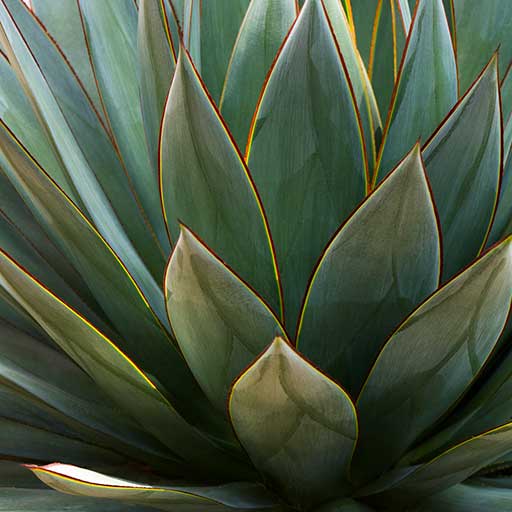 Smooth, wide blue-green leaves prickle into luminescent yellow-red edges and form a single rosette. Each leaf tip bears a short red spine. A sensational spotlight moment in your coastal, Mediterranean, or desert garden. Blooms once at full maturity, at 10 – 15 years or older. Then, younger rosettes form as the mother plant declines. Evergreen.
Tip: Choose part shade for your dry, hot summer garden away from reflected heat and offer it supplemental water.
Agave 'Blue Glow'
Reaches 18″ tall, 24″ wide
Partial to full sun
Zone 8 – 11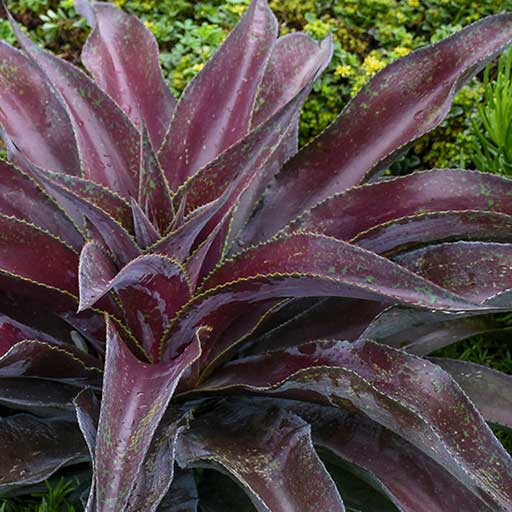 A prize amongst gardeners, this succulent pairs the concentric structure of Agave. Along with the faster growth and exciting colors of Manfreda. Glazed with burgundy strokes and spots that bleed into each other. Its broad, toothed blades appear almost entirely red at a distance. Flecks of green appear on the leaves and blades up close. Evergreen.
Tip: Water deeply when soil is dry. Mission to Mars can handle more water than other succulents if you have great drainage.
x Mangave 'Mission to Mars'
Reaches 8″ – 10″ tall, 20″ – 22″ wide
Full sun
Zone 9 – 10
6 striking succulents for architectural drama
Vibrant, brake light-red blooms will stop you (and the neighbors) in your tracks. This selection rarely sets seedpods, so you'll get more blooms over an exceptionally long season. Use in mass plantings for a dramatic effect in xeriscape, firescaped, and waterwise gardens. Good container specimen, too.
Tip: Plant these in view of a kitchen or living room window. In flower, their movement on the breeze is breathtaking.
Hesperaloe parviflora 'Perpa'
Up to 2′ tall and wide; blooms rise 2′ – 3′ taller
Full sun
Zone 5 – 10
Spineless, olive green foliage flows like a fountain of stiff grass from the center of this specimen. Remove old foliage, and you'll reveal a single trunk. Spectacular in large and footed planters. In time, it will produce a single, tall, white bloom stalk late spring through summer. Evergreen.
Tip: Best in warm, arid landscapes. Supplement water in extreme heat and in containers. Tolerates dry spells, but not soggy soil.
Dasylirion longissimum 
Reaches 4'– 6′ tall and wide
Full sun
Zone 8
Large, fleshy, waxy leaves have a glaucous coating, giving them a powdery blue-green-grey hue. Upright, mounded spires deliver beautiful, carefree, sculptural forms that are shrub-like in scale. Very drought tolerant and highly adaptable in your sunny, frost-free, waterwise landscape. Superb in containers.
Tip: Pinch back upright stems periodically to encourage lower, bushier growth.
Senecio ficoides 'Mount Everest'
Reaches 3′ – 5′ tall in landscape, can be kept at 2′ in containers
Partial to full sun
Zone 10 – 11
Narrow, stiff leaves form a dense crown atop a single, elegant trunk. Leaves are shorter than other yuccas for small space friendliness. Bold in containers and the landscape, this outstanding selection was introduced by Sean Hogan of Cistus Nursery in Portland, OR. Thrives in average to lean, well-drained soil with an alkaline pH. Evergreen.
Tip: Prune away old, unsightly foliage in early spring.
Yucca rostrata 'Sapphire Skies'
Full sun
Can reach 10′ tall, 3′ – 4′ in 10 years
Zone 5 – 11
Narrow, tightly packed, blue-green leaves sprawl symmetrically up and out across fleshy, succulent stems. Striking in form, texture, and color. Mass in a sunny, low-water garden or intermingle in a mosaic of succulent and evergreen plants. Carefree, drought-tolerant, and highly adaptable. Frost-tender evergreen.
Tip: Because this is a frost-tender, if you're facing some frost, cover with a sheet of plastic drop cloth. Use stakes to keep the covering off the foliage.
Senecio vitalis 'Serpents'
1 1/2′ tall, spreads 2′ – 3′ wide
Partial to full sun
Zone 10 – 11
Pale blue-grey leaves quickly grow into a large, stately rosette. At home in drought-tolerant contemporary and rustic gardens alike, plant as a focal point in your rock garden. Or, as punctuation marks in a vista view. Contrast with silver, grey, or dark green plants. Thrives in full sun in cool coastal areas. For hot summers, shelter from the afternoon sun and reflected heat. Water periodically.
Tip: The mother plant declines after watering; younger rosettes will perpetuate the plant.
Agave weberi
5′ tall and wide, 15′ – 20′ flower walk at maturity
Full sun
Zone 8 – 11
How much water does a succulent in the landscape need?
With all succulents, you want to provide well-draining soil and take care not to overwater. Though, in this era of hotter summers, you may notice that even your succulents can show signs of heatstroke. Don't be afraid to supplement water when leaves look wilted or feel less plump.
For many succulents, you also want to take care in the first few seasons to water thoughtfully, deeply, and regularly. Even succulents need support while establishing their root systems in the landscape. Be sure to explore each plant's page for more information on water needs and care. Your local garden center experts can also give you tips for best practices where you live.