Let these big ideas for small space gardening inspire you with easy care container garden palettes, perfect for fall into winter front door style.
From container garden classics and dwarf evergreens to no-fuss perennials and mixed use beauties, we've got 12 inspiring plants you can grow in your cold or warm zone containers.
GET THE LOOK: Let the tendrils or Bronze Carpet Stonecrop trail out of your favorite container. It's perfect for four seasons of easy care beauty.
PHOTOS: Doreen Wynja (unless otherwise noted)
Purple reigns in cooler climates
Plant this cool-colored combo now in a pair of your cold season containers and enjoy the purple tones on your covered porch all winter long. Come spring, you can fertilize and keep the container magic happening. Or, transplant these beautiful shrubs and perennials to your borders.
You might also gift the container to neighbor, friend, or loved one. Who doesn't love receiving flowers, especially when they're rooted in soil and friendship?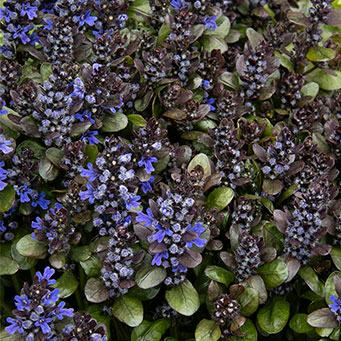 Great filler for fall, winter, and spring containers featuring thick, bright green and chocolate foliage. 2" – 6" tall, with 8" plumes of deep blue flowers in spring. Partial to full sun. Zone 4 – 9. Ajuga reptans 'Blueberry Muffin'.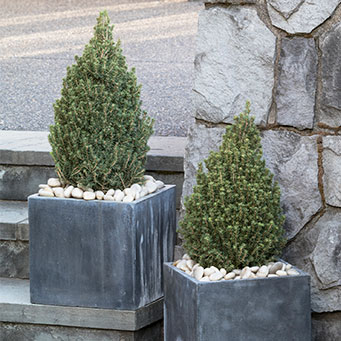 Slow growing, pyramidal conifer with dense, bright evergreen foliage that patinas into gray-green when mature. Excellent for topiary. Partial to full sun. Zone 3 – 8. Picea glauca var. conica 'MonRon'.
Scalloped, deep purple leaves shimmer with contrasting dark veins and silvery iridescence. Cold tolerant. Evergreen under warm shelter. Partial shade to full sun. Zone 3 – 9. Heuchera x 'TNHEUNEP'.
Photo: Terra Nova Nurseries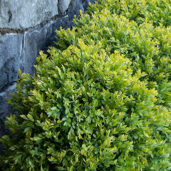 Chosen by the Chicago Botanic Garden for outstanding cold hardiness. Holds its green gloss in winter. Looks like an English boxwood. Grows uniformly, 2" – 3″ per year. Slowly reaches 3' – 4' tall and wide.
Partial to full sun. Zone 4 – 9. Buxus x 'Glencoe'.
Metallic tones meet elegant foliage
Some gardeners, and some seasons in life, call for a more understated palette. These sophisticated plants partner in an easy-care palette that can take a little low winter sun. Be sure not to over water, and simply notice when your soil feels dry to the touch.
Pop out and replant your Hellebores and Sedum in your border after the Lenten Rose's late winter show. Or, come spring, hold onto your Sedum for summer and swap out your plants for a gentle refresh.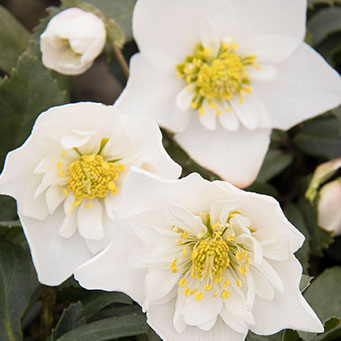 Ruffled white petals with a sunburst of gold stamens. Upright facing blooms on taller stems are pot perfect! Semi-evergreen leaves. Full shade to partial sun. Zone 3 – 9. Helleborus niger 'Double Fantasy'.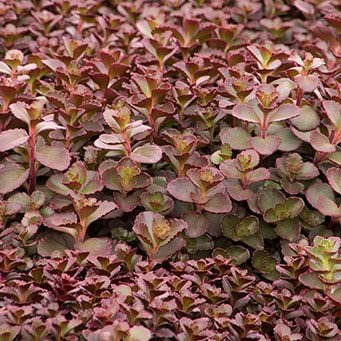 Trailing tendrils of tight bronze-red foliage sweep across container edges. Tiny ruffled edges around multi-toned florets offer pink flower stalks in summer. Evergreen in mild winter regions. Partial to full sun. Zone 3 – 9. Sedum spurium 'Bronze Carpet'.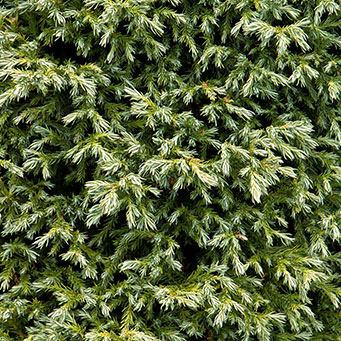 Soft, finely textured, silvery-blue foliage forms a dense and tidy upright shrub. Excellent in natural or topiary form. Shelter from wind. Evergreen. Up to 6' tall, 4' wide when unpruned. Partial to full sun. Zone 4 – 8. Chamaecyparis pisifera 'Baby Blue'.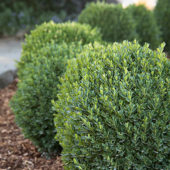 An easy-care dwarf boxwood that slowly matures into a columnar shape if unclipped. Requires little to no pruning to keep its neat shape. Lustrous, evergreen foliage. Slowly reaches 2′ – 3′ tall and 2′ wide.
Partial to full sun. Zone 5 – 9. Buxus sempervirens 'MonAlex'.
Bring the woods to your door
Grow a woodland-inspired container garden with these evergreen beauties. Plant in organically rich, well drained, acidic soil in a mostly shady location on the porch. Mist to add a little humidity and keep soil most, but not soggy.
Once temperatures rise in spring, transplant your Camellia into its own pot or in a showy location where you can enjoy it's spreading habit, reaching 6′  – 9′ tall and wide.
Bold, arching fronds with striking bronze-red tones are luxuriously dramatic and 3' long. Little bulb-likeplantlets adorn the undersides. Leave room for draping. Evergreen. Full shade. Zone 8 – 10. Woodwardia unigemmata.
White, semi-double blossoms shine atop glossy dark green foliage. Upright with gently willowy branches. Replant after blooming and espalier (or leave natural). Filtered sun. Zone 7 – 10. Camellia sasanqua 'White Doves'.
Photo: Geoff Bryant via Unsplash
Dark green, narrow foliage with silvery-white highlights. Greenish-white ornamental berries in fall. Pale purple flower spikes in summer. Evergreen. Partial sun. Zone 6 – 11. Liriope spicata 'Silver Dragon'.
For a sunny threshold, pot up a pair of Little Ollie shrubs or topiary patio trees. These heat-tolerant, non-fruiting evergreens lend versatile style to your modern, cottage, coastal, or Mediterranean garden. Rounded habits can reaches 4′ – 6′ tall and wide in the landscape. Easy care and happy kept clipped in smaller and topiary forms.
Full sun. Zone 8 – 11. Olea europaea 'Montra'.