Need a little help pulling together a meadow-like garden. One that's as refined and stylish as it is colorful, tough, and pollinator friendly? We have the perfect inspiration for you. Come with us on a tour of a beautiful estate set on a hillside in the Willamette Valley region. Surrounded by an extensive network of vineyards. This keeps the local population of bees happy not only benefits the local ecosystem, but the economy, as well.
The property is an extraordinary example of how we can provide habitat and nectar to local birds, bees, and butterflies. Still while making the most of the beauty and joy that our gardens offer.
Not only are these gardens a feast for the eyes and the pollinators. But, they are also designed to provide a full sensory experience. Many plants have pleasing aromas, bright colors, and soft textures. They make gentle movements and sounds as they sway in the breeze.
It's time to sit back, relax, and come away with us. We're taking a virtual stroll through this colorful, pollinator-friendly estate. With one vibrant border, four pathways, and two outdoor rooms to tour. You're sure to find design lessons and inspiration aplenty for your garden — large or small.
A Nectar-Rich Border is a Feast for the Eyes (and the bees)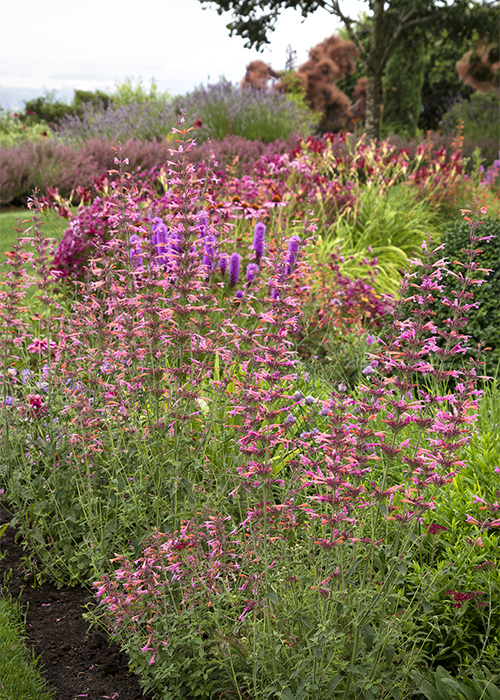 This pollinator border is just as gorgeous up close as it is from afar. Here, you get a closer look at the border featured above. The bright colors of pollinator plants naturally play well together. However, there's a trick to making the combination even more breathtaking.
The secret to creating a refined look with big color and lots of blooms is maintaining a simple color palette. Choose a color family and stick with it. This gives you the freedom to use a diverse selection of plants (which birds and pollinators love). Without having a scattered or overwhelmed feel.
In this case, you'll notice many perennials in the same color family — pink. The plant palette incorporates our favorite pollinator-friendly perennials. Coral-pink agastache, purple-pink liatris, and fuschia-pink daylily. Added with the candy-pink of coneflower make for a lively display without jarring the eye. 
Notice how the cool tones of purple pincushion flowers are nestled low to the ground. Then, the Russian sage rises tall in the background. These work together to frame the warmer pink tones of the main-player perennials. 
Another design choice to note here is the use of daylilies' strappy foliage instead of grasses. The grass-like foliage lends the look of a classic meadow garden. While adding more blooms to the never-ending parade of color.
Get the Look with These Plants
A carefree, drought-tolerant perennial with prolific coral-pink flower spikes that attract hummingbirds. This compact hybrid has increased hardiness, improved disease resistance, and will tolerate wet, cold soils. Up to 20" tall, 16" wide. Zones 5-10.
Gayfeather is a butterfly magnet, and you often see large swallowtails visiting them in the summer. This compact cultivar forms low grassy clumps and produces recurring spikes of showy pink blossoms. Up to 2' tall, 1' wide. Zones 4-9.
Lush foliage and sturdy, upright stems form the backdrop for these enchanting flowers. The green center cone is framed by dense petals in a palette of pink. Up to 20" tall, 18" wide. Zones 4-9.
Daylilies are some of the most adaptable, easy-care perennial beauties around, and this selection features abundant raspberry red flowers with yellow eyes held above its grassy foliage. Up to 16" tall and wide; flowers reach up to 18" tall. Zones 4-11.
Coreopsis is a classic pollinator plant, and Sunset Burst Coreopsis is a more colorful variety that offers prolific blooms without deadheading. Up to 18" tall and wide. Zones 4-9.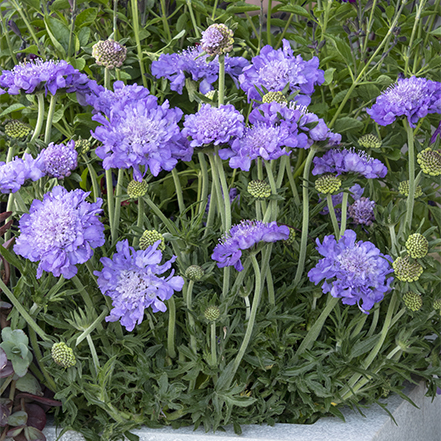 The largest pincushion flowers to be found! The 3" wide blooms are honey-scented and a cool, violet-blue. Attractive, easy-care, pollinator-friendly, and hardy. 20" tall, 15" wide. Zones 4-9.
Four Inspired Pollinator Pathways
Our tour continues with a lovely walk along four different pathways that are all gorgeous in their own way.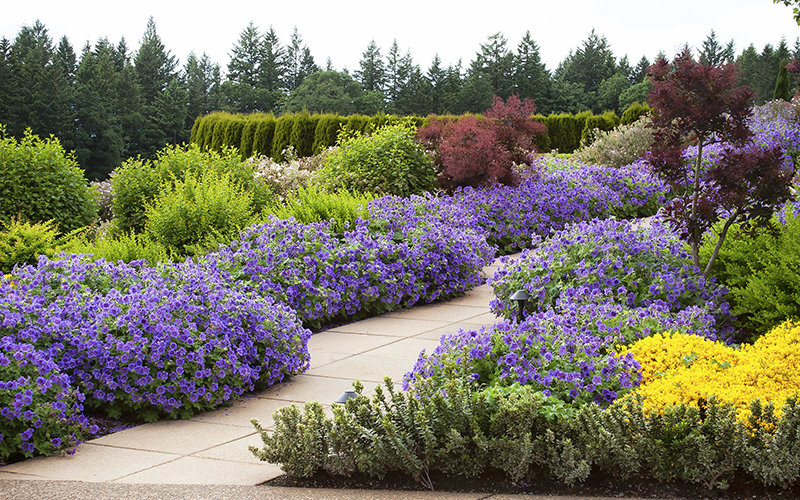 1. Let's start with this paved path with straight, geometric lines that are softened with the cool waves of geranium. Softening straight lines with cascading plants is a simple garden design approach. You'll notice this everywhere now that you know to look for it.
The prolific yellow flowers of gold broom light the way. While the unique smoky seedheads of two purple smoke trees add dynamic interest. Green shrubs of various heights frame the vibrant pathway, allowing the purple geranium flowers to take center stage. 
A hedge of arborvitae stands in the back, signaling a secret garden that might lie ahead. Adding a sense of mystery to your garden encourages visitors to observe their surroundings with curiosity and awe.
A beautiful, easy-care groundcover that gently spreads through the garden, covering it in violet flowers that bloom all summer. Up to 20" tall, 24" wide. Zones 4-10.
Dramatic pink-purple, smoke-like clusters are backed by deep red-purple foliage that makes for a gorgeous, unique accent tree or shrub. Foliage holds its deep color all summer, then turns scarlet red in autumn.  Up to 15' tall, 12' wide. Zones 4-8.
A low-growing, hardy groundcover that can withstand some foot traffic (and not invasive like its cousins). It becomes smothered in small, golden flowers in summer, adding a bright swatch of color when planted en masse. Up to 12" tall, 3' wide. Zones 3-8.
Photo by Hort Printers
2. Punctuate cascades of low-growing perennials with the colorful vertical interest of upright bloomers. 
Biokovo geranium laps against another paved pathway here. However, instead of a massed approach like we saw above, it's intermingled with the purple spikes of salvia and catmint. Both of these perennials are beloved by butterflies, hummingbirds, and bees for their nectar, and gardeners for their easy-going nature. 
Get the Look with These Plants
Salvia is a perennial favorite for butterflies, hummingbirds, and bees. This top-rated variety is a favorite for gardeners thanks to its bold purple spikes that rebloom through the summer. Up to 16" tall, 12" wide. Zones 4-9.
A hardy, low-growing geranium with dainty pink-flushed white flowers that bloom from late spring into summer. Spreads gently and remains neat all season with little care. Up to 10" tall, 36" wide. Zones 4-8.
Another easy-care pollinator favorite that attracts hummingbirds, butterflies, and bees. The showy periwinkle blue flower spikes look great when cascading over pathway edges. Up to 2' tall and 3' wide. Zones 4-9. 
3. Make an impact at a high-traffic transition with a large, vibrant shrub and the soft texture of ornamental grasses. 
Blue oat grass and Royal Red butterfly bush work in unison to extend the naturalistic tone of the surrounding gardens. Still while forming a wall that frames the upcoming outdoor room.
The blue foliage and graceful gold plumes of the grass. These pair beautifully with the lush foliage and bright purple-red flowers of the pollinator-friendly butterfly bush. It's a simple pairing that accomplishes multitudes in this space. 
4. Plant easy-care, pollinator-magnet perennials en masse in areas further away from your home. Ones that are less likely to be regularly maintained.
Bird-friendly blue fescue extends the theme of cool, strappy blues. Masses of Autumn Joy sedum (a bee favorite) line the walking trail with big succulent foliage. Plus huge blooms in hues of pinks, creams, and greens.
This low-maintenance and drought-tolerant planting is perfect for lining trails and pathways. Especially areas that might get less water and maintenance due to their location.
Get the Look with These Plants
This reliable, attractive grass features graceful fountains of silver-blue blades. In neat, ornamental clumps, these combine well with other grasses, shrubs, and perennials. Up to 3' tall and wide. Zones 4-9.
Vibrant, nectar-rich, fragrant, and purple-red flowers cover this shrub in summer. The relaxed habit gives it a shorter appearance than taller varieties. Up to 8' tall, 6' wide. Zones 5-9.
A tough perennial that's a favorite for pollinators and low-maintenance gardens. Large, plate-like flower clusters start pink, then gracefully age to rosy russet-red in fall. Up to 24" tall and wide. Zones 4-11.
Two Perfect Pollinator-Friendly Outdoor Rooms
We'll wrap up our garden tour with a break in these two cozy nooks. Surrounded by aromatic pollinator favorites and a beautiful view.
1. An outdoor room that is both perfectly shaded and surrounded by aromatic lavender. This will soon become a favorite gathering (and resting) space. 
The blooming umbrella of a beautiful mimosa tree provides cool shade for this serene nook. In a space that's full of sunny gardens, the shaded outdoor room is often the place people spend most time.
Add a hedge of tough, waterwise, colorful, and calming lavender and everyone is happy — bees and humans alike. 
2. Create the walls and ceiling of your outdoor room with a pergola that's covered in prolifically blooming and fragrant vines.
Perfectly placed to enjoy an unobstructed view of the rolling hills of vineyards below. This pergola is surrounded by flowering perennials that frame the view. A wisteria vine dripping with fragrant flowers adds to the full sensory experience of soaking in all that nature offers.
Wisteria, honeysuckle, and clematis are all fantastic fantastic pollinator-friendly vines. These can quickly climb arbors and pergolas to frame your space with foliage and flowers.
Get the Look with These Plants
Highly fragrant, evergreen, and easy care. You just can't beat lavender in hot, sunny gardens! Plant them en masse like shown above to make humans and pollinators happy. Up to 2' tall and wide. Zones 5-9.
This versatile tree has fern-textured foliage and large cherry-pink, powder-puff-shaped, fragrant flowers that bloom profusely in the summer. Creates an exotic umbrella of dappled shade. Up to 30' tall and wide.  Zones 6-9.
A top-rated wisteria that's hardy down to zone 4. Dependably blooms up to three times in a growing season once established, with foot-long racemes of fragrant, pea-like, lavender-blue flowers. This vine needs space and support but is not considered invasive like its Japanese and Chinese cousins. 15-25' long with support. Zones 4-9.
Get More Information About Pollinator-Friendly Gardening