One out of every three bites of your food depends on a pollinator. So rolling out the welcome mat and ringing the dinner bell for pollinators by planting varieties they'll love is smart. Plus, watching butterflies, hummingbirds, and bees enjoying the garden is one of the many joys of life in the garden.
Whether you're starting from scratch or playing catch up in an existing garden. We've got do-it-now advice and recommendations for what to plant to attract specific pollinators. Here are our top tips and favorite plants for attracting hummingbirds, butterflies, and bees. Then keeping them happy in your garden.
Let's start with the perfect pollinator pairing pictured here. It includes butterfly, bird, and bee favorites, Magnus Purple Coneflower, and Kobold Gayfeather,  a particular favorite of swallowtail butterflies.
Top 10 Tips for Attracting Butterflies, Hummingbirds, and Bees
Determine which pollinator-friendly plants are appropriate for your region.

Plant lots of them. Make sure there are at least 3x3' feet of each plant species. These can be planted together or in other areas of the garden.

Composite flowers (clusters of many small flowers called florets, each of which is a full flower). Try coreopsis, sunflowers, asters, yarrow, etc. These are little pollen factories and are a sure way to make butterflies and bees happy.

Choose single flowers — those with one ring of petals — over double flowers. These are easier for pollinators to reach the inner flower parts.

Look for bright, tubular flowers like honeysuckle, fuchsia, penstemon, agastache, and foxglove to attract hummingbirds. 

Limit or avoid any use of chemicals (both synthetic and organic) in the garden, especially insecticides. These harsh chemicals make beneficial insect and pollinator populations weak or nonexistent. 

Instead of using chemical fertilizers, use plenty of compost and mulch to build healthy soil. Healthy soils create healthy plants and healthy plants support pollinators, birds, and beneficial insects.

Plan your garden so that there is something blooming for as many months as you can manage. Many pollinators, especially bees, forage during the entire growing season. Finding summer-blooming flowers is pretty easy; you can find our favorite early-spring flowers for pollinators here and late-blooming flowers here. 

Provide shelter by letting your yard get a little wild. Allow a hedge to grow untrimmed and leave a section of lawn unmowed. Pile up grass cutting in a sunny spo. Then create a nesting habitat by leaving some soil bare for ground-nesting bees.

Many pollinators are looking for clean sources of water from early spring until fall. Offer a bee watering station with a shallow bowl that's filled with rocks and water. This will allow bees and butterflies to easily access water. Just be sure to clean it often. 
Flowers that Attract Hummingbirds
When shopping for plants that'll attract hummingbirds (and keep them coming back), look for perennials that have abundant tubular flowers. Ones that have bright colors like pink, orange, red, and purple. Hummingbirds love bright, "hot" colors. Tubular flowers are perfect for their long, thin beaks and tongues to reach the rich nectar in the flower.
They also require lots of blooms. A hummingbird visits thousands of flowers a day to get enough nutrition to keep up its incredibly high metabolism. So, be sure to choose plants with abundant blooms, and plant lots of them.
Here are seven of our favorite hummingbird-friendly plants:
All Agastache varieties are hummingbird favorites thanks to their tall, vibrant spikes of tubular flowers. We love Kudos for its prolific blooms, compact habit, and improved performance. With increased hardiness, disease resistance, and tolerance of wet, cold soils. Up to 20" tall, 16" wide. Zones 5-10.
The abundant, bold, and bright flowers of bee balm attract hummingbirds as well as butterflies and bees. This dwarf cultivar has mildew-resistant, fragrant, dark-green foliage. Up to 12" tall, 10" wide. Zones 4-9. 
Hummingbirds love to visit the bright, dangling, tubular firecracker flowers on cape fuchsia from midsummer into fall.  This handsome exclusive features green foliage and a bushy, upright habit with profuse blooms. Up to 2' tall, 2' wide. Zones 6-10.
The bright, tubular flowers of beardtongue are often visited by bees, butterflies, and hummingbirds. The exclusive Harlequin™ variety offers even more showy flowers for pollinators to enjoy. This drought-tolerant, disease-resistant plant has a more bushy, compact, and upright habit than other varieties. 22" tall, 16" wide.  Zones 5-9. 
Profuse 6' tall flower spikes with coral-orange, trumpet-shaped blooms attract hummingbirds like a blazing beacon. Flower spikes emerge from the clumps of narrow, sword-shaped, gray-green foliage from early spring through fall. Up to 6' tall, 4' wide. Zones 5-9.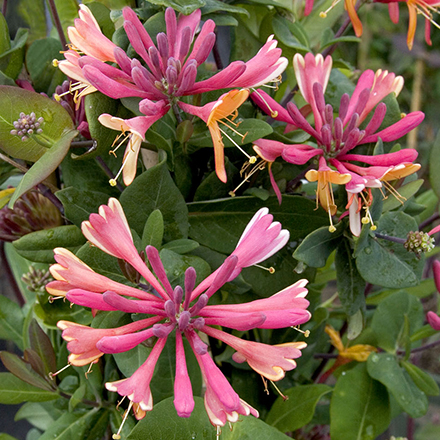 Hummingbirds love honeysuckles of all kinds. We love this particular honeysuckle for its unique purple to deep-pink buds and gold-yellow, tubular flowers. These bloom throughout summer. Twining stems quickly reach 15' long. Zones 4-9.
This compact variety of Red Hot Poker features spikes of nectar-filled blooms. These start as lime green. Then turn a lemony yellow, and mellow to a soft butter hue as they reach maturity. Grass-like foliage remains neat all summer. Up to 20" tall, 14" wide. Zones 6-9.  
Flowers that Attract Butterflies
Butterflies flock to nectar-rich flowers that are often pollen-rich, as well, so flowers that are butterfly-friendly are also bee-friendly. Plus, they are often also great for hummingbirds and other kinds of birds. Again, look for bright colors and abundant blooms. Plant en masse so the butterflies can easily flit from one bloom to the next. If you have a large enough space, plant a variety of shapes of blooms. This will attract a variety of butterflies, which come in all shapes and sizes.
Remember to research your native milkweed plants. Reserve some space for those to feed the monarchs or other native butterflies and pollinators in your area.
Here are seven of our favorite butterfly-friendly plants:
Milkweed might be best known as being the only source of food for monarch butterfly larvae. However, it is also a great source of nectar for many other species of butterflies and bees. It's important to grow a variety native to your area in order to support monarch butterflies in your region.
Gay Butterflies, pictured here, is a brilliantly colored North American native. It blooms in fiery shades of red, orange, and yellow in the summer. Plus, it's easy-care, well-behaved, and tolerant of lean, unimproved soils. It's perfect for naturalized areas, meadows, and borders. Up to 3' tall, 2' wide. Zones 4-11.
Verbena like this dwarf selection attracts butterflies, bees, and hummingbirds. Butterflies of all kinds flock to verbena, so it's a must-have for warm-zone butterfly gardens. Up to 36" tall and wide. Zones 7-11.
Image by Visions Pictures
A compact, early-flowering variety of the easy-care, drought-tolerant butterfly favorite. Big, flat clusters of small deep rusty orange flowers attract butterflies and look great in cut flower arrangements, too. Up to 20" tall, 24" wide. Zoned 4-9. 
An extremely aromatic and profuse bloomer that attracts pollinators with spikes of violet-blue blooms. Up to 18" tall, 12" wide. Zones 5-9. 
Spectacular dark violet-purple flowers are a treat for butterflies and hummingbirds. Lightly fragrant, nectar-rich spikes attract butterflies midsummer through fall. Up to 8' tall and 6' wide. Zones 5-9.
Deep-purple flowers are densely packed on a nicely rounded mound. Aster blooms later in the growing season, offering nectar for butterflies and color for the garden. Up to 2' tall, 3' wide. Zones 3-8. 
Masses of vibrant, crimson flowers offer a dense, showy carpet of color in the spring. Butterflies love the nectar that phlox provides, too. Up to 6" tall, forming a dense mat up to 3' wide. Zones 3-9. 
Flowers that Attract Bees
Bees are attracted to plants that produce blooms with high amounts of nectar and pollen. If you watch closely as bees visit flowers in your garden. You'll see them carrying pollen in tiny "pockets" on their legs. When you see bees with big, yellow "pollen pants," you know you're growing the right flowers. 
Plant your pollinator garden with flowers that bloom at different times of the growing season. This is to offer pollen and nectar from early spring until fall. Look for plants that bloom with an abundance of flowers in a variety of shapes and sizes. Like butterflies, bee species vary in size and shape, and so should your flowers. Smaller bees love a burst of tiny flowers, while large bees, like bumblebees, prefer larger flowers that can support their weight. (Learn more about different types of bees and beneficial insects with this visual guide).
Here are seven of our favorite bee-friendly plants:
Bees, butterflies, and hummingbirds all love coneflowers, and the Evolution™ series is no different. These big, bold coneflowers feature bright colors that draw pollinators. Plus, the tidier habit makes them perfect for pots, beds, and borders. Fiesta, shown here, has spicy, vibrant flowers that age to softer shades. Up to 20" tall, 18" wide. Zones 4-9.
The light scent of vanilla is as pleasing to our noses as it is to bees. Attracting them to the nectar served up in the striking deep-red center of these white, star-shaped blossoms. Twining stems quickly reach 6-8' tall with support. Zones 4-8.
Caryopteris shrubs are a big pollinator favorite. These are covered in the friendly buzzing of bees in summer and into fall. This gorgeous exclusive variety features shiny yellow foliage and deep blue flower spikes on a neat, compact habit. Up to 36" tall, 30" wide. Zones 5-9.
Bees love the nectar in these abundant white blooms. These Monrovia exclusive groundcover roses are very durable, own-root, fuss-free roses that look gorgeous with little care. Up to 3' tall, 4' wide. Zones 4-9.
A beautiful, bold meadow sage with beautifully vivid purple flower spikes loved by pollinators. Tough, easy to grow, drought-resistant, and reblooming. Up to 12" wide, 16" tall. Zones 4-9.
An incredibly versatile, fast-growing shrub for warmer regions, with fragrant, white blooms in spring that attract friendly bees. The evergreen, compact habit and glossy foliage make it great for a pollinator-friendly hedge, screen, or windbreak. Up to 10' tall, 6' wide unpruned. Zones 7-11.
A compact, mounding perennial that has an exceptionally long bloom season. It attracts bees and butterflies from early spring into fall. Light purple flower sprays look lovely in perennial borders, pathway edges, and containers. 8" tall, 12" wide. Zones 5-9.
A stunning Monrovia exclusive with large, red-eyed, molten gold-colored blooms that smother the feathery, mildew-resistant foliage. All on this easy-care, well-behaved plant, providing a long season of vibrant color. As well as nectar for butterflies and bees. Up to 24" tall, 30" wide. Zones 4-9.
A vigorous, cold-hardy evergreen shrub with huge trusses of rose-lilac-colored, pollinator-friendly flowers. An outstanding choice for foundation plantings or as an accent specimen. Up to 8' tall and wide. Zones 4-8. 
Bees love the masses of flowers on spirea shrubs. The rosy red flowers of this dense, upright mounded shrub are especially attractive. Bronze-tinged new growth emerges in spring and matures to a soft yellow-green. Then develops into a brilliant coppery orange in fall. Up to 4' tall and wide. Zones 4-9.
Learn More About Attracting Pollinators