Drove down the street and a flash of bright red or orange caught your eye?
It's aloe season! If you need a fuss-free "what about January" plant for zones 9-11, these hardy, drought-ignoring flowering beauties are ideal. 
Aloes are in full bloom now with exotic flowering "candles" (just another word for spikes.) With vibrant shades of red and orange towering over grey, green, or burgundy foliage. We love them in containers and waterwise borders. With their no-hand-holding-needed nature, they're also perfectly suited to challenging areas, too. Put them where you aren't going to water much and just leave them to do their thing. Here are five favorites.
Hot red flowers for the cool season! Spectacular display from fall through winter. Forms sturdy clumps well-suited for mass planting. A favorite of hummingbirds. Full sun.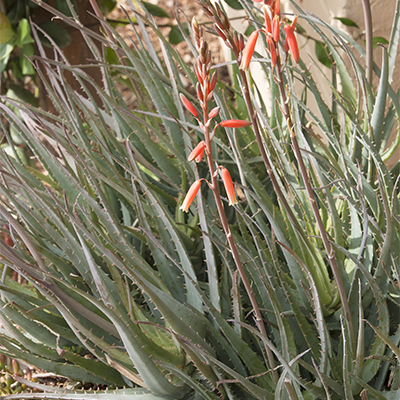 Tough little heat-loving hybrid aloe with spikes of brilliant orange flowers from early winter to spring. Right-sized for small spaces where you need a punch of texture and color. Reaches only 2 ft. tall and wide; mass or pot them up. Full sun.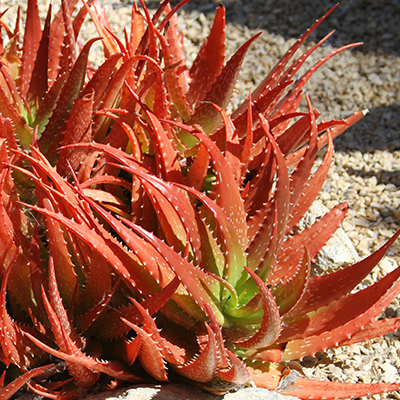 (And that's just the foliage–it has exotic flowers, too!) Leaves change from lime green to bright orange-red with white spotting as the season progresses. Use this smaller aloe (up to 2 ft. tall) in a rock garden for contrast. Partial shade to full sun.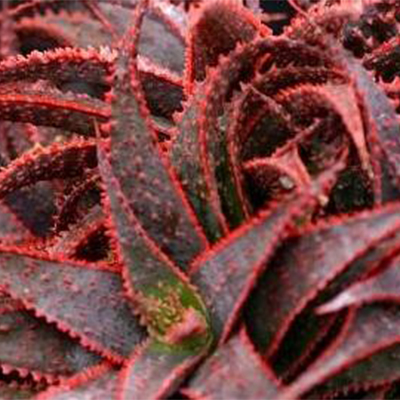 Pretty festive, right? Add some post-Christmas color to the garden. This container (reaching up to 1 ft. tall and wide) produces a deep-crimson color with vibrant pink to reddish-orange blooms. Partial to full sun.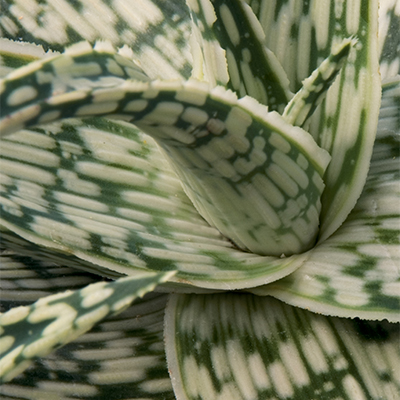 Firecracker-colored flowers are just an added bonus. Especially when you have a plant whose foliage is mottled in green and white like a spin-art painting. Slow-growing and smaller in stature, this one's good for indoors, too. Partial to full sun.
Caring for Aloes
When caring for aloes, less is more.
Provide a well-drained soil in full sun or partial shade.
Once established (about two growing seasons),  water infrequently during the hottest days.
Dig up or re-pot and divide clumps every 2 to 3 years in early spring after they've bloomed.
Love it? Buy it! (Plus a few more we love.)