No garden is complete without a few of spring's first bloomers, hellebores. Gardens rich in these late-winter and early-spring blooms reflect the excitement, rejuvenation, and joy of the upcoming growing season. Plus, hellebores provide nectar for emerging pollinators when there are very few nectar sources available to them. Just when you think winter will never end, up come the hellebores — classy, colorful, and just in time.
After a few years, you can expect your mature hellebore to produce 50 or more (yes, 50+!) flowers each season. That's a lot of joy for a plant that takes so little space, blooms in shade, and is oh-so-easy care.  Plus, hellebores are deer resistant. Your beautiful early bloomers will be left alone to bloom until spring has fully sprung.
Below the in-depth guide to hellebore care. You'll find gorgeous pictures and links to the top ten best hellebores for your woodland or shady garden. Our top ten were chosen for their unique blooms, hardy performance, and dependably prolific blooms. Many of them have outward and upward-facing blooms. This is a big improvement on the typically drooping blooms of traditional hellebores. Grow these ten beautiful and deer-resistant hellebores in your late winter or early spring garden.
Want a few more hellebore ideas? Explore all hellebores here. Looking for more early-spring garden inspiration? Sign up for our monthly Grow Beautifully newsletter.
Hellebore Care 101
Hellebores (a.k.a. Lenten Roses) are hardy and easy to grow, with a wide range of happiness zones from 4–9. If you have reliable snow cover during the coldest months, your hellebores can be tough enough to survive. (even in zone 3.)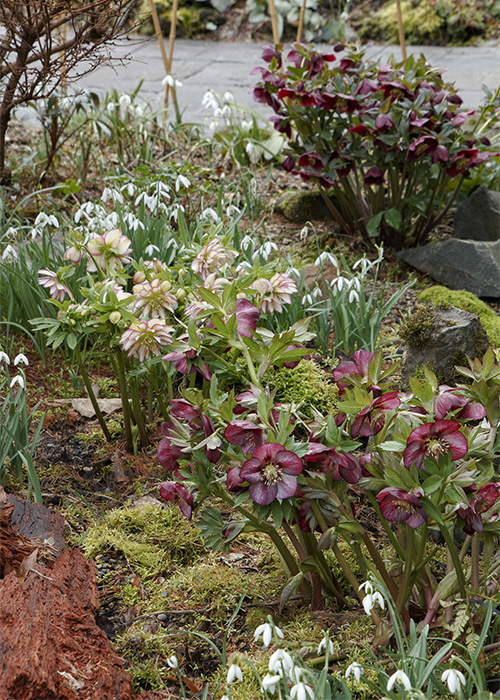 Where, How, and When to Plant Hellebores
Where to plant: Chose a site where your hellebores will get dappled or partial shade. Hellebores will grow in dense shade, but won't produce as many flowers as they would in a partially shaded location. Woodland conditions, like under deciduous trees, are typical for hellebores. If you regularly deal with soggy soil, a sloped location is ideal to maintain drainage. 
How to plant: Plant hellebores in well-draining soil that you've conditioned with compost. Be careful not to cover the crown of the plant. While adaptable to a variety of soil conditions, hellebores prefer soil rich in organic material. Getting them started in humus-rich soil will lead to the best performance.
When to plant: Plant hellebores any time in the fall or early spring. As long as the ground isn't frozen or the weather too hot, you can plant hellebores in your garden. 
Hellebore Growing Conditions
Best Soil Conditions: Hellebores grow best in moist, well-draining soil enriched with generous amounts of organic matter. Site them where it's damp, but not wet. 
Watering: Hellebores enjoy moist (but not soggy) soil. Provide supplemental irrigation in dry conditions to maintain soil moisture. A deep watering once a week should be adequate. However, test the top few inches of soil with your finger. This is the only way to know for sure if the soil has the appropriate amount of moisture. The soil should feel lightly moist, but not water-logged or soggy. 
How to mulch hellebores: Mulch annually in fall, and allow leaves to remain as a natural mulch and soil conditioner. You can pull back old leaves from the foliage in late winter to expose the foliage and new blooms. 
Best soil pH: They also prefer a pH close to neutral, even alkaline. Add lime if your soil is extremely acidic.
Light conditions: Hellebores prefer full shade to partial shade. NOTE: Designers and gardeners often plant hellebores under deciduous trees for a wintery show. This is followed by helpful cover shade for the foliage in summer.
When and what to fertilize: Feed the plants in the fall with a balanced fertilizer. Plus a layer of compost and/or bone meal.
Pruning Hellebores
Foliage that emerges before flowers (or that's leftover from last season) can look winter-tatty. You can prune this old foliage off as the hellebore starts to flower, which will leave you with bare stems. Or, if you don't mind winter imprint on the foliage, prune out the old foliage when new leaves come out. This will be about two months after bloom starts. Either approach is fine for your plants. It all comes down to your aesthetic and personal preference.
Dividing and Transplanting Hellebores
Hellebores are hardy, long-lived perennials that often naturalize, or spread, in ideal growing conditions. Because of that, they don't typically need to be divided to keep them healthy. However, you may want to use division as a form of propagation.  
When to divide: Fall, specifically early fall, is the best time to divide hellebores. At this time, they have already flowered and set seeds, and are typically still healthy and hardy. Early fall is also ideal because it gives the plants time to establish before winter sets in. The important thing is to avoid the heat of midsummer when setting out to divide and transplant your hellebores.
How to divide and transplant:
1. Be sure to wear gloves when dividing hellebores because their sap can cause skin reactions in some people.
2. Once you have your gloves, dig up the entire mature hellebore plant with a sharp shovel. If the ground is dry, water around the plant to soften and moisten the soil.
3. Use the shovel to dig around and lift up the plant.
4. Once the crown and root system is exposed. Use a clean pair of shears to divide the plant into your chosen amount of sections. We recommend dividing in half or in thirds, depending on how large the root system is.
5. Keep the roots of the divided sections moist; it's helpful to place them in a bucket of water. 
6. Transplant immediately. Follow the "where and how to plant hellebores" instructions above.
A Monrovia exclusive, with large blooms of deep purple-pink. The large, deeply-hued flowers add dimension and color to the garden from late winter through early spring. Lobed, leathery evergreen foliage looks great year-round and is deer resistant. Up to 22" tall, 24" wide. Zones 4-9.
Deep pink buds open to bright white flowers that face up and outward, unlike most hellebores. Virtually problem-free and easy to grow in part- to full-shade environments. Up to 12" tall and wide. Zone 4–9.
Pure, gleaming-white,  semi-double blooms with ruffled petals. Outward facing blooms atop compact, toothy foliage. Up to 12" tall, 16" wide. Zone 3–9. 
Flowers face outwards and even upwards, so you can get a better look at their absolutely gorgeous blooms. The rosy-red petals on this red variety are stunning in early spring. Up to 2' tall and wide. Zones 5-9.
Photo by Heuger
A bright addition to the cool-season garden, with outward-facing white blooms that greet the spring. Up to 2' tall and wide. Zones 5-9.
Photo by Heuger
Bi-color blooms stun in pink and white. The rare combo requires a second look, and the upward-facing flowers make it easy to do so. Up to 2' tall and wide. Zones 5-9.
Photo by Heuger
Shades of pink play across the petals and add delightful color to late-winter and early-spring gardens. Up to 2' tall and wide. Zones 5-9.
Photo by Heuger
Purple-black single blossoms adorn vigorous clumps of foliage. Plant en masse or add a few clumps to a bed of white. Up to 18" tall, 22" wide. Zones 4–9. 
Large double flowers with white bicolor petals, each artistically brushed with deep plum-purple hues through the center. Up to 18" tall, 24" wide. Zones 4–8.
Striking, deep amethyst-rose-colored, double blooms with shimmery white margins and pale yellow centers last from late winter through spring. Up to 18" tall, 24" wide. Zones 4–8. 
Learn more about easy-care and early-blooming plants