Growing FloralBerry™ St. John's Wort
Whether your garden is large or small, made up of beds or pots, we all need fuss-free shrubs to help give our gardens "good bones" or structure. But what if you could have a shrub that does triple duty? Got your attention? Let us introduce you to FloralBerry™, a new collection of St. John's Worts, exclusively ours.
First a bit of 4-1-1 about St. John's Wort (Hypericum). It is a small shrub that's hardy to zones 5 – 9 and that shines across seasons. Spring through fall the dense, leafy form makes it ideal for the middle layer of a border, in a container, or anchoring a perennial bed. Summer brings yellow saucer-shaped blooms that bees adore. In fall, it sports richly-hued berries.
This series of St. John's Wort was bred for the cut flower industry. That's why they have such showy, consistently-colored berries. The shrubs are rust-resistant and well branched which makes them wonderful in the garden, or as cut stems for home decorating.
ALL PHOTOS: Doreen Wynja
So what's different about FloralBerry™ St. John's Wort?
First, because these shrubs were bred especially for the cut flower trade, they produce abundant berries on longer stems which makes them are ideal for fall flower arrangements.
Second, the intense color of berries (yellow, red, pink, cream, peachy depending on the variety) you'll find on your shrub is remarkable.
Finally, as in the case of Sangria, the leaf color can have a distinct, bold shade.
Fall can be a quiet time in the garden but there is no need to just sit back and watch it fade to black! Plant a few of these colorful, easy-to-grow shrubs for their beauty, berries, and to feed wintering birds.
And tell us, how would you decorate with these stems of colorful berries?
5 Beautiful FloralBerry™ Shrubs to Choose From!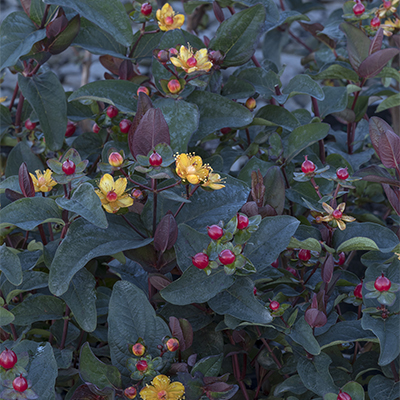 As if the blood-red berries weren't showy enough, the glossy leaves are deep-red on the underside. Perfect in a pot. Tuck berried stems into vases of fall mums or the last of the panicle hydrangeas. Up to 3′ tall and wide.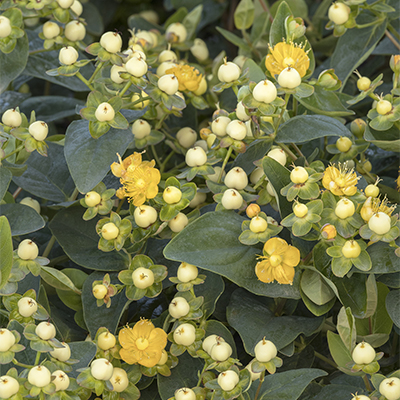 Clusters of creamy-white berries in fall follow soft-yellow summer flowers. Wonderful as a low hedge. Picture berried stems in a vase of red garden roses or roadside-gathered yellow goldenrod! Up to 3′ tall and wide.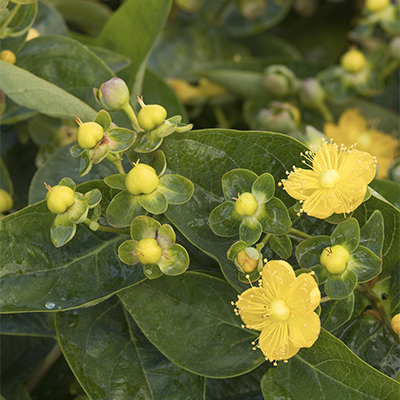 Brilliant yellow berries (like really yellow!) and dark-green glossy foliage look spectacular with purple or burgundy foliage or flowers. In fall, add cut stems to pumpkins used as flower vases. Up to 3′ tall and wide.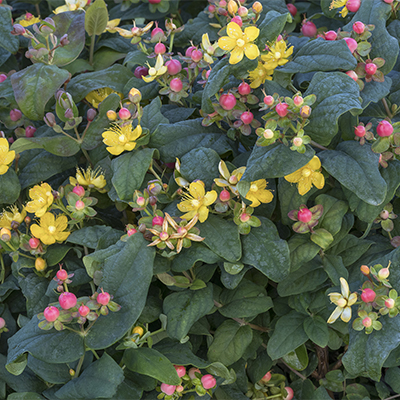 How soft and romantic are those deep-rose colored berries! This variety looks so good with ornamental grasses that bloom pink in fall. Use in an arrangement of fall blooming anemones and Joe Pye weed. Up to 3′ fall and wide.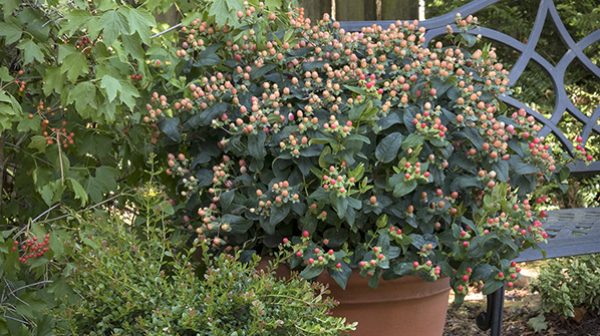 Buttercup-yellow flowers that bloom in summer are the ideal match for a stand of coneflowers or black-eyed Susans. In fall, these are laden with deep-pink-to-red berries (add to a vase of colorful leaves for a WOW combo). Up to 3′ tall and wide.
Craftsmen's Tips for Growing FloralBerry™ St. John's Wort
Widely adaptable to most well-drained soils; does not tolerate soggy soils.
Water deeply, regularly during first growing season to establish an extensive root system.
Tolerates some dry shade when established.
Apply controlled release fertilizer in spring and periodically through the growing season.
Pruning time: late winter to early spring.