Don't have the space for a maple tree, white birch tree, or other large tree famous for its fall color? You can still enjoy the brilliant colors of fall with small trees that are perfect for any garden space. Whether it's a narrow garden bed or tight-fit backyard or condo courtyard. Maybe even a really large rooftop container. Here are some of our favorite small trees for fall color. Our favorites are categorized by foliage that turns red, orange, and yellow in fall. With 13 beautiful trees to choose from, we're sure you'll find something to love for many seasons to come. 
Head to your local garden center to find craftsmen-grown Monrovia trees. Remember to share your fall color with us by tagging @MonroviaPlants. 
(Above) Bloodgood Japanese Maple is a classic favorite for its bright scarlet-red fall foliage. Plus, the interesting red-black bark is striking in winter after the leaves drop. A hardy Japanese maple with good sun tolerance. Filtered to full sun. Slowly reaches 15-20' tall, 15' wide. Zones 5-8.
Trees That Turn Red in Fall
A thrilling, densely-branched, small tree with highly dramatic foliage color. Spring leaves are brilliant salmon-red, green in midsummer, then turn a brilliant orange-scarlet in autumn. New growth continues to emerge red, contrasting beautifully with the mature foliage. Fits well in small spaces and containers. Partial shade to filtered or partial sun. Slow growing; reaches 7-9' tall and wide in 10 years. Zones 5-8
Brilliant red foliage lights this small, versatile, and bushy tree aflame in fall. A wonderful bare-stemmed silhouette appears after leaves fall, and fragrant flowers appear in spring. Excellent cold tolerance. Partial to full sun. Up to 20′ tall and wide. Zones 2–7.
A delightful composition of mixed textures with big feathery plumes and large rounded leaves. Foliage is a vibrant wine red when young, darkening to a plum red at maturity. Expect brilliant shades of orange-red in the fall. Performs even in rocky, infertile soils! Partial to full sun. Up to 15' tall and wide. Zones 4-8
An attractive ornamental shrub or small tree with showy, ruffled, fiery red summer flowers. These are followed by vibrant orange-red fall foliage. An excellent choice as a specimen plant. Or en masse for an explosion of color in the landscape and year-round interest. Full sun. Up to 20' tall, 15' wide. Zones 6-10.
This compact, shrubby tree has gorgeous foliage that becomes purple-red with orange-red patterns in fall. The color is most intense in full sun and is less likely to sunburn than other varieties. Popular for bonsai, as a container specimen, and in small gardens. Highly sculptural form improves with age. Partial to full sun. Up to 15' tall, 10' wide. Zones 5-8.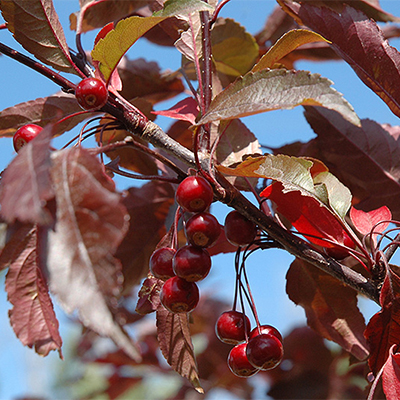 Unique, cut-leaf foliage emerges wine-red in color, maturing with burgundy overtones in summer before turning bright orange-red in the fall. And bright pink spring flowers turn to showy red-purple fruit, too! Full sun. 20′ tall, 15′ wide. Zones 4–8.
Trees That Turn Orange in Fall
There's rarely a moment with this outstanding small tree doesn't look great. Although fall is when it hits its zenith with foliage in varying shades of gold, orange, and red. Partial to full sun. Up to 12′ tall, 8′ wide. Zones 5–7.
Beautiful creamy yellow and coral red stems make a striking winter specimen. Rich green leaves clothe the stems through summer and turn orange and yellow in fall. Reaches 8 to 10 ft. tall in ten years; 12 to 18 ft. tall, 10 to 15 ft. wide at maturity. Zones 5-9.
An exciting colorful evergreen! Sunny yellow new growth emerges in striking contrast to maturing chartreuse to bright-green foliage. The real drama arrives when the weather cools. Then it transitions to deep gold, with glowing orange to russet red tips in fall. Up to 25' tall, 8' wide. Full sun. Zones 5-8
Trees That Turn Yellow in Fall
This beautiful small tree has brilliant red-coral bark on its young branches with color that intensifies in the winter. Deeply cut, pale green leaves display attractive red margins and turn a vibrant, golden yellow in fall. Thrives in bright dappled shade in warmer regions, or in full sun in cooler regions. 15-25' tall, 15-20' wide. Zones 5-8.
An ever-changing display of colorful foliage continues all the way through fall. New foliage emerges burgundy, fades to yellow, and matures to green. Branches display all the colors at once for a stunning effect and will turn back to a brilliant yellow in the fall. Partial to full sun. 15-20' tall, 15' wide. Zones 5-9.
This superb selection is a fruitless male strain. Unique fan-shaped green foliage turns brilliant golden yellow in fall. Symmetrical branching creates an exceptional upright landscape accent, eventually becoming a handsome shade tree with age. Full sun. Slow growing; reaches 35 to 50 ft. tall and wide. Zones 4-9.
Learn More About Adding Fall and Winter Interest to Your Garden