From spring's first blush to autumn's last stand, Japanese maples wow us with unforgettable shapes, colors, and textures. Come fall, plum purples turn crimson and scarlet. Verdant greens and honeyed yellows turn apricot and gold. In winter, their bare, sculptural branches inspire and charm us, even on the darkest of days. And, as we learn in our "Simply Beautiful" design guide, Japanese maples are a top choice. They can be used to fill the integral role of a small tree in garden design plans.
So, whether you're longing for a more beautiful view or craving close-up container style, turn to Japanese maples. They're among the most beautiful, easy to care for, and popular plants you'll find. (Even Jamie Durie of Curb Appeal Xtreme can't get enough of these dramatic beauties.) Take a look at some of our favorite types of Japanese maples below. This includes rare types for the collectors and a cold-hardy specimen for our northern gardeners. Plus some of the most striking varieties, perfect for those looking to add a little drama to their plantings.
Above: The weeping form and finely cut leaves of the Waterfall Japanese Maple look stunning next to a water feature. Learn more about Waterfall in the Weeping Japanese Maple section below. 
Rare and collectible Japanese Maples
Spring sings with Deshojo's brilliant salmon-red foliage, turning green in midsummer, then scarlet-orange in fall. New growth begins red, contrasting beautifully with mature foliage. Young upright twigs and branches splash red in winter. Up to 10' tall and wide. Zones 5–8.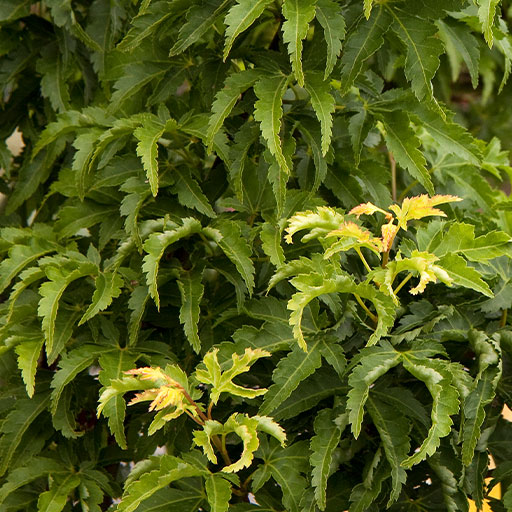 Unusual! Compact, rounded, and upright shrub-style tree with curled green leaves that blush red-orange in fall. 'Shishigara' is very happy in full sun and less likely to sunburn than other Japanese maples. Highly sculptural form. Up to 15' tall and 10' tall. Zones 5–8.
Deeply lobed, cut leaf foliage is a lush and beautiful maroon-purple throughout summer. In fall, the foliage radiates an intensely bright red. Graceful, cascading branches build into a mounding dwarf tree with waxy, deep red bark. Up to 10' tall and 12' wide. Zones 5–8.
Meet Velvet Viking™ — the first Japanese maple hardy to Zone 4
In 2019, we introduced our exclusive Velvet Viking™ Japanese Maple, the first Japanese Maple that thrives in northern, cold climates.
With regular water and dappled sun, it's majestic in hotter climates, too. This weeping variety reaches just 3′ tall, making it exceptional in both containers or your close-up border.
Velvet Viking™ has fine, lacy, deeply cut foliage. It holds its garnet color until fall when cooler weather sparks the shift into vibrant, ruby red tones.
Delicate leaves cascade across the dwarf, low-growing form. Lovely spilling over a low wall or from a container. Up to 3' tall and 5' wide. Truly tough and cold hardy in Zones 4–9. 
Dramatic Upright Japanese Maples (Zone 5 – 8)
Summer's burgundy foliage brightens into scarlet red in fall. Red-black bark provides striking interest in winter. Plant in a highly visible area amidst evergreens or grasses. Slender, airy habit makes for lovely patio or entryway screening. Up to 20' tall and 15' wide. Zones 5–8.
Bright coral-red bark lights up this small tree's young branches all year long. Color intensifies as temperatures cool. Deeply cut, pale green leaves turn yellow-gold and russet orange in fall. Thrives in dappled shade in warmer climes, full sun in cooler. Up to 25' tall and 10' wide.  Zones 5–8.
Graceful branches are veiled by showy merlot red foliage that turns hot scarlet in fall. Perfectly sized for outdoor living spaces that call for soft movement, shelter, and privacy. Lovely down a walkway as a focal point against evergreens. Up to 15' tall and wide. Zones 5-8.
Weeping Japanese Maples (Zone 5 – 8)
A low, weeping form with delicate crimson foliage in summer that can turn bright scarlet in autumn. Lovely against silvery evergreen foliage. Spectacular in a container or along a dry bed stream or waterway. Excellent in a large container. Up to 10' tall and wide. Zones 5–8.
Cascading branches flush with large, finely cut, apple green leaves sweep across your small space landscape. Positively glows with golden fall color. Wow-worthy as a patio or courtyard specimen. Up to 10' tall and 12' wide. Zones 5–8.
One-of-a-kind with green palmate leaves waterfalling down this weeping form. Fast-growing branches shoot straight up and cascade down, making it ideal for narrow spaces. Fall foliage is a rainbow of red, orange, and yellow. Up to 20' tall and 6' wide. Zones 5–7.
Want to dig into more information about Japanese Maples?