Golden-yellow plants brighten the landscape, imbuing darker spaces with waves of radiance and bursts of sunshine. From chartreuse yellow to molten bronze, golden foliage adds depth, contrast, and companionability. Especially when planted with greens, blue-greens, reds, and purple-maroons.
While it can be true that a little bit of gold goes a long way, experiment with any of these beautiful plants. These will surely add the Midas touch to your garden and containers.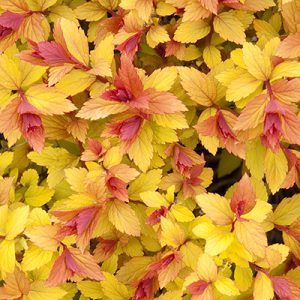 Clusters of small pink flowers contrast with bright, amber gold foliage that turns rich russet red in fall. Use to brighten and fill in beds and borders. Full sun. Zone 4 – 9.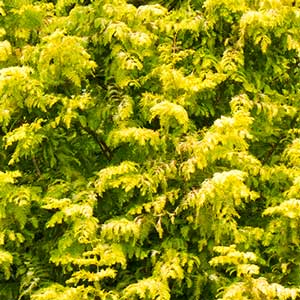 Once thought extinct, this deciduous conifer has soft sprays of chartreuse in spring. These hold their color until fall, before dropping in breaths of bronze. Full sun. Zone 5 – 9.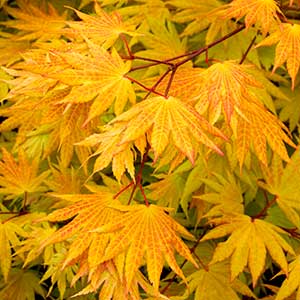 New growth unfurls a lemony yellow green, while fall foliage stuns in mottled shades of molten gold to red. Right sized for small gardens with limited space. Partial to full sun. Zone 5 – 7.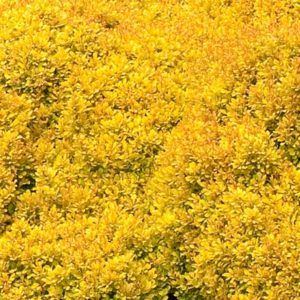 Radiant foliage shines golden orange through summer and fall. Compact form blazes with color in shrub and mixed borders. Full sun. Zone 4 – 8.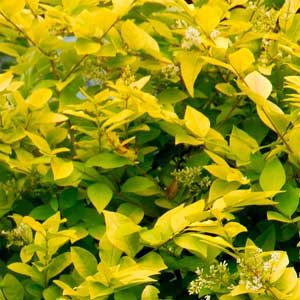 This unusual, sun-kissed privet adds brightness during the growing season. Come fall it alights in a purple-red beauty. Very easy care as a tall, unclipped hedge. Full sun. Zone 5 – 8.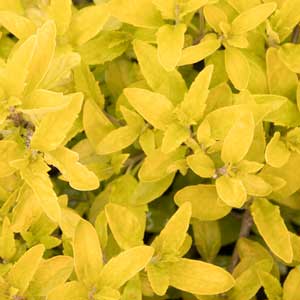 Fragrant foliage shines chartreuse in summer. Leaves turn yellow gold in fall. Bright blue flowers hum with the busy, nectar loving buzz of bees all summer. Full sun. Zone 5 – 9.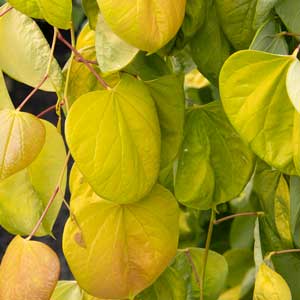 Heart-shaped leaves blush apricot and mature to yellow gold. A unique color for weeping varieties! Lavender-pink spring blooms are always charming. Full sun. Zone 5 – 9.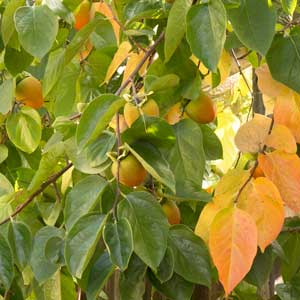 A sweet, self-pollinating jewel. Autumn's amber canopy falls and branches glow with luscious orange-red fruit. Stunning—and delicious. Partial to full sun. Zone 8 – 10.
Feathery sprays of citrusy gold foliage distinguish this tall conifer with exceptional winter color. Great for a fast-growing screen. Partial to full sun. Evergreen. Zone 4 – 8.
Upright, wand-like branches spread with needles the color of Goldenrod. Excellent en masse under a canopy of deciduous trees. Tolerates shearing well, too. Partial to full sun. Zone 4 – 7.
This standout tree heralds spring with bright yellow-gold growth that lights up against the mature blue-green foliage. Ideal for screening or windbreaks. Full sun. Zone 2 – 8.
Emerald green leaves sparkle with wavy, golden edges. Slender and upright habit are exceptional for topiary. Chefs love to cook with savory, aromatic foliage. Partial shade to full sun. Zone 8 – 11.
This dwarf evergreen lights up rock walls and understories with bright gold bottlebrush foliage. An inspired accent and container plant. Partial to full sun. Zone 7 – 9.
New chartreuse needles fringe bright lemon-yellow inner foliage reaching upright on cinnamon-colored bark. Citrusy scent. Full sun. Zone 7 – 10.
Narrow, tall, and columnar in habit with stunning gold new growth. Bright color holds well all year round. Scented wood is lovely in topiary form, too. Full sun. Zone 7 – 9.
Feathery yellow foliage deepens in winter (better than other gold-tipped varieties). Compact in habit, but big, bold, and zesty gold color adds drama all year round. Full sun. Zone 3 – 9.