Yes, forsythia has a rather short bloom season. The shrub, while lovely in a branching sort of way, pretty much fades into the background most of the year. But, when it's on, it's ON. Masses of bright to golden yellow flowers clad the stems before they leaf out later in spring. This makes this the ideal late winter pick-me-up we all need during the February doldrums. We promise, when they bloom, it's an Instagram moment in the making.
(Enjoy them inside too! It's super simple to force branches of budding forsythia into brilliant blooms. Here's how!)
What: Absolutely explodes with masses of soft yellow flowers. Zone: 3-9
When: Early spring
Best Feature: Upright form makes this a useful background border shrub.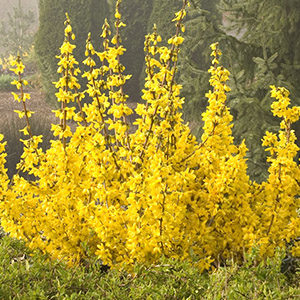 What: Extra large, golden-yellow flowers on medium-sized shrub. Zone: 5 – 9
When: Early spring
Best Feature: Very early bloom and tolerates warmer climates.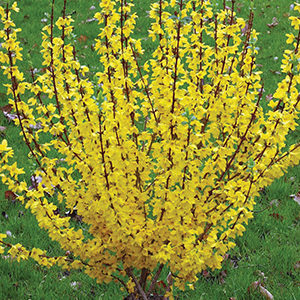 What: Compact size makes an excellent short hedge or foundation shrub. Zone: 5 – 8
When: Late winter to early spring
Best Feature: Moderate height fits into tighter spots.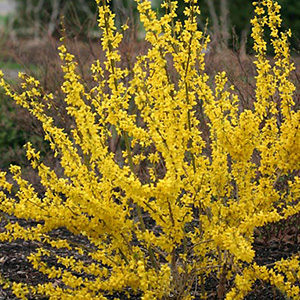 What: Improved compact variety; masses of flowers from base to tip. Zone: 4 – 8
When: Early Spring
Best Feature: Versatile dwarf form and early bloom.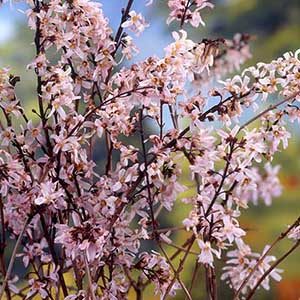 What: Clusters of pale pink flowers appear early and are ideal for forcing cut flowers. Zone: 5 – 8
When: Spring.
Best Feature: Form makes a showy stand alone shrub.
Keeping Forsythia Happy
Easy to grow in average to poor, well-drained soils.
Best flowering in full sun.
Follow a regular watering schedule during the first growing season to establish a deep, extensive root system.
Tolerates periodic drought, when established.
Feed with a general purpose fertilizer before new growth begins in spring.
Prune to shape immediately after flowering.
Create a blizzard of late winter/early spring bloom!