Drenched in fragrance and draped languorously over a fence or pergola, wisteria is a beguiling charmer with hypnotizing power. If you live in regions like the American South, you know this plant has a will of it's own. Here it takes root and can be found in springtime working its way horizontally across powerlines. Sometimes seen vertically up anything that stands still long enough.
And, it's long-lived, too. It's not unusual to see a specimen that's at least 50 years old. All of that said, wisteria is easily controlled (and flowering is encouraged) by regular pruning.
Here are a few really spectacular varieties from which to choose, each with huge, cascading flower clusters. If you're not sure which one would work best for your particular conditions, ask in the comment section. Or, better yet, consult with your local garden center (find one close to you right here.)
What: Masses of fragrant, rose-pink flowers hang in long, dangling racemes that shift gently with every breeze. Zone: 5 – 9
When: Early Spring
Best Feature: It's all about romantic color.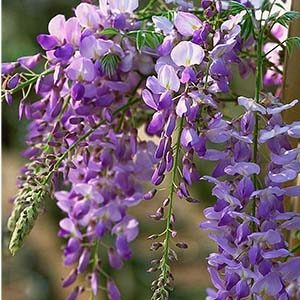 What: Spectacular pendulous clusters of sweetly fragrant flowers. Zone: 5 – 9
When: Spring
Best Feature: Blooms at a very early age.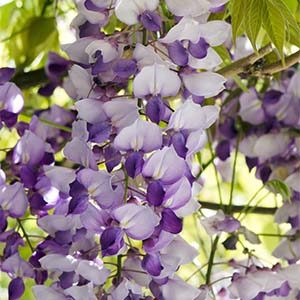 What: Hypnotic 18-inch pendants burst with fragrant, pea-like blooms. Zone: 5 – 9
When: Spring
Best Feature: Easily trained into a standard or tree form.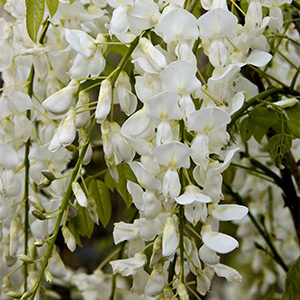 What: Huge nodding clusters of very fragrant pure-white flowers. Zone: 5 – 9
When: Spring
Best Feature: Attracts butterflies in droves.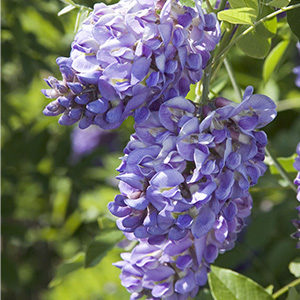 What: Lush with intensely-purple blooms. Zone: 5 – 9
When: Spring
Best Feature: Compact, perfect for small spaces & large containers.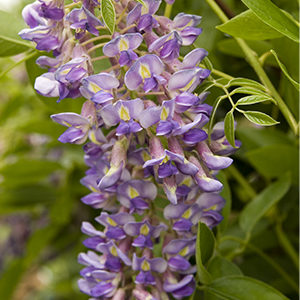 What: Sets lavender-blue blooms up to three times in a season. Zone: 4 – 9
When: Late spring
Best Feature: Among the hardiest wisterias.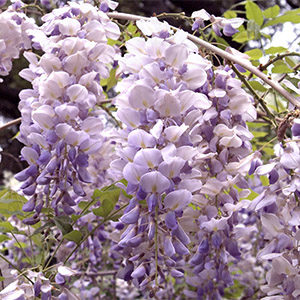 What: Dripping with fat clusters of lilac-blue flowers. Hardy! Zone: 4 – 9
When: Late spring
Best Feature: More tolerant of wet soils.
Keeping Wisteria Happy: If you have plenty of sun, lots of room, sharp pruners, and a very sturdy support, wisteria is not a difficult plant to grow.
Grafted plants (which we offer) are more likely to ensure blooms within the first three years.
Provide heavy-duty support such as a sturdy trellis or arbor.
Six hours of full, direct sun will yield best bloom.
Provide good drainage and a slightly alkaline soil.
Protect from strong winds which can damage flower buds.
Give it plenty of water when in bloom.
Avoid feeding with high-nitrogen fertilizer as this is likely to produce plenty of leaves, but fewer flowers.
Wisteria can live a long, healthy life with no pruning at all, happily twining, climbing, and sprawling. To control size,

 

prune in winter, and if desired, again in summer.
Love the Look? Bring it Home!