We know that with winter coming, hungry deer problems will be on the rise. For great advice on how to deal with this, as well as plants that are not at the top of a deer's preferred menu, we turn to the experts. Here's great advice from guest bloggers Megan Nichols and Jessie Jacobson of Tonkadale Greenhouse, Minnetonka, MN.
Oh deer!
(by Megan Nichols and Jesse Jacobson, Tonkadale Greenhouse)
They may be cute while prancing through a meadow or navigating snow in winter. However, in the garden, deer are far from fun. It's always the same sad story. As new growth emerges or just when that long-awaited bloom is about to open, the top is lopped right off. Or newly planted specimens are ripped entirely out of the ground. What's a gardener to do?
Unfortunately, it's true, deer will eat almost anything. The trick is to get one step ahead of the furry marauders. Do so by gardening with plants that are not their favorite buffet offerings. Do that, and they might just cruise over to someone else's yard.
Here are 10 plants we recommend you try.  (Bonus – 5 of these varieties are for shade.)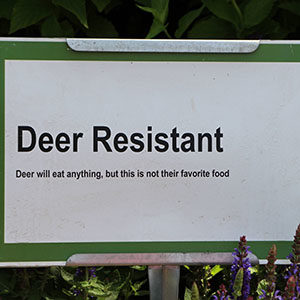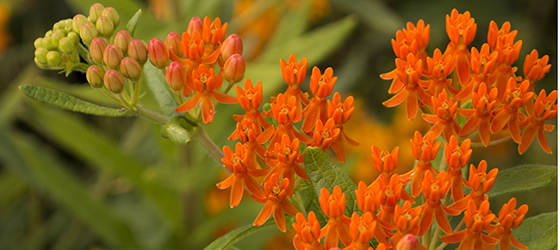 Stunning and most effective at attracting pollinators in mass plantings. Extra bonus: a larval host plant for Monarch butterfly caterpillars! Sturdy, reliable, and drought tolerant once established. Re-seeds and forms clumps in the garden. Herbaceous perennial. Zones: 4 – 11
Use: Ideal for naturalized areas, meadows, and borders.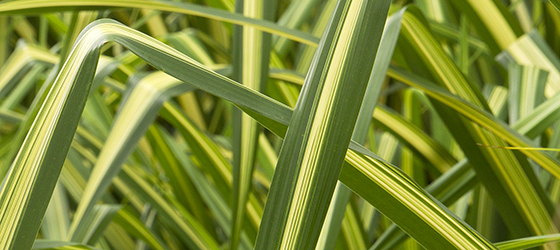 Structural foliage with floaty, flirty, fragrant white blooms make this easy care plant a must-have. Extremely drought tolerant, this sun lover pairs well with sedums for deer resistance and low water input. Evergreen. Zones: 4 – 9
Use: Mass for a contemporary, modern look or as a specimen plant in a mixed garden.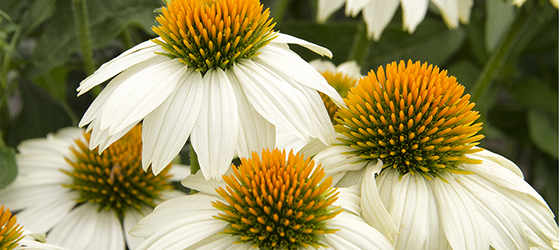 Prolific flowers that bloom from mid-to-late summer; pollinator magnet loved by butterflies and bees. Leave seed heads after flowering for winter food for birds. Drought tolerant too! Herbaceous perennial. Zones: 3 – 9
Use: In a mixed border, or in a moonlight garden where they gleam at night.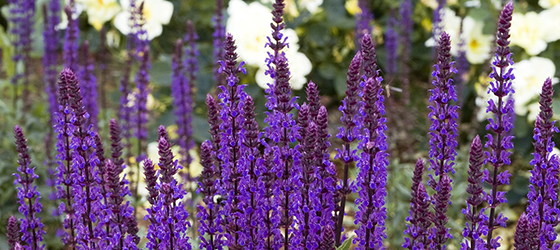 Deep purple stems and a strong, upright habit provides interest even after the blooms have finished. Cut back after first bloom for another round of purple power. Resilient and hardy; attractive to many pollinators too! Herbaceous perennial. Zones: 4 – 9
Use: Mass plantings create waves of dark purple for days on end.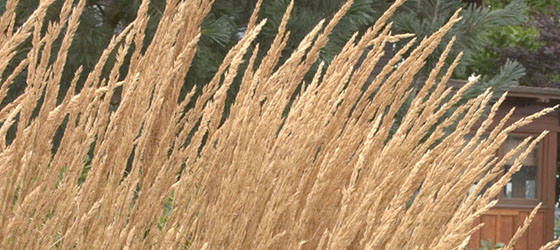 Every garden need a backdrop to help blooming plants stand out. Hardy, vertical, and adaptable, this blooms earlier than standard feather reed grasses. Dependable! Herbaceous. Zones: 4 – 9
Use: Adds structure and interest to a winter landscape. Use to mitigate run-off, or in a rain garden.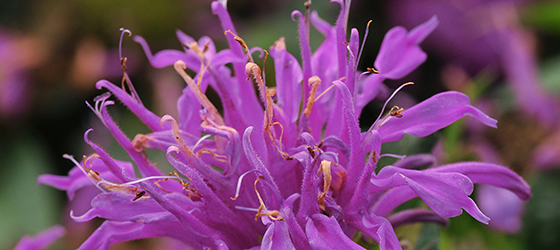 Vibrant purple flowers on a compact plant add punch to garden borders and attract pollinators. For instance, bees (obviously), butterflies, and hummingbirds. Compact, prolific bloomer. Herbaceous perennial. Zones: 4 – 9
Use: Add to cottage-style borders and containers, or mass in a waterwise garden.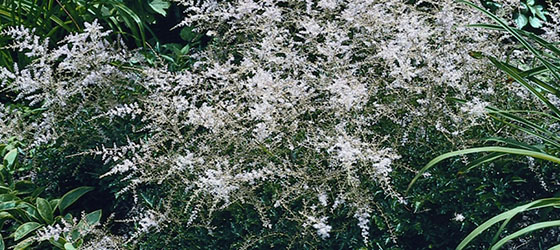 Another shade garden go-to. Feathery, soft, shell pink plumes are held above bronze green foliage in summer. Delicate, white blooms that tend to arch outward and down add a soft touch and brighten dark garden corners. Herbaceous perennial. Zones: 4 – 9
Use: Dwarf performs equally well in the landscape or in a container.
Pokes its eager head up out of the snow when the deer are their hungriest. A favorite among gardeners, but happily, for deer, not so much. Extremely early bloom time. Beautiful, ruffled white petals and gold stamens. Evergreen. Zones: 3 – 9
Use: Shaded woodland garden. Excellent cut flower.
With a longer bloom time than old fashioned bleeding hearts, this variety is a must for shade or woodland gardens. (You know, where deer like to hang out). Adds texture and bluish tones to the shade garden long after blooms fade. Herbaceous perennial. Zones: 2 – 8
Use: adds delicate greenery to corners or shaded niches.
Compact with golden foliage, this shade loving shrub can be planted as a specimen, or in mass for stunning effect. Improved sun tolerance over other gold varieties. Enough said! Evergreen. Zones: 4 – 7
Use: Perfect for woodland or rock gardens. A stunning container specimen.
Aside from planting deer-resistant plant varieties, here are a few other tips and tricks. These will help save your garden from unwanted pruning, mowing and munching.
Deer are pattern eaters. Like us, they can get in a rut. Once they decide your yard is their favorite lunch truck, they'll just keep coming back. Make sure they never discover the tasty nuggets your yard has to offer.
Modify deer eating patterns and behavior early. Early in the season, string heavy gauge fishing line between posts about one and a half and three feet high. Be sure it's tight and that the posts won't fall over with a little pressure. Deer love to visit at dusk and dawn when visibility is hampered. Being nervous creatures by nature, they don't like being touched by something they can't see. The fishing line will not be visible, but it will hinder their movement. They may back away and try again, but they'll soon find where they can and cannot walk.
Apply repellants. There are plenty of scents deer dislike, and repellents use these scents to mask the delectable smells deer prefer. Repellants are just stinky stuff. They aren't harmful or toxic to you or the environment. Repellants are sold in granular or liquid form, and are easy to apply. Begin applying repellants early in the season for maximum effect.
Don't get discouraged. Gardening is a verb. That means it is an ongoing activity that happens over time and space. Most plants tolerate being munched on a bit. They will grow out of it, and perennials will come back next year. Start small, think big, and plant plants!