If you need a last minute bit of spooktacular garden decor, follow our lead. Create a window box using just 5 plants with dark, dramatic foliage. If the spirit moves you (get it?), toss in a few pumpkins for color and (hey, it's Halloween!) levitate a wire pumpkin above twined with orange lights. (Okay, it's hung by clear fishing line.) When the night is over, the window box will continue to look great right up to the first frost.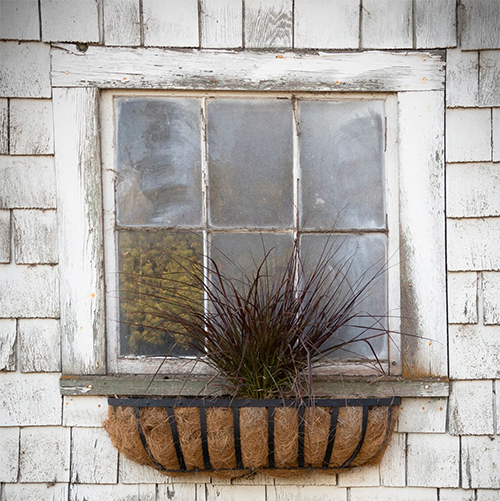 Step one: Find a spooky window (any window really!) and install a coir lined hay rack planter. (Ours came from Lowe's.) Center one (1- gallon) Purple Fountain Grass for height and movement. A perennial for zones 8 – 11; treat as an annual in colder zones.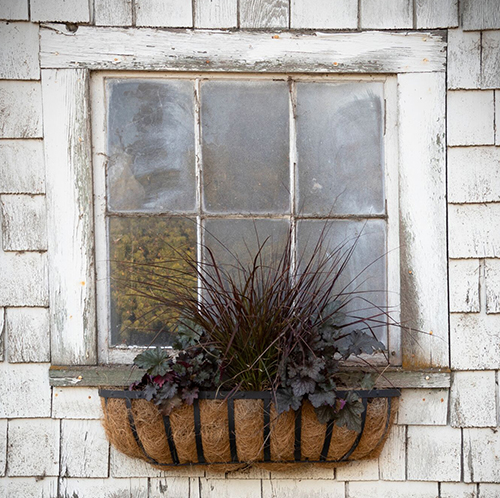 Next, flank the grass on either side with a quart or 1-gallon sized deep purple Plum Pudding Coral Bells. Pro trick? Tilt the plants slightly forward so they drape over the front of the planter. This is a perennial for zone 4 – 9 (likely to overwinter just fine).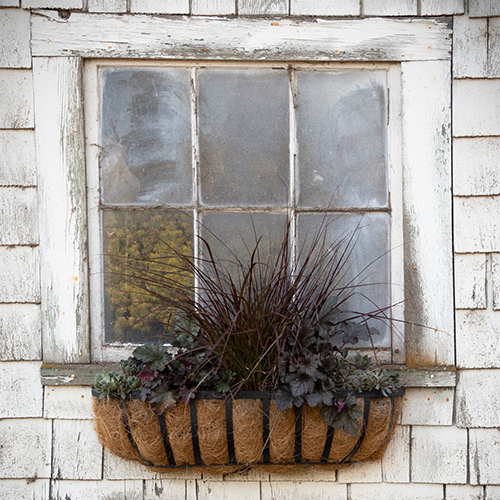 Up the spook-factor by filling in each of the ends with blackish-burgundy Krebs Desert Rose Hens and Chicks. These are cold tolerant Sempervivum (Zone: 4 – 9). By the end of next summer, they'll have grown over the edges and in between the other plants.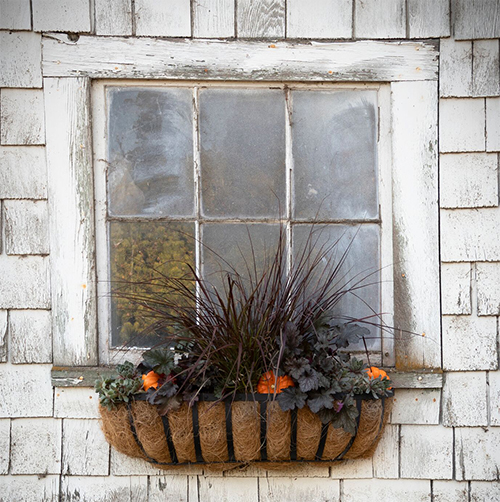 Finally, nestle a few mini-pumpkins for a dose of color. When it's time for a winter holiday look, remove them, take out the grass and add any one-gallon conifer. In warmer zones, leave the grass and add some annuals like pansies.
A few tips:
Use the best quality of organic potting soil
Add a handful of time release fertilizer which will break down over the winter
Water in well and continue to water until a hard freeze; in warmer zones, water weekly if it doesn't rain.
So, that's it. Easy, effective, and can be transformed for the winter season with a few swap outs. Did you find this helpful? Please let us know in the comments.