Small Space, Big Solutions: Planting for Privacy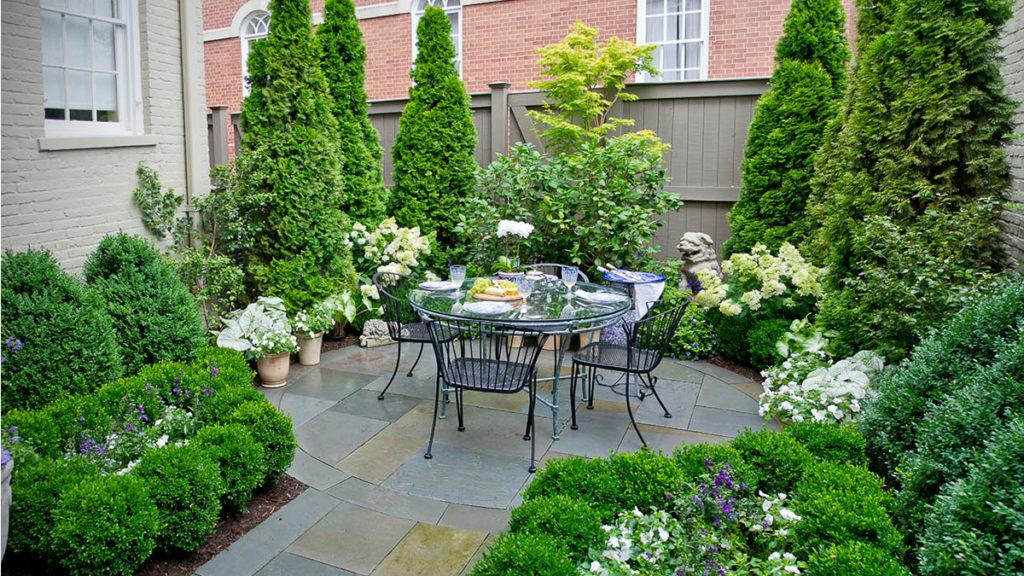 Those neighbors are mighty close with a view from the upper story windows into this urban courtyard in the Washington, DC area! It's not easy to feel relaxed in your outdoor space with you feel on view. To solve this problem, designer Mary Kirk Menefee added plenty of screening using mostly evergreens that require little maintenance. In a few years when those arborvitae and Japanese maple will fill out, this outdoor dining room will be the perfect spot for lingering and entertaining.  (See the "befores"!)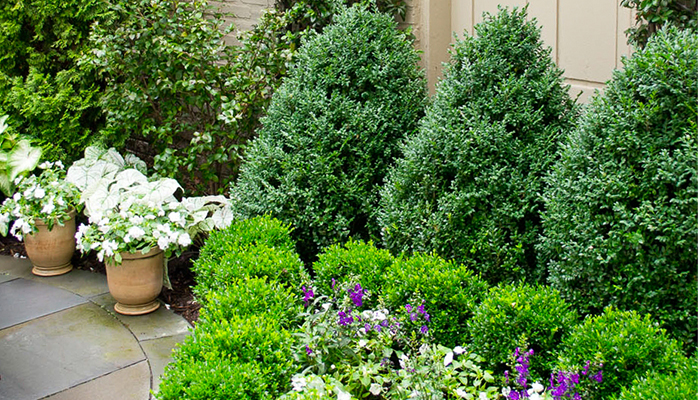 Details:
This formal garden, with its minimalist color scheme and symmetrical plantings was warmed-up with by the choice of randomly-shaped finely-cut flagstone paving and modern-inspired furnishings.
The most striking feature (such an easy "steal-me" idea!) are the parterre gardens that flank the path. Boxwood orbs planted in a semi-circular pattern house seasonal bloomers including angelonia and impatiens.
Using pots stuffed with annuals not only adds pretty color, but helps to cover-up the young lower branches of plants that have yet to fill out.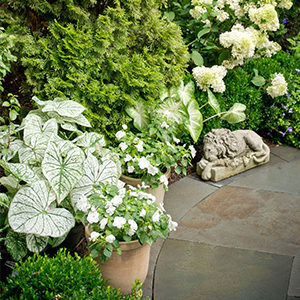 Genius!
The best gardens are the ones that have elements that mean something to you. These homeowners tucked in a few small sculptures from their travels among the foliage. By the way, how much do we love the heat-loving white caladiums?
Takeaways:
It's possible to have an easy-care garden that looks great year round by leaning on evergreen foliage. These hardy boxwoods and conifers look lovely here in early summer; imagine them covered with lights in winter!
But, plan for seasonal color, too. Here, camellias bloom in spring, hydrangeas billow in summer, Japanese maple's brilliant fall foliage and winter's red pyracantha berries.
When selecting flooring, choose ones that reinforce other elements such as house colors, exterior building materials, and even fencing. (While red brick would be more "traditional", here it would feel incongruous).