Calling all urban gardeners and townhouse-dwellers! Sometimes you only have a few feet of space for plantings. However, think of it as an opportunity to create the sweetest little jewel box of a garden. This modern residence in Chicago's Lincoln Park is on a shady, tree-lined street with room for just one long bed.
Designer Marcelo Mendonca of M. Botanica Landscaping Services maximized the long, narrow space (5′ x 15′). He does this by planting a formal symmetrical garden of compact varieties. He also uses the vertical lines of the fencing to frame the beds with a pair of columnar beech trees. What keeps this interesting are the azaleas that are grouped at the ends. They are clustered in the middle along with astilbes and ghost ferns around the trees. There's even room for a gravel dog run in the corner!
When you're space challenged, think in terms of layers–you'll be surprised by how much you can fit in.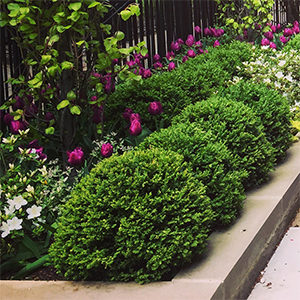 Details:
Privacy in congested urban, or even suburban areas, can be an issue. However, it's nice to let passers-by peek in and admire your garden. Choosing lower-growing shrubs (like these boxwoods) gives a feeling of separation, without putting up walls.
Takeaways: 
In the smallest of spaces, keep it simple, find what works, and repeat, repeat, repeat.
The staggered rows of boxwood orbs create depth and an undulating wave of green.
C

reate a focal point by leaving a space between groupings. Plant with something showy such as these white azaleas, which are set on access from the front doors.

There is probably a tree for just about any size site, but choose carefully or risk a no-win battle! These columnar beeches are slow growing and will get tall, but stay narrow (about 3′ wide).
Design: Marcelo Mendonca, M.Botanica Landscaping Services
Images: M.Botanica Landscaping Services.