If you live in an urban setting and you're very lucky, you might be able to score an outdoor space. (Here, the South Slope neighborhood of Brooklyn, NY.) That said, it's likely to come with a few challenges, such as unusual dimensions. Sasha Newman of Sasha Newman Design + Associates took on this bitty bowling alley of a backyard (12′ by 50′). She filled every inch of precious real estate with great ideas, warmth, and charm.
From the vine-clad privacy screen to a small patch of lawn for play and ample storage (in the benches!). Plus a three-seasons of interest center garden designed in a Prairie-style theme. (As seen in the swathes of grasses alongside perennials that have a strong structure.) There's not a missed opportunity here. Even under the stairs, there's a small garden. The only color allowed here is clean, fresh white. Foliage is limited to light colors that make an effective counterpoint to the dark tones of the Ipe wood fence. Wondering about the unusual arrow-shaped patio? It points to the Statue of Liberty visible beyond the tree line. Note to self: little details make the difference!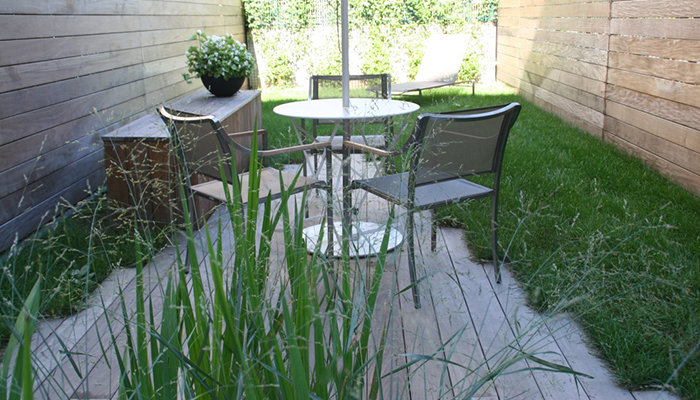 The Details:
Accessed by stairs from the residence, this romantic garden was cleverly designed. This was in order for every square inch to do more then just one thing. Every spot shines at least twice a year.
In the center bed, flowering bulbs kick off spring followed by Abyssinian gladiolus. (KATRINA® African Iris is a good water wise substitute). Plus grasses and perennials that bloom through fall. The wire fence in the back was underplanted with Sweet Autumn clematis which provides privacy along with a sweet scent. Tucked under the stairs are tough perennials that bloom for months.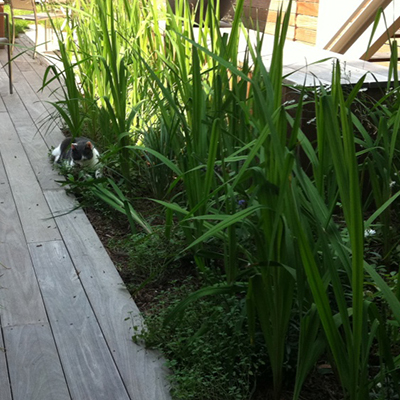 Genius!
While dormant here, this bed is filled with frothy ornamental grasses that bloom summer into fall. Strategically planted to take advantage of evening western light. This illuminates these grasses, the effect is that of a soft, hovering cloud.
Takeaways: 
It's always tempting to use loads of color. However, limiting the palette in small spaces allows the eye to see rich textures without the distraction of multiple hues.
Even in small beds such as this center one, it's possible to get big impact by creating layers with plants. Here, taller grasses (feather reed and switchgrass) were underplanted with shorter ones. Perennials (white catmint and sea holly) act as a mid-level filler.
Fill large containers with seasonal annuals to bring freshness to the garden between bloom sequences. (Who doesn't love a trip to the nursery for a bit of eye-candy!)