Firethorn (the common name for Pyracantha) is an evergreen shrub. It's so easy to grow and so useful in the landscape that it really deserves to be used more often. It can be grown in a container, planted as a specimen shrub or hedge, or twined onto a trellis. Alternatively, as above, its pliable young branches trained into a wall-hugging espalier. Yes, there are thorns to deal with. (This makes for a great barrier hedge, but also something to consider if you have children or curious pets). However, there are also spectacularly decorative masses of clustered red or orange berries. These come on in fall and hang on through the winter.
Choosing the right pyracantha for your landscape is about the mature size of course. It's also which color berry you prefer. One thing is certain–no matter your choice, birds will flock to your garden. If you've not considered using this gorgeous, fuss-free, problem solver, take a closer look at the six varieties below. Firethorn may be just the thing to light up the landscape.
THERE'S A FIRETHORN FOR EVERY NEED!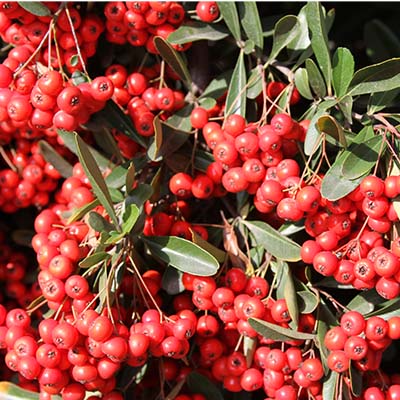 Displays vibrant red berry clusters late in the season and holds them through winter. Use as a hedge, screen, or windbreak. Quickly reaches up to 10 ft. tall and 8 ft. wide. Full sun. Zone: 7 – 9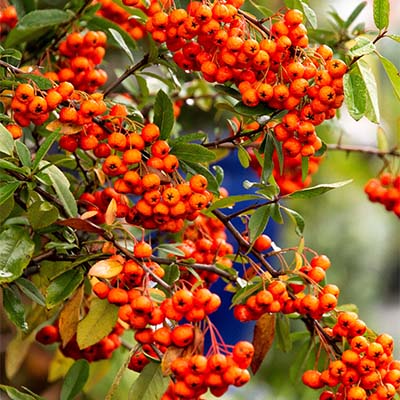 Abundant white blooms are followed by bright orange berries. A favorite nesting spot for birds. Good height for a privacy hedge. Fast up to 10 ft. tall and 8 ft. wide. Full sun. Zone: 5 – 8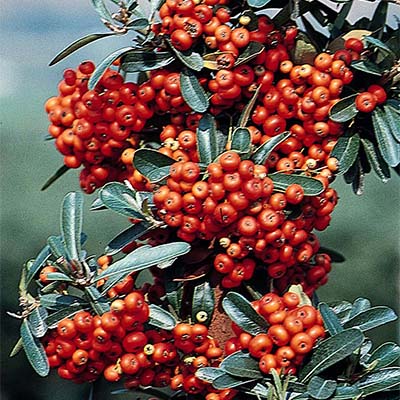 Outstanding, heat loving hybrid was developed at the U.S. National Arboretum. Mass this extra-tall variety for an informal hedge or barrier. Fast up to 12 ft. tall and wide. Full sun. Zone: 6 – 9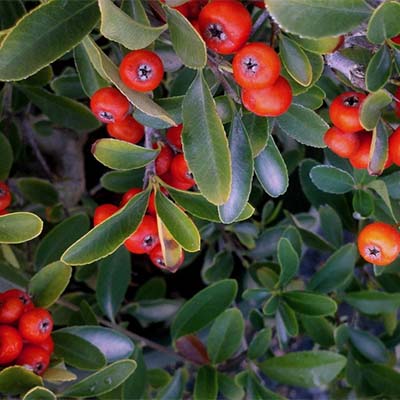 What a cutie! Excellent in containers or as a low hedge. Stunning choice for espalier on a low wall. A disease resistant variety. Quickly reaches 2 ft. tall and wide. Zone: 7 – 9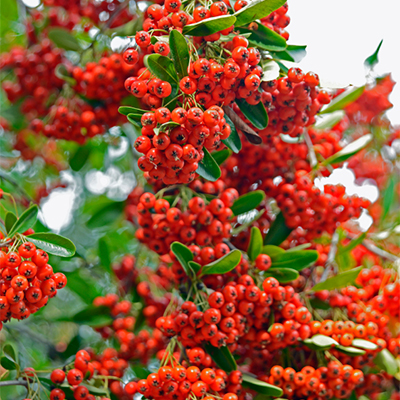 A tall, gorgeous specimen with loads of rich-red berries would make an impressive and useful thick, dense hedge. Fast up to 12 ft. tall and 10 ft. wide. Full sun. Zone: 7 – 9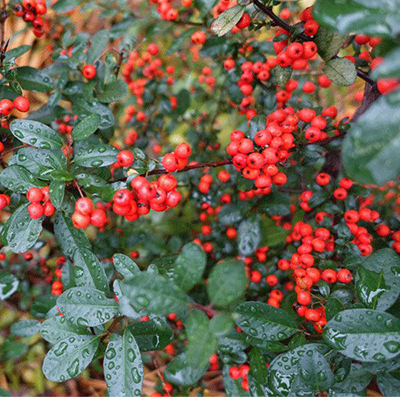 Remarkable groundcover for really tough spots. Low spreader displays abundant creamy-white flowers then bright-orange berries. Fast to 3 ft. tall and 8 ft. wide. Full sun. Zone: 6 – 9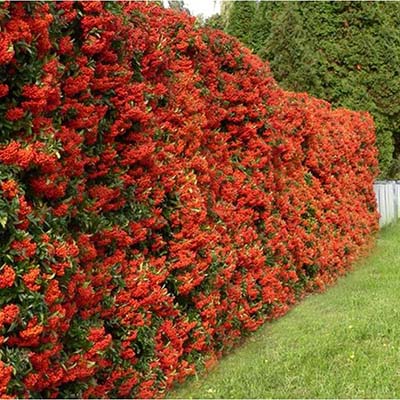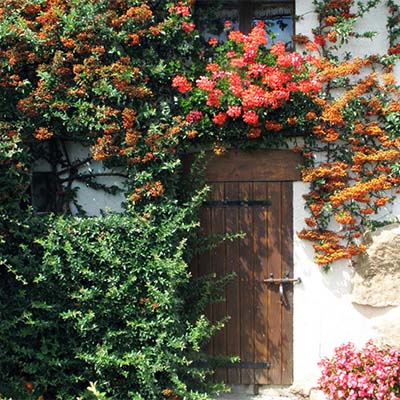 Row 1:  (L.) Sheared as a hedge, taller varieties grow thick and dense. (R.) Get even more oomph by combining different colors of berries.
Row 2: 'Lowboy' is a great variety for lots of color that doesn't get very tall or wide. These shrubs were left unsheared.
Row 3: (L.) If espalier is not your thing, try pyracantha. It can also be wired to a sturdy wall in a freeform pattern. (R.) Firethorn is a bird magnet!
Row 4: (L.) A single mature shrub can become an outstanding focal point. (R.) Firethorn pairs perfectly with other water wise plants such as these Russian sages.
Prefers full sun but can tolerate partial shade. Note: too much shade will result in fewer berries.
While it is waterwise once established, prefers well-drained, sandy soils.
Feed with a general purpose fertilizer before new growth begins in spring. If you prefer a tidy, neat appearance, shear annually to shape.
Does not like to be transplanted, so choose your site carefully. If transplanted (or in the first year after planting) production of berries might be reduced until the plant recovers.
Prune for size management anytime. However to ensure the greatest yield of berries, the best time to prune is in winter or very early spring.
Pyracantha berries are not poisonous. They are extremely bitter to human taste, but are a favorite amongst a variety of birds.