This season we're introducing Seaside Serenade. A new series of six remarkable hydrangeas with truly notable improvements that make the classics you already love, even better.
We worked with breeders to create these new hydrangeas. Our goals were to help you increase the ways in which you can use and enjoy these desirable plants. (Both in the garden and in outdoor living spaces.) Plus, to materially improve structural elements such as stems and leaves to help them perform better. And, we're not talking change for the sake of change, here. The newest crop of hydrangeas excel on these four fronts:
Compact Size: Maybe you've seen pictures of blooming hydrangea hedges and yearned for the look but have limited space. This new series fulfills that want with plants bred to a super-useful, compact, 4 ft. by 4ft. size. Filling foundations, dressing-up front yard picket fences or stone retailing walls. Adding a colorful low border in front of a taller garden bed, lining a walkway, or in a large pot. These new hydrangeas are only limited by your imagination.
Re-bloom: Most of the Seaside Serenade series (Bar Harbor is the exception) re-bloom reliably several times in a growing season. They kick it off with a big burst in early summer. This is followed by subsequent flushes of blooms throughout summer and into fall. Note that this is true even in warmer, more humid zones where hydrangeas can sometimes struggle with high-summer flowering.
Sturdier Stems: So, you want the same huge flowers found on larger plants. However, you also the usefulness of this new, more compact, smaller-sized plant. Done! The genius innovation here is measurably thicker stems that will not flop under the weight of large flower heads. The other benefit here is how these stronger, sturdier stems perform as a cut flower. They stand up straighter so you can make a more refined arrangement.
Thicker Leaves: Many hydrangeas do not perform well in heat, humidity, or windy conditions. The way to help them, is to improve the actual leaves. Leaves that are thicker and waxier can tolerate a bit more of these buzz kills. Each of the plants in the Seaside Serenade series have this improvement. Now, we're not talking about gale force winds or beating down desert heat here, but you will notice the difference.
At Seattle's Northwest Flower and Garden Show in February, we set a table of these new hydrangeas in full bloom. They were instant celebrities because they solve common problems for hydrangea lovers. We think you will want to take a closer look when visiting your local independent garden center this spring. As with most new plants, quantities are limited. Some will be available through Shop Monrovia, our online shopping portal. If you want these hydrangeas, do not wait!
If you have questions, I would love to tell you more! Please use the comment section below.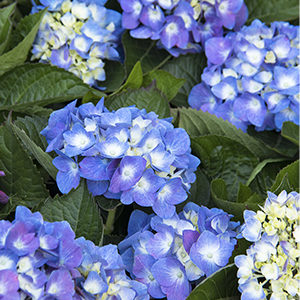 Love a blue hydrangea but short on space? This one's super-compact reaching only 4ft. tall and wide, but has the huge mophead flowers you love. And, it blooms in spring and again throughout summer. Zone: 4 – 9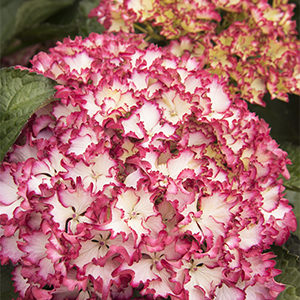 Okay, this one's just cool. Opens with a white center ringed in red, but as it ages the petals become more pink, fading to ivory. All at the same time on one plant. Or you can turn it blue just by adjusting soil pH. Zone: 4 – 9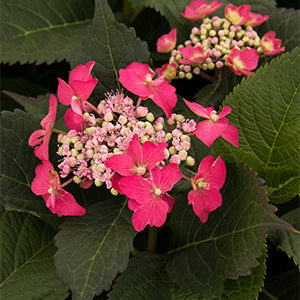 We're obsessed with lacecap hydrangeas. Rather than a mop, these have florets arranged around the edges, creating a lacy appearance. This one's lipstick-pink flowers open from purplish buds. So elegant. Zone: 4 – 9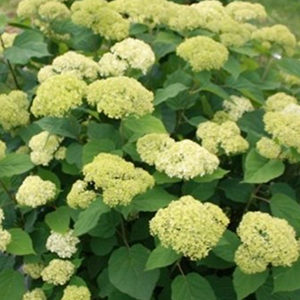 Everyone loves Annabelle hydrangea's huge blooms, but not the way her stems can flop under the weight of those flowers. This new, compact variety solves that with the same huge blooms, but on sturdier stems. Zone: 3 – 8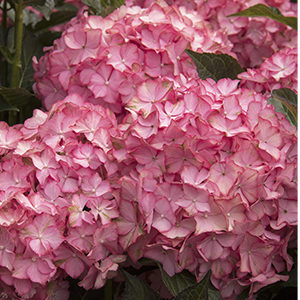 Another gorgeous, huge, ball-shaped mophead. What distinguishes this one are the designer details. For instance, the jagged little serrated edges on each floret, and the bright-green eye that dots the each center. Zone: 4 – 9.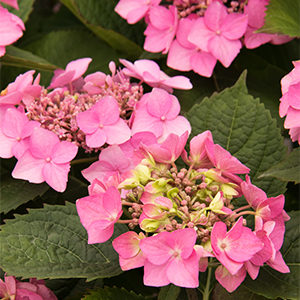 We saw both pink and blue versions up close (depending on soil pH). We were taken by the palette of blooms and buds. Pink flowers with rosy-red and purple buds; blue flowers with hot-pink and purple buds. Zone: 4 – 9