Every issue of Plant Savvy highlights exciting new plants and garden trends. You'll find inspiration and ideas for taking your garden to the next level.
Your USDA Cold Hardiness Zone
Update my zip code
Zones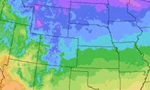 There are very few rules in gardening, but perhaps the most important one is to work within your zone. Choosing plants that grow and thrive in your particular climate is the very first step toward having a beautiful garden.
Learn More >