Make the Most of Outdoor Living with Monrovia
New digital guide and on-demand webinar offer tips for creating beautiful gathering and retreat spaces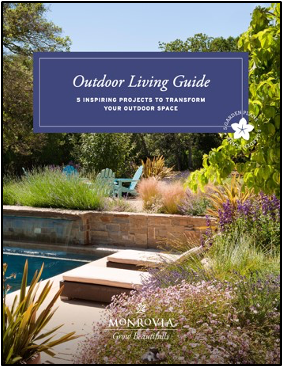 Azusa, California – It's the season we have all been waiting for! Now is the time to create the outdoor spaces you've been dreaming about, and Monrovia is here to help with inspiration and information to get  started. 
Spark your creativity with the new Outdoor Living digital guide. This free, downloadable guide features five beautiful landscape designs from awardwinning illustrator and landscape architect Lisa Nunamaker. From outdoor dining and entertaining spaces to a relaxing outdoor oasis, this guide offers design tips and plant suggestions to transform spaces of any size. Download the Outdoor Living guide here: https://www.monrovia.com/outdoor-living-guide
If you're sharing with your readers, please use this link:  https://go.monrovia.com/outdoor-living-guide
Monrovia's on-demand webinar brings the digital guide to life with a fun discussion on creating inviting outdoor spaces. Lisa Nunamaker joins the Monrovia team to explain easy-to-follow design techniques and offer tips for using color, form, and texture in the garden. "This webinar and digital guide really help us create magical moments in the garden," says Katie Tamony, chief marketing officer and trend spotter at Monrovia. "Our discussion goes beyond just choosing features and furniture. We dig in to creating a feeling in your outdoor space, choosing just the right plants to create structure, add comfort, and lift your mood." Tune in to the webinar here: https://www.youtube.com/watch?v=NYNPgXjAUqE
Spend a few moments in the garden with us on Monrovia's YouTube channel. You'll find this conversation with Lisa Nunamaker and many other inspiring plant videos, timely tips, and answers to many common garden questions.
###
Need more ideas, images or want to talk with a Monrovia expert? For more information or to schedule an interview, contact: 
Kathleen Hennessy, [email protected] or 612.840.5091.
Watch our Pursuit of Beauty video or access our 2023 Distinctive Plants Guide for more inspiration.
About Monrovia
Inspired by the beauty of plants, gardens, and landscapes everywhere, Harry E. Rosedale, Sr. founded
Monrovia in 1926 to be a premier grower of shrubs and trees. Monrovia collaborates with plant
breeders around the world to introduce improved plant varieties to North America. Monrovia plants flourish once planted to beautify gardens and landscapes. Please visit Monrovia.com to learn more.