Tango Twirl® Mandevilla
Tango Twirl® Mandevilla
Mandevilla x amabilis 'Monrey' Plant Patent #14,290
Item #6129
USDA Hardiness Zone: 10 - 11
Plant Description
Spectacular, delicate pink, fully double flowers are held in upright clusters and enhanced by large, deep green, glossy leaves. A lovely choice for trellis or arbor. Evergreen in frost-free regions; treat as a summer annual in cooler regions.
Videos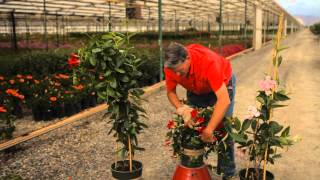 How to Trim a Mandevilla
(3:02)
Trimming a mandevilla in the right way will help encourage new growth all year long. Trim a mandevilla with help...
More Videos >
Stories
More Blog Posts >