12 Perfect Plants for East Facing Borders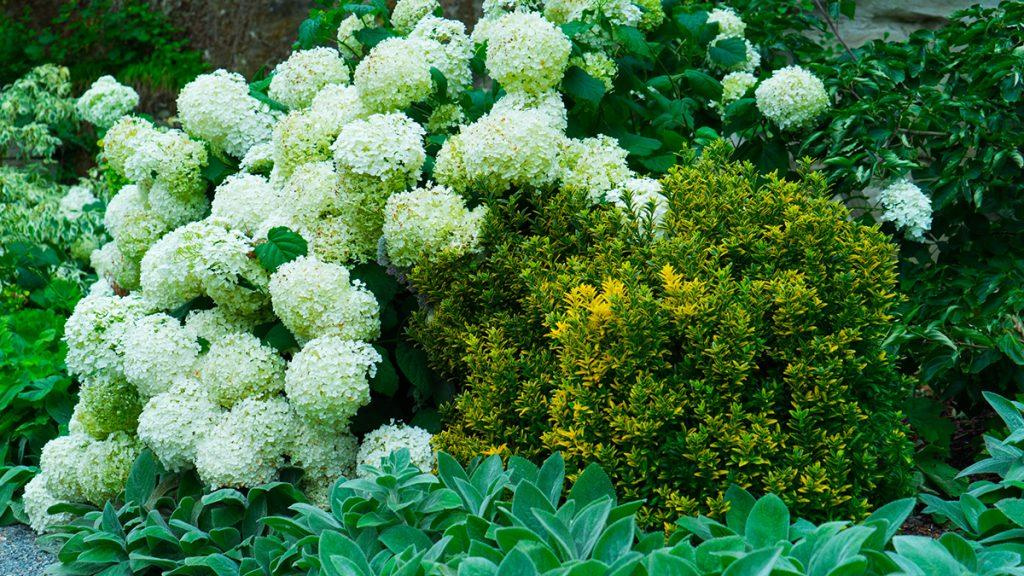 While some plants love and need full sun and others require deep shade, many more blur these distinctive requirements by doing their best in a combo–brilliant morning light and cool, afternoon dim. These are typically the conditions found in east-facing locations which makes these spots fun to garden, as you can have the best of both worlds and a rich plant tapestry.
In this garden, Annabelle Hydrangea, Big Ears Lamb's Ear and Sunny Delight® Boxleaf Euonymus are a perfect example of how to bring this area of the garden to life (this would be lovely against a stone wall, picket fence, or foundations). A quick tip–flowers are wonderful and a must have, but don't forget to add some plants just for their foliage.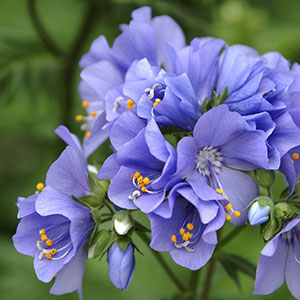 Variegated Jacob's Ladder
Polemonium 'Brise d'Anjou'

Fabulous foliage and bobble headed clusters of violet blue flowers thrive in partial shade. Up to 18″ tall and 2 ft. wide. Herbaceous perennial. Zone: 4 – 8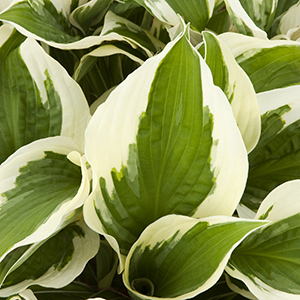 Patriot Plantain Lily
Hosta x 'Patriot'

Hostas appreciate cooler, filtered afternoon light. Compact selection with more heat tolerance. Up to 14″ tall and wide. Herbaceous perennial. Zone: 4 – 8
Peaches and Cream Honeysuckle
Lonicera periclymenum 'Inov 86' PP #21,839

Honeysuckles generally love to soak up morning sun and then release their perfume in afternoon shade. Up to 6 ft. tall and 3 ft. wide. Evergreen. Zone: 4 – 9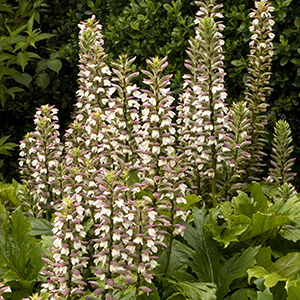 Grecian Pattern Plant
Acanthus mollis 'Oak Leaf'

Not only loves afternoon shade, but dry shade to boot! Great for adding bulk to the back of a border. Up to 4 ft. tall and wide. Herbaceous perennial. Zone: 6 – 11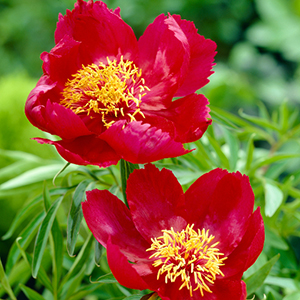 Early Scout Fernleaf Peony
Paeonia x 'Early Scout'

One of the earliest hybrid peonies to bloom! Fern-like foliage remains attractive through summer and fall.  Up to 2 ft. tall and wide. Herbaceous perennial. Zone: 3 – 8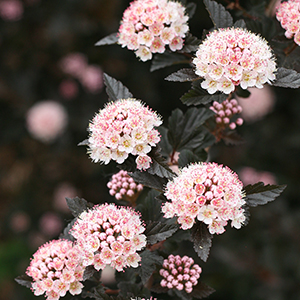 Petite Plum® Ninebark
Physocarpus opulifolius
Afternoon shade helps to hold the rich burgundy colored foliage. Love the pink flowers! Up to 6 ft. tall and 5 ft. wide. Deciduous. Zone: 3 – 8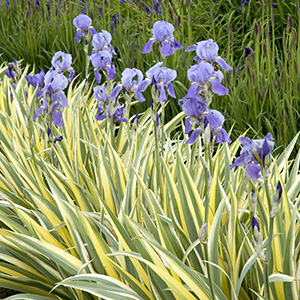 Variegated Sweet Iris
Iris pallida 'Variegata'

This species is more shade-tolerant than many other species of iris, adding color and form to east facing sites. Up to 2 ft. talla and wide. Herbaceous perennial. Zone 4 – 9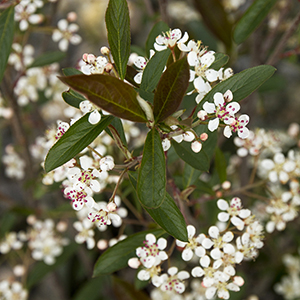 Brilliant Red Chokeberry
Aronia arbutifolia 'Brilliantissima'

North American native shrub with white spring flowers, glossy summer foliage, red fruit and brilliant red fall leaves. Up to 6 ft. tall and wide. Deciduous. Zone: 4 – 9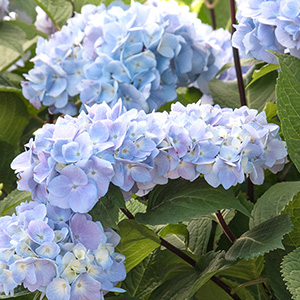 Blue Enchantress® Hydrangea
Hydrangea macrophylla 'Monmar' PP #25,209

Most hydrangeas prefer afternoon shade especially in the warmest zones. Up to 5 ft. tall and wide. Deciduous. Zone: 4 – 9