As the saying goes, "The best time to plant a tree was twenty years ago. The next best time is now."
There are so many benefits to planting trees in our yards. Privacy, shade, habitat, combating climate change, accentuating architecture, and grounding the house. Plus the landscape, beauty, and the value they add to the property.
But what about planting a tree just for its singularly fantastic form–weeping, cascading, contorted–that will never stop being a wonder? It's tall and wide to serve as a landscape centerpiece. Or, something smaller that can be tucked into a bed or container. The romance of a statement tree is a garden treat that's not to be missed.
Here are 16 of our favorite statement trees that range in height and width. There's likely to be at least one that's perfect for your yard. If you need other options for a specific landscape problem or have questions, please leave a comment below.
So uniquely graceful and interesting! Soft, fluffy tufts of green needles become brilliant yellow in fall. Before dropping to reveal tawny drooping branches that weep to the ground. Can be grown in a large container. Up to 12′ tall and wide. Full sun. Zone: 3 – 6
A pair dramatically flanking a walkway or gate or capping each end of a long mixed border. Simply planted in a row against a fence or property line. Over-the-top as a line of running along each side of a driveway or wide path (known as an allée). Or, just in a large container set on a patio, front door landing, or tucked into a flowerbed. Statement trees under 15′ tall have so many uses!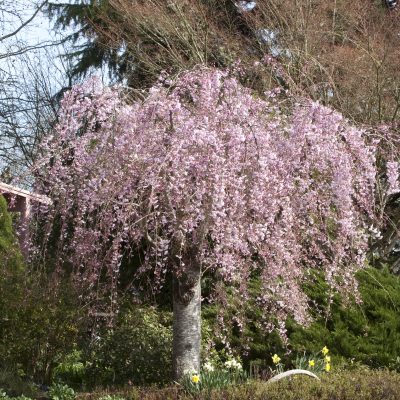 One is spectacular but planted in multiples or pairs flanking a walkway or at the edges of a long border. Its a showstopper. Double pink flowers in late spring. 15 to 20 ft. tall and wide. Full sun. Zone: 4 – 8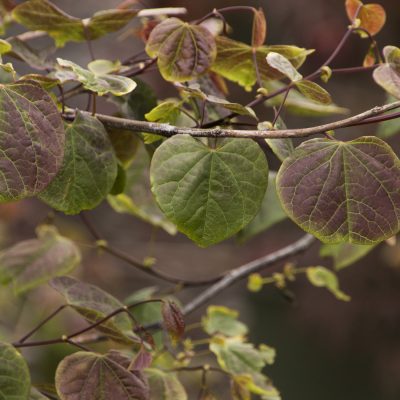 Swoon for the maroon, heart-shaped leaves and cascading, weeping habit that shines in all seasons. Lavender sweet pea-like spring flowers. Knockout in small spaces. Containers, too. Up to 8′ tall, 6′ wide. Partial to full sun. Zone: 5 – 9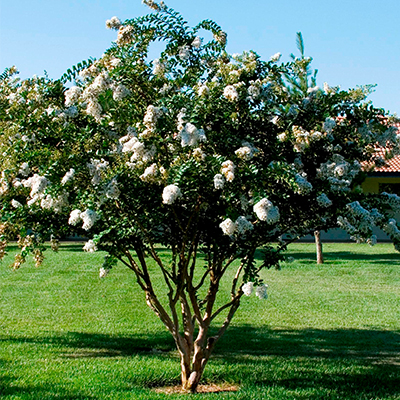 Wonderful dwarf with luxuriously large clusters of pure-white, crinkled flowers that delight throughout the warm summer months. Excellent weeping form, warm, rich fall color, and mildew resistance. Up to 7′ tall and wide. Full sun. Zone: 6 – 9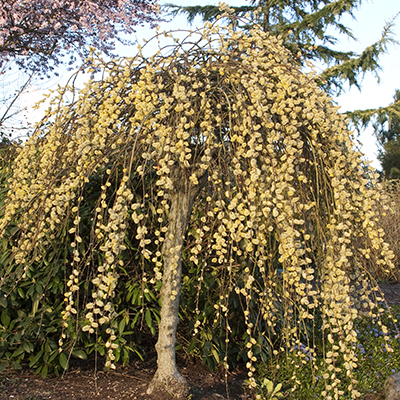 Charming small, umbrella-shape tree explodes into yellow-white pussy willow early spring blossoms prior to leaves emerging. Perfect, unexpected solution tree for wet areas of the yard. Up to 8′ tall, 6′ wide; larger with age. Full sun. Zone: 4 – 8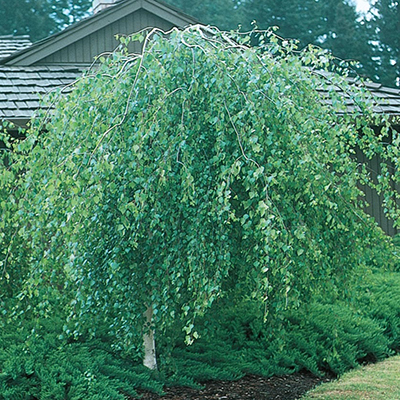 Most unusual small tree with very pendulous branches. Graceful mounding form beautifully displays dramatic, weeping habit. Develops noticeable trunk with age. Wonderful winter bark. Up to 10′ tall and 15′ wide. Full sun. Zone: 2 – 7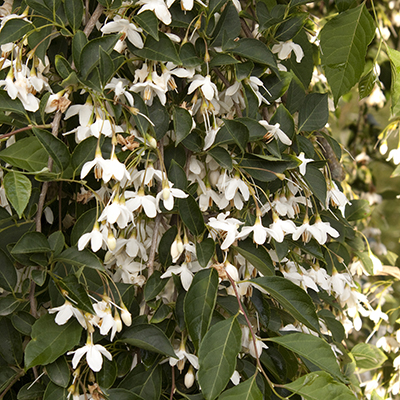 Weeping branches covered in fragrant weeping white flowers? Amazing! Moderate growth rate make this small tree ideal for smaller gardens or containers. Golden fall foliage. 6 ft. tall, 5 ft. wide. Partial sun. Zone: 5 – 8
Planted as a singular sensation in a space where it's scale can be appreciated from all sides. Added to an existing stand of trees to showcase the form and the different foliage. Sited at the corner of a house that needs a punch of leafy impact. Or as a grove of three where you have the room. Statement trees at 15′ or taller have the power to transform a landscape.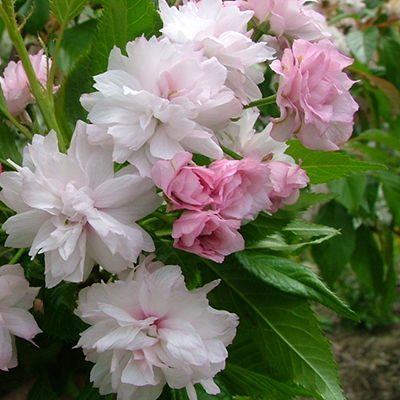 Fluffy, frilly, and fantastically romantic springtime double blooms cluster on weeping branches. Clothed in copper-colored spring foliage that turns glossy green in summer. Fall color, too. Up to 20′ tall and wide. Full sun. Zone: 5 – 8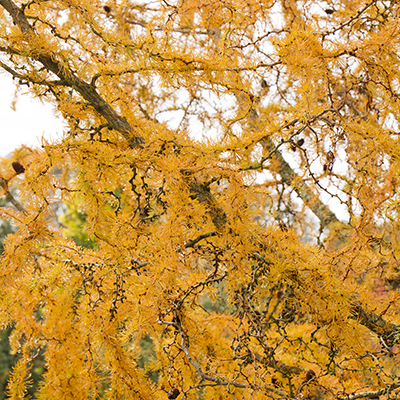 Soft, twirled blue-green needles turn golden in fall before dropping, leaving a bare, twisted corkscrew-like form that glams-up winter landscapes. Add to a cluster of conifers for brilliant color contrast. Up to 20′ tall, 7′ wide. Partial to full sun. Zone: 4 – 8
Japanese maple collector or just want a remarkable tree for a narrow space, this Acer is like no other. Rapid growth shoots straight up and then weeps down. Fall color! Up to 20′ tall, 6′ wide. Partial shade to full sun. Zone: 5 – 7
Rich-purple glossy leaves cloak the cascading branches of this showy specimen. Slower growing, needs no no pruning to maintain shape. Sculptural accent for modern landscapes or to highlight architectural features. Up to 25′ tall, 15′ wide. Full sun. Zone: 4 – 7
Buy a plant marker because everyone will ask about this unique tall and narrow N. American native tree. Drooping branchlets of dark gray-green foliage drape from spreading and upcurved branches. Up to 45′ tall and 15′ wide. Partial to full sun. Zone: 5 – 8
Very cold hardy and those CONES! Excellent when trained in a staked form to feature its naturally pendulous form, creating a dramatic evergreen garden specimen. The effect is just magical. Up to 4′ tall, 15′ wide in natural form. Partial to full sun. Zone: 2 – 8
We hope you enjoyed this little peek into the world of statement trees for the landscape. What's your favorite? Weeping? Cascading? Contorted? Share in the comments below. And, treat yourself to a tree that's just fun to look at!
Did you find this story useful and interesting? Please share it with others who also love to garden (use the icons at the top of this page). And, consider subscribing to our monthly newsletter to be in the know! (Plant Savvy, sent the first Thursday of each month direct to your inbox).