Garden borders and beds created with attention to layers. (Taller plants in back stepping down to medium and then shorter plants.) As well as a mix of evergreen and deciduous plants. This has a three-dimensional effect that looks great and also ensures the garden has legs over a longer season.
Every layer matters. Although the middle layer is likely to be the one that draws the attention as it's typically at eye level. This is your moment, your opportunity, to use all of those wonderful plants. Distinguished by loads of colorful blooms or foliage, and those that have stellar textures or forms.
Conventionally speaking, the optimal way to maximize the impact of the middle layer is to use evergreens in the center. Or, in groups depending on the length of your border, and then flank the ends with more evergreens. This ensures you have something green and lush to look at when the deciduous shrubs are done for the season. The rhythm and movement this creates is a never-fail landscaper designer's trick for building a brilliant border. Of course, this is your garden and a different configuration might work better depending on the plants and the site. The good thing about container-grown plants is that you can lay them out and move them around. Then play until you find what works.
Building a border may seem challenging at the start. However, just applying a bit of design math can turn you into a pro in no time. To help you start, we've assembled a selection of plants that have ideal size and scale for a middle layer. (3′ to 5′ depending on the actual site and dimensions of the border.) We broke them down by groups of zones and then by evergreen and deciduous. If you have a specific challenge or need more advice, please do leave a comment below.
Design Math
While there are no hard rules, try for one evergreen shrub for every two deciduous shrubs in a border. For example if your border needs 10 middle layer shrubs that would be about 4 evergreens and 6 deciduous.
 Remember that blocks of color and texture bring greater impact to a bed than a jumble in ones and twos.
If a plant is naturally greater in scale (such as Red Dragon Japanese Maple) one might be enough. For smaller plants, use groups of three or more, depending on the size of the border.
Make sure to include a mix of textures and leaf sizes- fine, medium, and bold.
A Few Examples of Strong Mid-Layers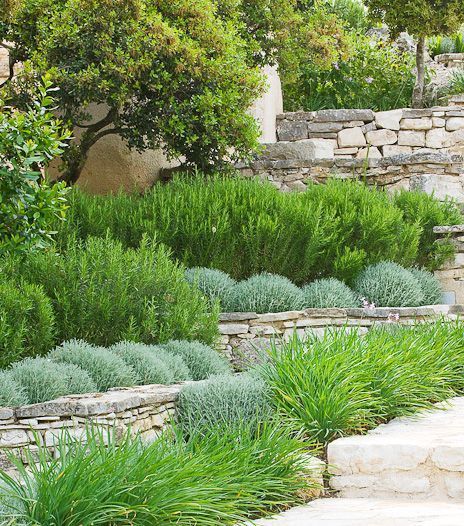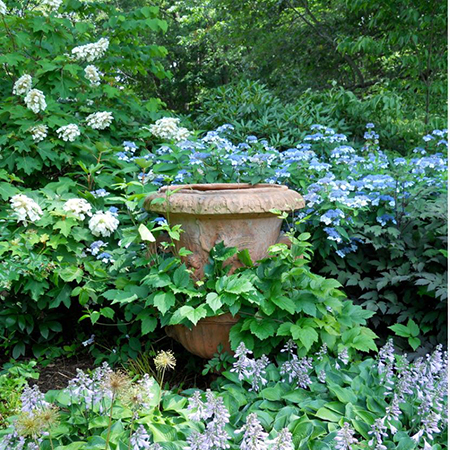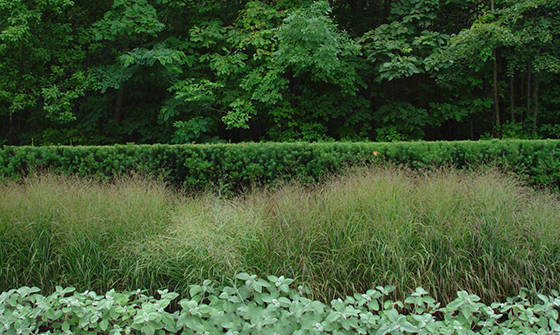 Upper Left: Upright rosemary is a beautiful evergreen middle-of-the-border solution where you want strong form and easy care.
Upper Right: Designer Andrew Grossman used blue hydrangeas as the middle layer of this part shade border. Notice how the eyes go straight to it (even without the great container!).
Left: Deborah Silver designed this exciting border using a double row of middle sized plants (switch grass and Hicks Yew). Clipping the yew into a formal, tight hedge was a genius move. It adds contrast to all of those billowing layers.
Deciduous Shrubs for Zones 3 - 5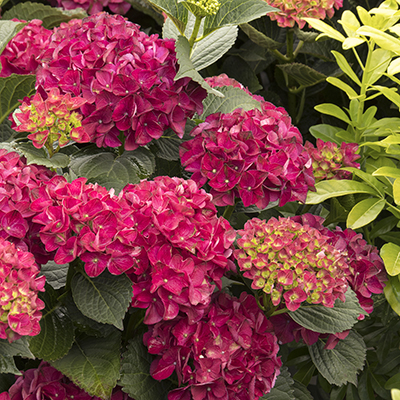 Ruby-red color on mophead blooms not influenced by soil pH. Up to 3.5′ tall, 3′ wide. Partial shade to filtered sun.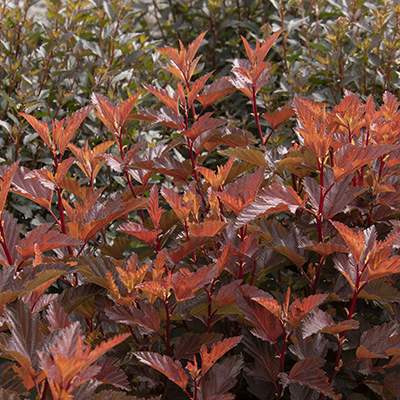 New foliage emerges vibrant orange and matures to a beautiful, warm, burgundy-red, enhanced by the red stems. Up to 4′ tall and wide. Partial shade to full sun.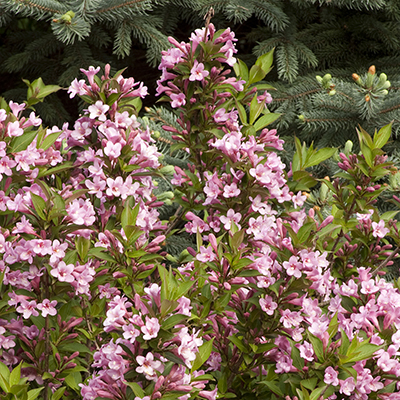 Repeat blooming shrub that produces a profusion of soft pink flowers against dense, green foliage with a neat, dwarf form. Up to 4′ tall and wide. Full sun.
Evergreen Shrubs for Zones 3 - 5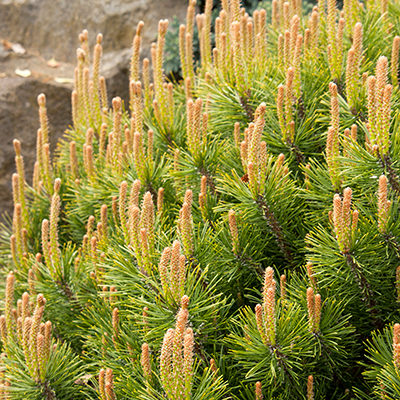 Slow growing, handsome conifer displays dark green needles on dense branches. Ideal for tough spots in groups of three. Up to 5′ tall in 10 years. Partial shade to full sun.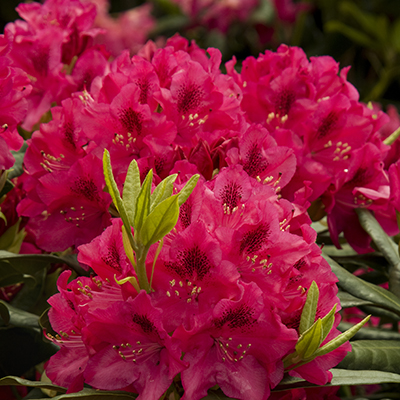 Small, dense, and upright shrub prized for large trusses of showy, bright red flowers. Benefits from protection from winter winds. Up to 5′ tall and wide. Partial sun.
Superb dwarf with golden yellow foliage on a low, mounding form. Use as a centerpiece or to flank edges of a border. Up to 4′ tall, 5′ wide. Full shade to partial sun.
Deciduous Shrubs for Zones 6 - 8
Elegant, versatile, and exceptionally disease resistant with large clusters of pastel- pink blooms. Up to 3′ tall and wide. Full sun.
Three season wonder with bronze-tinged spring growth, rosy-red summer flowers, and brilliant coppery- orange fall foliage. Up to 4′ tall and wide. Partial to full sun.
Compact with masses of big, white flower heads throughout summer. Up to 4′ tall and wide. Partial to full sun.
Evergreen Shrubs for Zones 6 - 8
Compact, more sun tolerant, mid-season bloomer with deep fuchsia-pink flowers with faint scarlet spotting. Up to 4′ tall and wide. Partial sun.
Compact male with dense habit and small, glossy, blue-green leaves that take on a burgundy tint in winter. Up to 4′ tall and wide. Partial to full sun.
Early spring bloomer whose bright flowers contrast rich green and yellow variegated foliage. Partial sun. Up to 4′ tall, 3′ wide.
Deciduous Shrubs for Zones 9 - 11
Compact and disease resistant with brilliant red flowers and vibrant red-purple fall foliage. Slow to 5′ tall and wide. Full sun.
Foliage color transitions from season to season offset by summer blooms. Up to 5′ tall and wide. Partial shade to filtered sun.
Dwarf displays attractive orange-red single flowers at an early age, followed by bright orange-red ornamental fruit. Up to 3′ tall and wide. Full sun.
Evergreen Shrubs for Zones 9 - 11
Dwarf, non-fruiting with a graceful, multi-branching habit. Tolerant of shearing to maintain size and shape. Full sun. Up to 6′ tall and wide in natural form.
Beautiful specimen with upright branches covered with glossy evergreen foliage and long-blooming, sweetly-scented blooms.Up to 4′ tall, 3′ wide. Partial to full sun.
Rugged, deer resistant, evergreen shrub tolerates poor soils, drought, and salt spray. Fragrant and pretty flowers, too! Up to 3′ tall, 2′ wide. Full sun.