So, what's an Itoh peony?
They are a hybrid peony that lives long and provides loads of spring blooms. The result of a cross made between herbaceous peonies and tree peonies, what you get are the huge, gorgeous, lust-worthy flowers and handsome foliage of tree peonies on a bushy, compact, herbaceous plant with tops that die back to approximately 1-2″ above ground level. Best of flower, foliage and form.
No one seems to be able to walk by them without commenting. They are that striking. (Just consider this image of clustered Takara and Bartzella varieties!) Where in your zone 4 – 8 garden could you use a compact, 2-3′ tall, rounded plants with abundant blooms held on strong stems?
Here are five ways to bring these remarkable plants into your landscape.
A mature plant can produce 50+ blooms each season.
Blooms can be dinner-plate-sized.
Colors include pinks, purples, coppers, and yellows.
Lovely shrubby 3-ft tall plant with distinctive foliage.
Gorgeous cut flowers.
Deer rarely dine on them.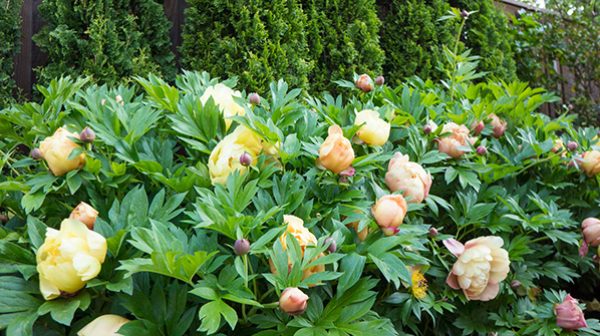 Because Itoh peonies are fast-growing and also grow somewhat more wide than tall (about 2.5 ft. tall and 3.5 ft. wide), they are a rather wonderful choice when massed as a low hedge like the one seen here (this is Singing in the Rain).
In front of a fence, under a taller hedge, fronting a perennial border, or along a walkway, they bring the kind of texture, color, and interesting foliage that makes something as utilitarian as a hedge into a real garden "moment".
Oh, they can also tolerate some level of urban pollution, so city dwellers looking for a courtyard solution take note!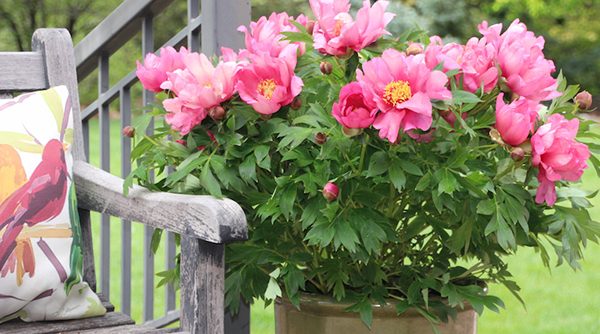 First, growing an Itoh peony in a pot is a temporary, rather than permanent, pleasure. (This is Keiko™ (Adored) Itoh Peony.)
They have large roots so provide a container that's a minimum of 18″ wide and deep and that has excellent drainage. Use a mix of 2/3 potting soil and 1/3 perlite for enhanced drainage. Do not overwater–let dry out a bit between waterings. Place in morning sun or all day dappled sun.
Grow them in a large container for a few years, then un-pot and plant in a bed or border. While not without challenges, the result is pretty WOW.
IN A SEXY SPRINGTIME SHRUB BORDER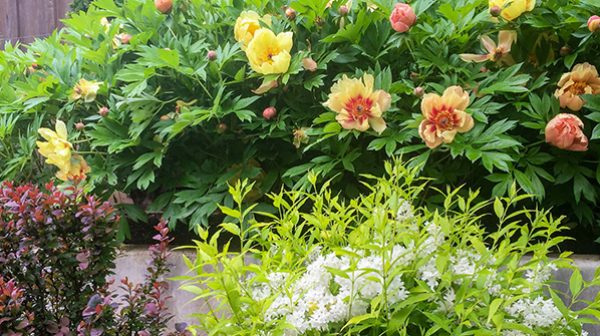 Ephemeral bloomers like Itoh peonies come on with a huge show and then recede allowing the next wave of flowers to take center stage, making then excellent additions to shrub borders. (This Misaka™ (Beautiful Blossom) Itoh Peony.)
In a new shrub border think of incorporating several groupings of three or more at intervals along the length for a major early wave of color and romance. In an existing border that could use a spruce, add a grouping slightly at the front of the border in intervals (such as 1/3 of the way from each end of the border). They look great with boxwoods, lilacs, spirea…you name it.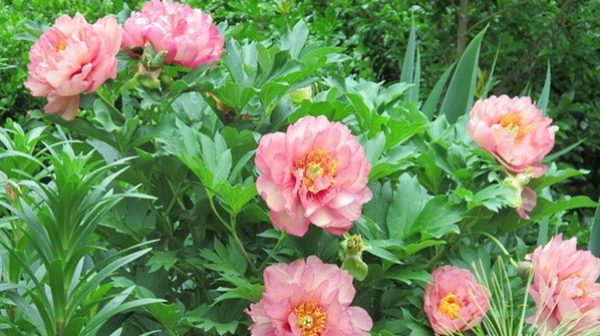 And, then sometimes, one solitary statement plant can say all you need to say about the beauty of nature. We love an Itoh peony at the entrance to the front or the back door, on access from the kitchen window, or at the foot of a walkway, for example.
We promise you an Instagram-worthy moment every spring.
IN A MIXED PERENNIAL BORDER
While they have a sort of shrubby-appeal, the herbaceous part of their nature means Itohs look wonderful when mixed with perennials.
Because they come on early in the season, add them to spots with mostly mid and late season bloomers. Catmint, coneflowers, phlox, lavender, daylilies, Shasta daisy…and of course, herbaceous peonies. Full sun to part shade–both are fine. We love this part shade combination of Yumi Itoh with hosta and coral bells.
Clusters of three to five, please!