This is the time of year when you're more aware of shady spots in the garden. Probably because it's where you've been sitting out summer's high sun and heat. Shrubs can help you to create a shady bower or dress up the outer edges of tall, open-canopy trees. Here are 7 really interesting problem-solving shrubs for part shade. (By which we mean they get sun for half the day and shade the other half).
Not sure what kind of shade you have in your yard? Here's a handy post that spells out the various shade light conditions.
If you have questions or need a recommendation for a specific spot, do leave a comment below!
A beautiful, low-growing evergreen shrub with dark green foliage and lightly fragrant, pinkish white spring flowers. Its dense, compact, upright growth habit makes this a favorite choice for small hedges, screens or foundation plantings. Partial to full sun. Moderate growing; reaches 4 to 6 ft. tall and wide. Evergreen. Zone: 7 – 11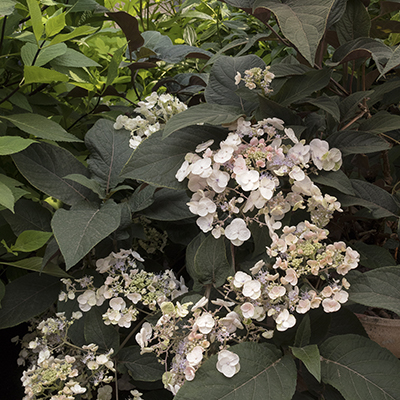 Drama in shade with a dark-leafed hydrangea with bi-color lacecap summer blooms. Partial shade to filtered sun. Reaches 5 to 6 ft. tall and wide. Deciduous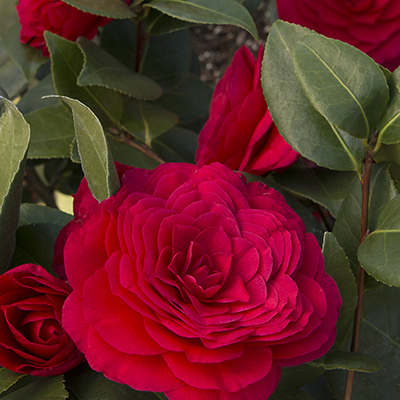 Huge crimson-red blooms open slowly over a long period. Mass plant (wow!), espalier on a wall, or use in a forested setting. Full shade to partial sun. Reaches 8 ft. tall and wide in 10 years; taller with age. Evergreen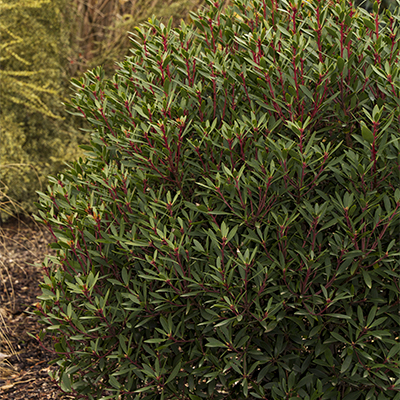 Deep-green leaves, beautiful red young stems, creamy yellow-green perfumed blossoms–and the leaves are edible, too. Partial shade to full sun. Reaches 8 to 12 ft tall, 4 to 8 ft. wide. Evergreen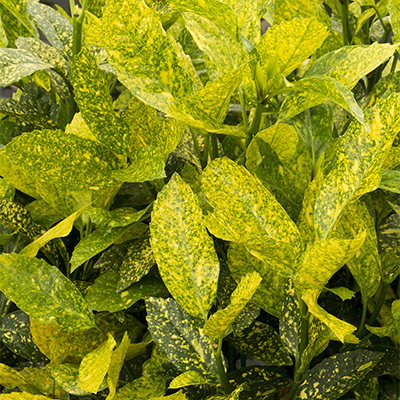 Beautiful source of bold color for the shadiest areas of the landscape. With large, lustrous, dark green leaves heavily speckled with gold variegation. Full shade. Slowly reaches 6 ft. tall, 5 ft. wide. Evergreen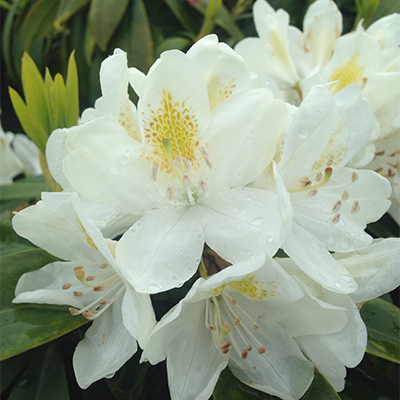 For colder parts of the Southwest, a late to mid-season bloomer with large trusses, each holding white bell-shaped flowers. Partial shade to full sun. Reaches 4 ft. tall, 4 to 6 ft. wide. Evergreen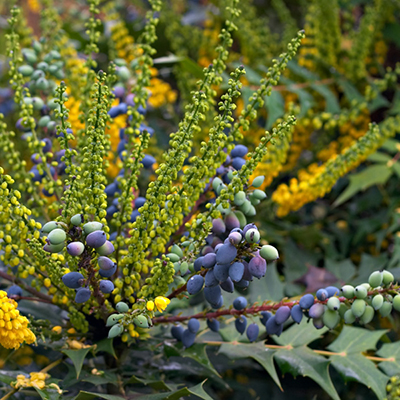 Statuesque with frond-like leaves that grow in whorls. Floral sprays in winter and black berries by late summer and fall. Full shade to partial sun. Reaches up to 15 ft. tall and wide, if left unpruned.