Colder zones may have all that colorful foliage to add excitement to the dwindling light of autumn days. However, in zones 6 through 10, you have something pretty awesome too-the fall and early winter blooms of camellias.
These spectacular flowering shrubs solve the problem of the quiet period. The one between summer's garden riot and the tender beauty of one emerging in spring. Richmond, VA-based landscape designer Monit Rosendale used one variety of camellia for a lush, elegant, totally-want-it hedge. This was to create overlapping multi-season interest in this landscape. The stand of Emerald Green arborvitae shrubs at the opposite end add strong structure. When not in bloom, the camellias keep their evergreen leaves year round.
We like Setsugekka Camellia for early to mid-season bloom (think right around the winter holidays). Or, if you prefer color later, consider Nuccio's Gem. Colder zones (zone 6 or above)? We've got you covered, too. Want even more drama? Add a layer of ground-cover type camellias such as White Doves in front of the hedge.
Tip and Tricks:
For a dense, full hedge, estimate the quantity you'll need. Do so by considering the full size width of your plants and roughly double the total amount of plants. (Example: If you have a 60 ft. span and space shrubs that get 8 ft wide at maturity 4 ft. on center. You would need 15 plants total.)
For much more about how to use camellias in the landscape along with suggested varieties, please visit here.
Need a few ideas for how to use the cut blooms of your camellias? Here are just of few of our favorites.
Questions or need specific plant advice? Leave a comment below.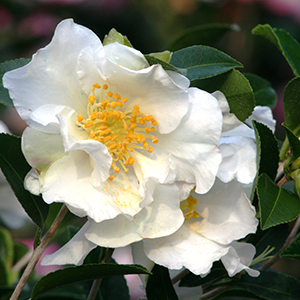 Camellias Perfect For a Hedge