Low-maintenance and shade-loving, Camellias throw themselves into spellbinding bloom from late fall into early spring.
Available as trees or shrubs, Camellia flowers can be as simple as a wild rose. While others are as full blown as a peony. While you'll grow them for the flowers, the evergreen dark glossy leaves look great year round. Here are six ways we love to use them.
Romantic Hedges and Screens
Few Camellias are "fast" growers: they typically reach 6'– 12' in 10 – 15 years. But, if you plan to stay on a property or leave breathtaking beauty behind, plant a Camellia hedgerow. Sasanqua varieties and some hybrids grow more quickly than japonicas. But, the flowers of japonicas last longer, so it's a bit of a tradeoff. To help you decide which Camellia to plant as a hedge, consider your conditions in summer. Sasanqua varieties can tolerate some sun.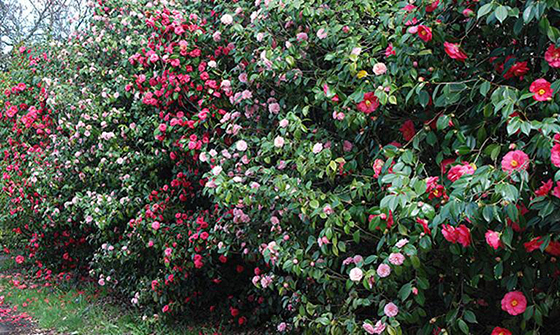 Where space is limited (or you just want a showstopping effect) Camellias can be trained to grow against a wall. Sasanqua varieties, with their open, arching growth are a good choice. Yuletide, Coral Delight, and Apple Blossom (below) are excellent options. Espaliers need work, especially over the growing season. However if you like to prune and shape plants, they're right up your alley.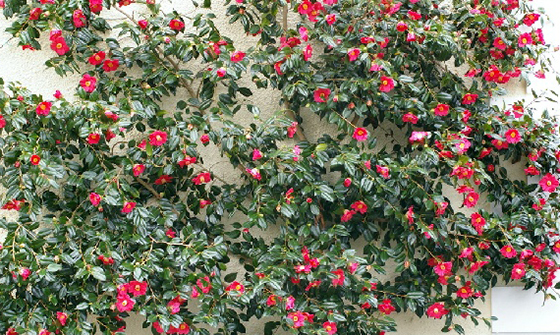 Statement Tree for Winter Interest
Camellias naturally grow as a small to medium shrub, but may be trained as a small tree. Choose a Camellia that's naturally tall and wide, like the three below. Then, just after it's finished blooming, prune away lower branches until you get the look you want. To train with multiple trunks, leave upright stems in place, or keep just three to five of the strongest. Remove the rest and any branches from the lower third of your keepers.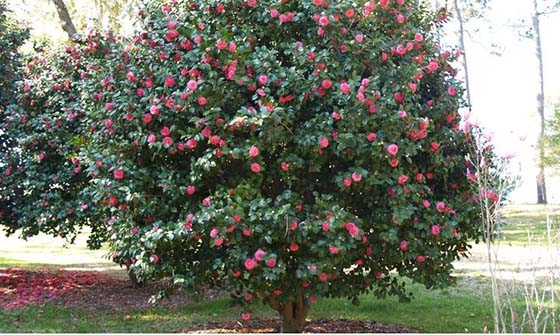 Shady Understory Solution
While most of the more famous Camellias tend to be taller, there are plenty that stay small and compact. These varieties are ideal for planting under tall, open trees where water and soil conditions are compatible. Tall, deep-rooted pine trees are ideal. Avoid planting them under shallow-rooted shade trees such as birch and maple.  These are also a good solution to what to plant along a foundation on the shady side of the house.
While there aren't an endless variety of them, some of the sasanquas have a naturally low-growing, horizontal habit. They make for pretty fabulous groundcover in partial shade. Use them under trees, between taller Camellia shrubs, or on slopes. Anywhere they can be left to ramble and branch out. Deer will munch on the pretty flowers (sigh), but they tend to leave the glossy, deep-green foliage alone.
One of the best uses for Camellias is a way to hide not-so-lovely moments. For instance, unsightly fences or to add privacy. They're perfect for adding a shade-loving "something" you don't want to fuss over.  Side of the garage? Somewhat narrow space along the driveway? The lattice or HOA-installed fence that's not giving you the privacy you want? A wall of Camellia makes all that disappear behind beautiful evergreen foliage. 
How to Grow Camellias that Thrive
Camellias have an undeserved reputation for being hard to grow.
Plant above the soil line: The most common mistake people make is planting them Camellias too deep. The trunk base should be just above the soil line. Add several inches of mulch to keep the roots cool.
In containers: Camellias are excellent container plants. Only if they're planted in appropriately sized, well-draining containers, such as wooden tubs or half-barrels.
Soil pH and composition: They're acid-loving plants that do best when planted in well-drained soil. One that is amended with organic materials such as compost.
Fertilizer: Camellia shrubs need fertilizer, but not when they're in bud or flower. Wait at least a month after they finish blooming. Then apply an acid-based fertilizer every eight weeks until they set their buds.
About bud drop: Some Camellias will drop buds. This can be a natural result of the shrub setting more buds than it can open. Or, more often, because it has not been planted with good soil drainage.
Light and siting: Camellias can add color to a northern or eastern deck or patio. Or, can be placed in the garden when there is filtered light from overhanging eaves or trees. The two most commonly grown kinds of Camellia are sasanquas and japonicas. Sasanquas, with their open, airy structure and smaller flowers and leaves, can handle more sun than japonicas. Sasanquas tend to bloom earlier, too. Japonicas are larger in size, with bigger leaves and flowers, and they thrive in shade. Japonicas tend to bloom later in the season.
Understanding Camellias' Bloom Season
Camellias are categorized by bloom times, and blooming periods can vary for warmer or cooler locations. Here are some general rules of thumb about Camellias' bloom season:
Sasanquas (Camellia sasanqua) bloom early to midseason
Japonicas (Camellia japonica) from mid to late season
Hybrids can bloom anytime from early to late season
Early blooms can happen October to December
Late bloomers shine from April to May

Crave inspiration for using Camellias as cut flowers? Read more