Camellia sasanqua 'Mondel' PP #21,687
Pronunciation: kuh-MEE-lee-uh suh-SAN-kwuh
SKU #02233
OVERVIEW

| | |
| --- | --- |
| Description | This stunning sport from the extremely popular red Yuletide Camellia has large, wonderfully fragrant, deep pink blooms with bright yellow stamens - making a beautiful addition to the cool season garden. Float blossoms in a bowl to enjoy the fragrance indoors. An excellent choice for a colorful hedge, espalier, or border shrub. Evergreen. |
| Light | Filtered sun, Full shade, Partial shade, Partial sun |
| Watering | Water when top 3 inches of soil is dry. |
| Blooms | Winter |
| Mature Size | Reaches 8 to 10 ft. tall and wide in 12 years; larger with age. |
DETAILS

| | |
| --- | --- |
| Deciduous/Evergreen | Evergreen |
| Special Features | Easy Care, Non-toxic to Cats and Dogs |
| Growth Rate | Moderate |
| Flower Attributes | Flowers for Cutting, Fragrant, Showy Flowers |
| Patent Act | Asexual reproduction of plants protected by the Plant Patent Act is prohibited during the life of the patent. |
CARE

| | |
| --- | --- |
| Care | Provide organically rich, well-drained, acidic soil. Keep roots cool with a thick layer of mulch. Water deeply and regularly during the first growing season to establish an extensive root system; reduce frequency, once established. Prune lightly to shape and feed with an acid fertilizer after flowering. |
This Plant's Growing Zones: 7-10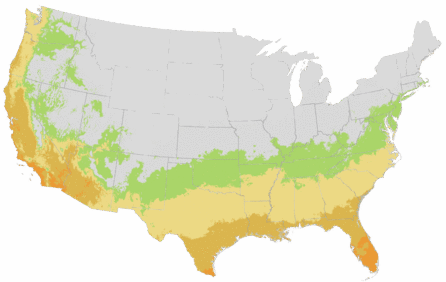 Your USDA Cold Hardiness Zone:
Your climate may be too cold for this plant
Be Inspired
Buy Online
We cannot currently ship this product to your zip code.
Buy Locally
This plant may be available in these stores:
Due to the seasonal nature of plants, availability at your local garden center is not guaranteed. Give them a call before visiting.
More stores near you >