Camellias are coming into bloom in warmer zones. We think this happy moment calls for a bit of trivia. To help us all get to know this remarkable, useful, and drop-dead gorgeous shrub just a bit better. (Did you know any of this? Tell us in the comment below!)
(Above) Kanjiro Camellia is a C. sasanqua type with a dense, semi-weeping habit. Not only does it bloom for months, but it's flowers are wonderful for cutting.
FIRST, LET'S DO THE NUMBERS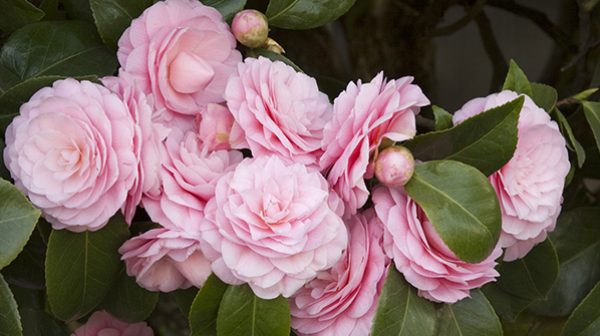 3,000:  About the total number of named kinds of Camellias.
2,000:  Most of those are
C. japonica.
250:   Give or take a few, this is the number of known Camellia species.
5:   Of those, these species are most commonly cultivated as ornamentals.
43:  The number of cultivars we currently grow (like
 

C. japonica

 

'Pearl Maxwell', left).
THEY ARE THE STUFF OF LEGEND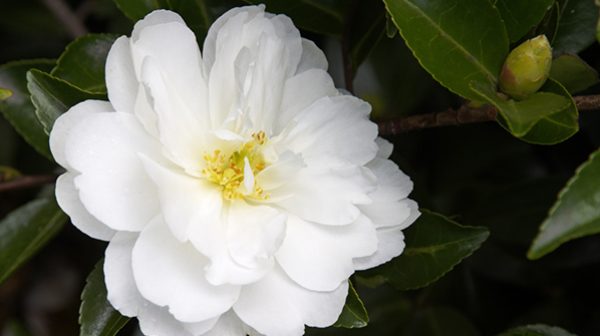 From To Kill a Mockingbird to La Traviata and The Lady of the Camellias. The bloom's symbolism of eternal love, kindness, and purity is so potent. They've had starring roles in movies, books, plays, and an opera.
The Camellia mentioned as 'Snow on the Mountain' in To Kill a Mockingbird. This is also known as 'White Doves' and 'Mine-No-Yuki' (left).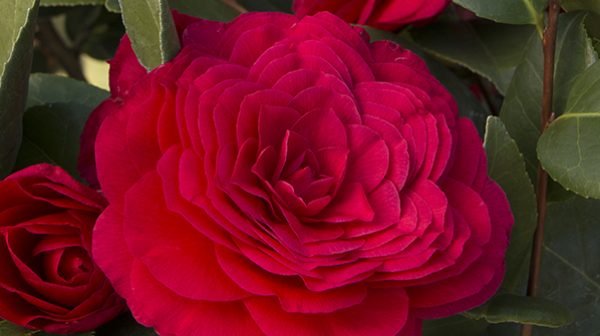 From Japan to Italy, Switzerland to Australia (and of course in the American south) there are more than 500 festivals. These are around the globe and devoted solely to the joy of looking at this romantic flower.
On our bucket list is The Village of Camellias near Tuscany. This is where one can see Camellias that are more than 100 years old. Can you imagine?
THEY DELIGHT FROM SIGHT TO HEIGHT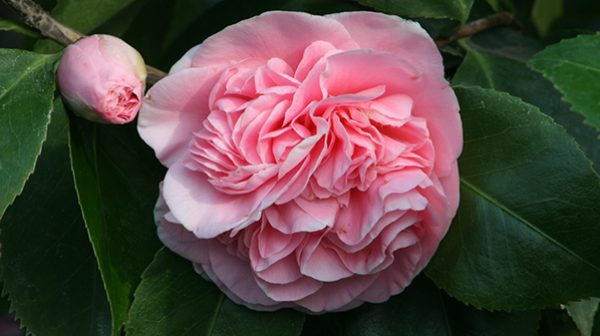 Camellias come in a remarkable range of colors (pink, white, red, striped, cream, etc.). Forms (double, single, and in between). And, sizes (ground covers to tall shrubs that can be made into small trees). But, have one universally admired trait–they are not typically browsed by deer. This is 'Debutante', an early-blooming C. japonica.
Mature Camellias in old forests are known to reach more than 15 meters in height (that's 50 ft. to you and me).
WITH A LITTLE BIT OF PLANNING...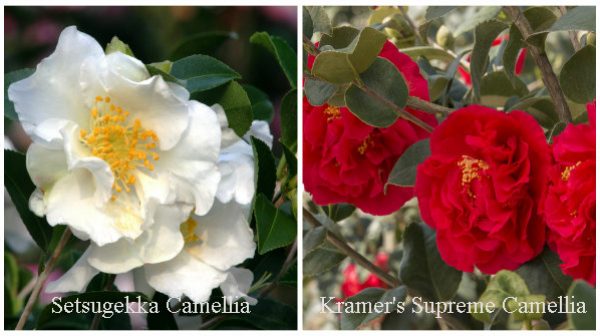 …You could have
 

abundant blooms for 6 months!

 

Camellia sasanqua types bloom earlier, typically starting in September right into late January. Camellia japonica types flower from December until April. Mix and match for a display that'll be then envy of the neighborhood.
Below, we list a few of each type, chosen by our craftsmen who grow them for you.
PROVIDING BEAUTY AND CAFFEINE HIGHS FOR THOUSANDS OF YEARS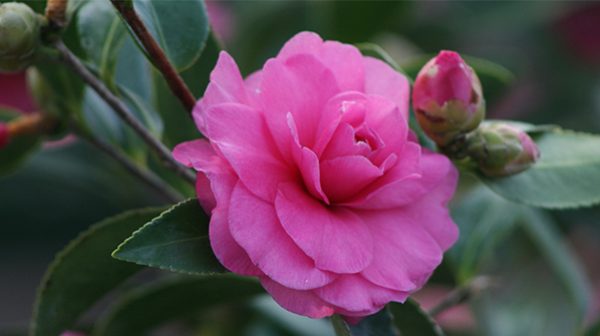 The story of Camellias started around 2737 BC in China. This is when the leaves of one type (Camellia sinensis) reportedly fell from a tree into boiling water. Then, the Emperor flipped for the resulting brew.
It wasn't until the 18th century that Camellias were widely imported into Europe and eventually to N. America. (This is 'Chansonette', an early blooming C. sasanqua)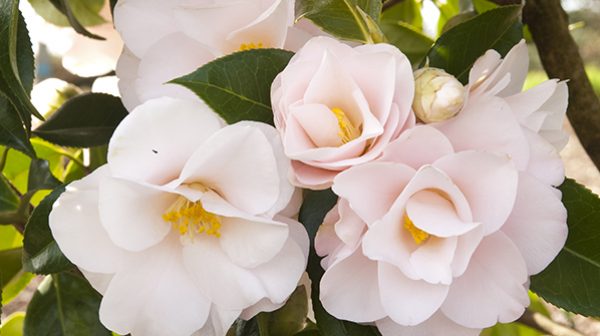 Though they are emphatically NOT divas, Camellias do have their likes.
They thrive in light shade (got a grove of pine trees with a high canopy and slightly acid soil? You're in! If not, just make sure they get afternoon shade.) It should be planted about 2 to 3 inches higher than the surrounding soil. This will allow the shrub to set its roots and sink in.
AND, FINALLY THERE'S COCO CHANEL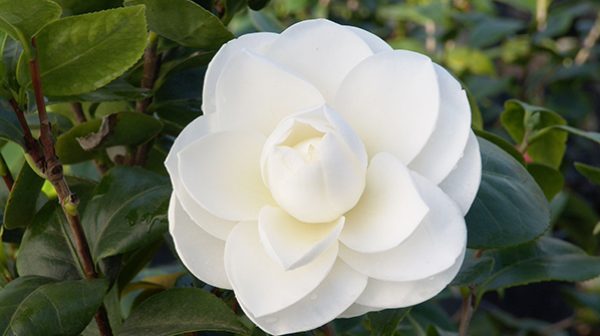 Why were Camellias the favorite flower of famed fashion designer Coco Chanel? She loved the simplicity of the shape. Mostly since when wearing the flower ('Alba Plena' to be exact), the lack of scent meant it never interfered with her perfume. The famous – No. 5.
A FEW MORE CAMELLIAS TO CONSIDER
Wonderfully fragrant blooms, this C. sasanqua makes a beautiful addition to a cool season garden. Up to 10′ tall and wide.
Name says it all! Bloom just in time to clip for holiday arrangements. Up to 10′ tall and wide.
Mid-season C. sasanqua, its a low-grower with low grower with profuse, soft pink flowers. Up to 3′ tall, 8′ wide.
Lightly fragrant, ruffled, pale buttery-yellow flowers on this late season hybrid. Up to 6′ tall and 4′ wide.
First prostrate camellia in the world, a natural groundcover, spilling over walls and out of hanging baskets. Up to 1′ tall and 4′ wide.
Sparkling white, formal, double blooms on this mid-season blooming C. japonica. Up to 8′ tall and wide.
So, that's just a shortlist of what makes this winter flowering shrub such as cherished addition to gardens. Camellias might rival roses for the most passed along of plants and it's certainly easy to see why. If you have questions about Camellias please leave a comment below.
Here are a few other stories about Camellias you might enjoy: