Still have a few planters in shady spots that need filling? Here are three combinations of shade-tolerant plants, each with a distinctive personality. Don't worry if you can't find the exact cultivars noted here. Your local nursery will have plenty of options once you know the look and style you have in mind. And, while we love terra cotta pots, look around during weekend flea market crawls for other options. If it holds soil and either has drainage or you can drill holes, it's fair game!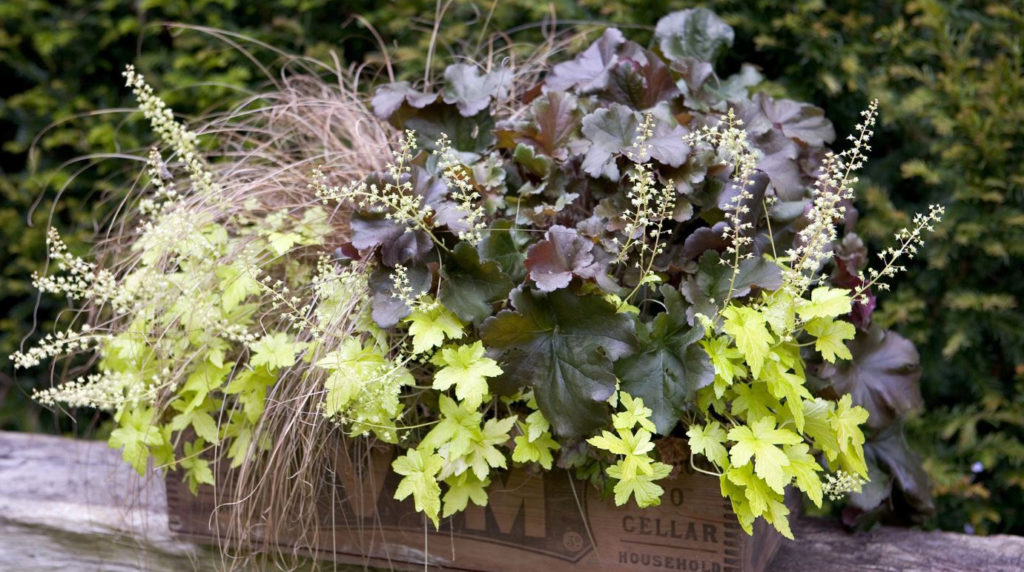 Woodsmoke
This combination of smokey purple-black and phosphorescent chartreuse coral bells, with bark-brown sedge (the frothy grass) will thrive. Place in partial shade or in full sun where it can get some protection from hot afternoon rays. Coral bells bloom from spring right through summer which adds a lively note. Overwinter in an unheated garage or cover with a mulch of leaves in colder zones. Planting in a flea market find such as this rustic crate adds a cottage touch to this exciting, elegant combo.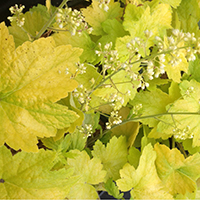 Electric Lime Heuchera
Zone: 4 – 9
Dramatic lime tinted foliage sports dainty white flowers in spring. Heat and humidity tolerant. Reaches up to 16 in. tall.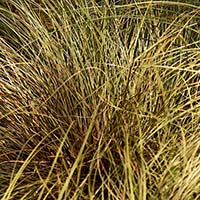 Toffee Twist Hair Sedge
Zone: 7 – 10
Slender, iridescent bronze leaves with an elegant sweeping, trailing habit. Reaches up to 2 ft. tall.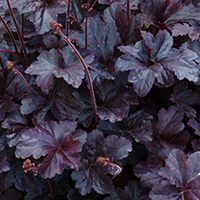 Obsidian Coral Bells
Zone: 4 – 9
Stunningly black, shiny, rounded leaves hold their color all season. Reaches up to 1 ft. tall.
Moonshine
Classic green and white combinations looks good just about everywhere in the garden, from porches to poolside. They really prove their worth, however, when you set them where they can be kissed by moonlight. The reflected light bouncing off shiny, green leaves and brilliant white foliage is spellbinding. Think front-of-the-house windowboxes or large planters on the patio. This combo will thrive in filtered light or in full sun with protection from afternoon sun. It's perennial in warmer zones; cool climates will need to bring indoors and set in a bright window.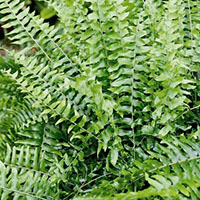 Australian Sword Fern
Zones: 9 – 11
A wind-tolerant fern with deep, dark, lacy green leaflets upon tall and erect fronds. Reaches up to 3 ft. tall.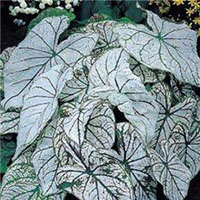 White Marble Caladium
Zone: 10 – 11
Loves shade, tolerates sun. Colorful foliage lasts all season. Reaches up to 2 ft. tall. (Annual in colder zones.)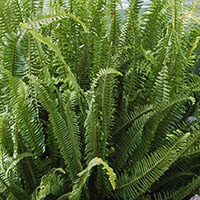 California Upright Sword Fern
Zone: 10 – 11
Semi-erect fronds with lacy green leaflets; clip bright green foliage for floral arrangements. Reaches up to 3 ft. tall.
Fireworks
While shade is a cool and restful place, we can't resist lighting it up with some dramatic, saturated color. What makes this so showy is not just that glowing ember orange, but the play of forms. As well as the shapes-dangling pendants of the begonia, curving fronds of the fern, masses of little-leafed coleus. It's pretty dazzling. Set this one in partial shade to partial sun. (Such as under an arbor or pergola where a bit of light gets in. Additionally, place in a windowbox on the east or north sides of the house, or wherever you get morning sun.) Then, enjoy the show.
BIG® Begonia
Zone: 10 – 11
A summer annual in cooler regions; winter annual in hot-summer regions with mild winters.Reaches up to 18 in. tall.
Stained Glassworks™ Coleus
Zone: 10 -11
From a series of exquisite mounding or spreading multi-colored foliage coleus. Reaches up to 30 in. high.
Bonfire Begonia
Zone: 10 -11
Slender, fluted flowers hang from a compact bush. Handles humidity and heat. Reaches up to 20 in. tall.