The garden slumbers under a blanket of snow (and you mostly hide out inside). Still, the conifers are working hard in winter to keep it interesting in the garden. Shapely shapes decorated with snow and alive with birds and other wildlife seeking shelter and food. You can count on evergreen conifers to bring color, warmth, and life to the winter landscape. From just inches tall to clocking in at 50′ or more, there's a conifer for every landscape need and garden space. Here's where to begin!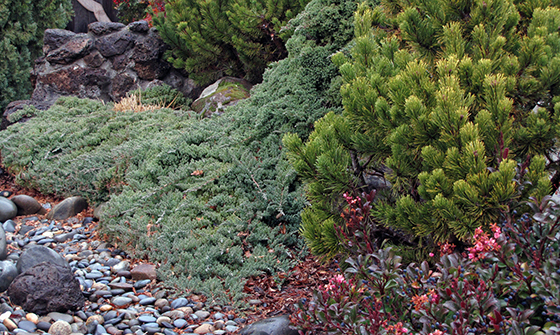 Along driveways, down slopes and berms, creeping between stone and paver stepping paths. Softening rock gardens, low growing, and spreading evergreen conifers. These solve many problems that we often forget to remark on how elegant and refined they look in the landscape. When you need something tough and hardy, but also graceful and colorful, check these out.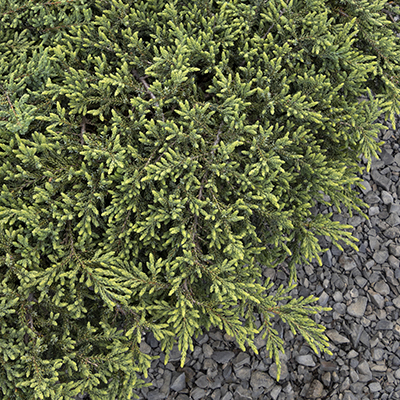 Rugged, low-growing N. American native with whipcord-like branches covered in deep-green needles. Full sun. Up to 6″ tall, spreading 6′ wide.
Use: Slopes, rock gardens, or any well-drained, sunny location.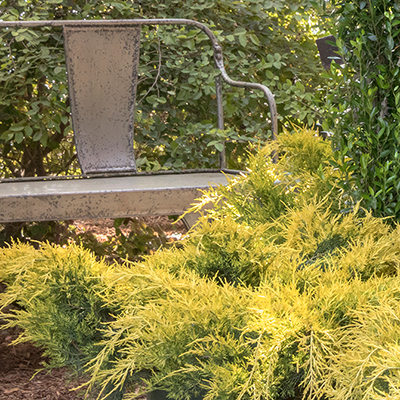 We love how the yellow foliage amps up colors of other plants. Perfect with purple, wonderful with white, and graceful with green. Full sun. Up to 3′ tall, 4′ wide.
Use: Foundations, mixed beds, along stone fences.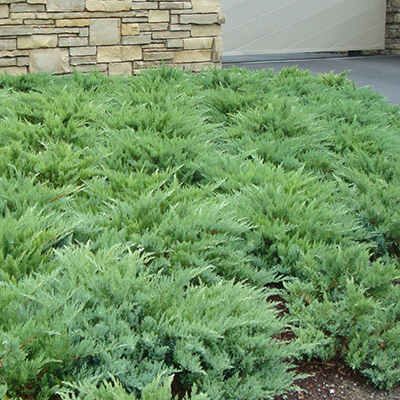 Crisp, bright-green foliage on a dense, mounding form. Excellent winter structural plant for mixed borders. Full sun. Up to 12 in. tall, spreading to 6′ wide.
Use: Erosion control on slopes and banks. Cascading over walls.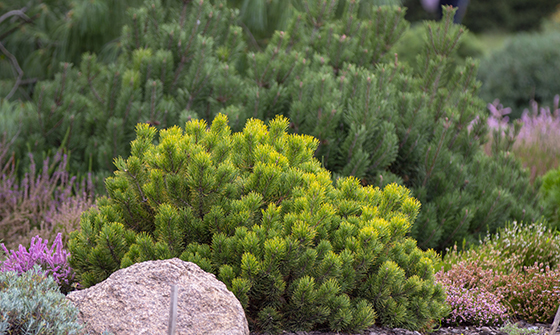 Whether naturally dwarf or just really slow growing, evergreen conifers can top out at no taller than 6′. These provide the sort of structure and form that makes all of that leafy goodness of surrounding shrubs really shine. Use them in groups in borders or dot the ends of beds or line along walkways. This is a tough, evergreen solution for year-round good looks.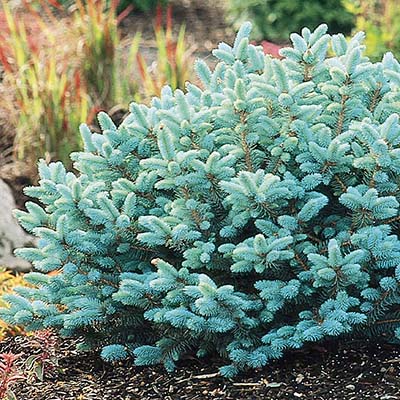 Dwarf, flat-topped and densely branched with bright blue needles that hold their color all year long (but brighter in summer). Partial to full sun. Up to 5′ tall, 6′ wide.
Use: Simply stunning specimen but good low hedge, too.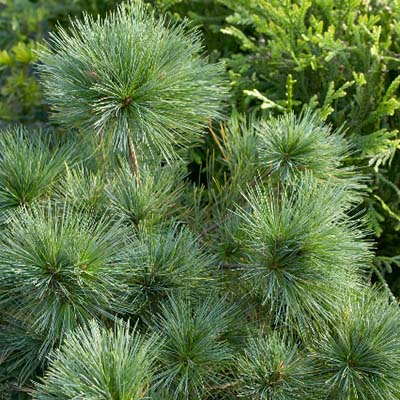 N. American native, easy-care conifer has a dense, dwarf habit with short, blue-green needles that are soft to the touch. Partial shade to full sun. Up to 2′ tall, 4′ wide.
Use: Excellent for low hedges, borders, wildlife habitat gardens.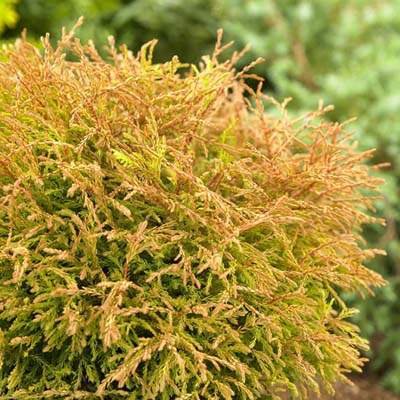 Dense yellow spring foliage matures to golden-orange with hints of lime holding color throughout winter. Partial to full sun. Up to 3′ tall and wide.
Use: Adds fine texture to beds, borders, and containers.
Conifers in the "just right" mid-range size are especially useful in larger borders. They also add height to the landscape. Plus, they soften the corners of a house, flank a front door, or frame features like gates or arbors. This is where you must be vigilant about the eventual mature size. Don't the ones who have to prune your conifers into submission, thereby ruining their inherent graceful shape!
Exceptional form is densely packed with white-striped dark green needles that produce a silvery effect. (And those cones!) Full sun. Up to 12′ tall, 6′ wide.
Use: Shrub borders, foundations, landscape focal point.
Deep-green, densely branched, compact, naturally narrow and conical evergreen with a neat, formal appearance. Partial to full sun. Up to 7′ tall, 3′ wide.
Use: Along the drive or use to create dense garden room walls.
Eye-catching, thread-like needles that weep and drape over entire shrub. Golden-yellow new foliage. Full sun. Up to 6′ tall, 8′ wide.
Use: Landscape specimen, quirky accent, small hedge.
When it comes to some conifers, the skies the limit! They tend to be slower growing than most deciduous shade trees. However, please read and believe the eventual height and plant accordingly. As a general rule, trees up to 70 feet tall should be planted at least 15 feet from your home's foundation. Check with your local garden center for the best regional advice. 
Where you have the space to appreciate the magnificence of a mature conifer, here are a few to consider.
Rugged, reliable N. American native with showy, silvery-blue foliage on a broad pyramidal form. Dense habit resists grazing by deer. Full sun. Up to 20′ tall, 8′ wide.
Use: Single specimen, large-scale screening, hedges, windbreaks.
Pyramidal form with dense, slower growing habit. Heralds spring with bright yellow-gold new growth. Full sun. Up to 12′ tall in 10 years; 60′ tall, 20′ wide with age.
Use: Evergreen accent, windbreak, tall screen, large landscape accent.
N. American native produces a fine, narrow columnar form useful in rows, pairs or as a single specimen. Partial to full sun. Up to 20′ tall, 5′ wide.
Use: Perfect for an evergreen privacy screen or between buildings.
Did you find this story useful and interesting? Please share it with others who also love to garden (use the icons at the top of this page). And, consider subscribing to our monthly newsletter to be in the know! (Plant Savvy, sent the first Thursday of each month direct to your inbox).
If you need specific advice for a tricky spot, please leave a comment below. For even more choices, please consult with your local garden center (find one here).