The little shrub that could. Cotoneasters are fuss-free, berry-making machines that tolerate cold, drought once plant is established, winds, road salt, and salt spray. It can be put to great use as groundcovers or in the case of some varieties, tidy hedges.
They often take a backseat to showier winter-interest shrubs such as hollies (and we get why!). In many instances, they're the better fit. Especially where you have a tough spot and want loads of interesting branches, textures, and winter color.
There are several types ranging from ground huggers to towering hedges. Here we're going to focus here on the low growing types. These are so useful on slopes, edging driveways, bordering foundation plantings, or even in pots.
Need more reasons for a second look?
Light pink or white spring flowers
Beautiful fall foliage and berries that remain stay on the branches into winter
Birds, bees butterflies love them; deer do not!
One of the lowest growing cotoneasters. This one sports tiny white spring flowers followed by showy red berries that linger into fall and winter. Use on banks, berms, and to cascade over walls. Evergreen. Up to 6 in. tall and 8 ft. wide. Full sun. Zone: 6 – 8
SIX MORE WE THINK YOU'LL LOVE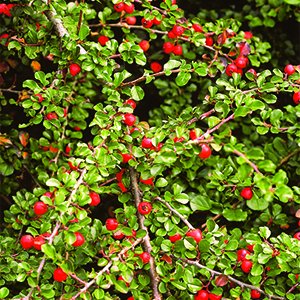 Spreading branches forming a herringbone pattern dotted with white spring flowers and large red fall/winter berries. Up to 2 ft. tall and 5 ft. wide. Full sun.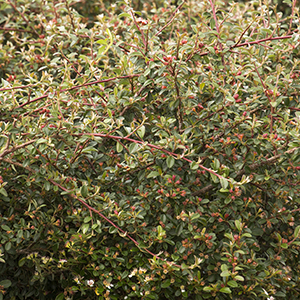 Happy in a very wide range of zones. Use this one where you have plenty of sun, and room to spread. Lovely in a wildlife garden. Up to 2 ft. tall and 6 ft. wide. Full sun.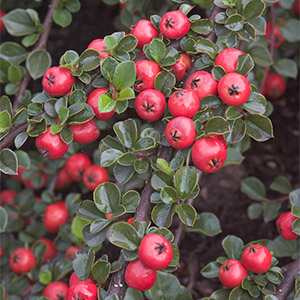 An ideal specimen for a low hedge, or train as a topiary or standard. Lovely paired with dogwoods or roses. Up to 3 ft. tall and 6 ft. wide. Partial to full sun.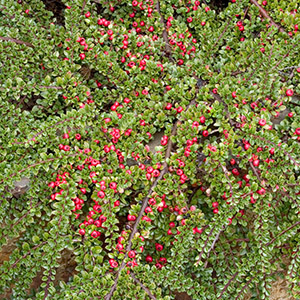 Excellent spreading type especially in fall when cool temps bring brilliant foliage color and highly ornamental red berries. Up to 2 ft. tall and 7 ft. wide. Partial to full sun.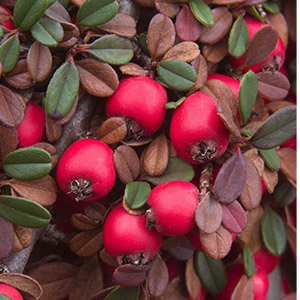 Very low-growing, wide-spreading type with rich gold to orange-red autumn color and highly ornamental berries. Up to 1 ft. high and 10 ft. wide. Partial to full sun.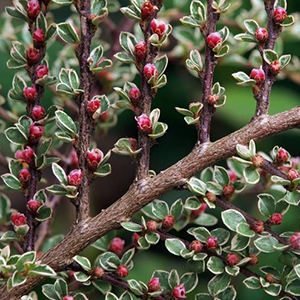 Dainty leaves are edged in white then shaded pink to red in fall, joined by shiny red fruit. Good choice for coastal gardens. Up to 3 ft. tall and 8 ft. wide. Partial to full sun.
Provide full sun or partial shade as noted.
They'll thrive in fertile soils but tolerate any soil as long as it is well-drained.
Provide regular water during prolonged dry spells; more often if planted in a container.
Mulch in spring and again in fall.
Pruning is just a matter of removing wayward branches to keep desired shape. Do not shear, but rather remove entire undesired branches by cutting to the ground.