The thing about a border in a garden is that it's usually a statement-making element. Driven by the style of the nearby buildings and by your own personal aesthetic. Most of us create our garden's borders by digging out a patch of dirt. Then just filling it it with what appeals to us at a garden center. Which is pretty much what gardening is all about–creating a space that works for you and one that you love.
That said, it pays to know a bit about basic garden border styles. To give you some clues and a place to begin. As you will see here. When it comes to border styles, it's not always about what's in it as much as how it's built.
Oh, the difference between a border and a bed? A border is usually backed by a structure–a house, hedge, fence, etc.—and can be viewed from only one side. A bed can be anywhere in the yard–such as an island in the lawn–and can be viewed from all sides.
Design Math:
Here is how to keep things in proportion. The depth of a bed should be roughly one foot deep for every three feet of length:
A bed that's 8 ft. long should be about 3 ft. deep.
A bed that's 20 ft. long should be about 6 ft. deep.
A bed that's 50 ft. long should be about 12 ft. deep.
A formal or classic garden border is laid out with complete regularity on formal lines. In accord with the methods of classic design, the plantings are in symmetrically arranged rows or geometrical figures. You know it when you see it. If this speaks to you, chances are you love balance and clean lines in general.
Unlike their more rambunctious cousin, the cottage or informal border, these types of gardens don't just happen. They begin with a plan, typically laid out on graph paper, with plenty of measuring during installation.
Formal garden borders bring a precision to a space which allows each plant to shine and be admired. They're also an ideal solution for smaller spaces such as courtyards or tight spaces often found between buildings and walls. Here are a few examples of formal gardens scaled for a residential backyard.
Formal borders work well:
In a smaller space such as a courtyard.
In a expansive space where the geometry can be admired.
In a long, narrow space such as between a house and a wall.
In a formal setting, but also in a modern setting.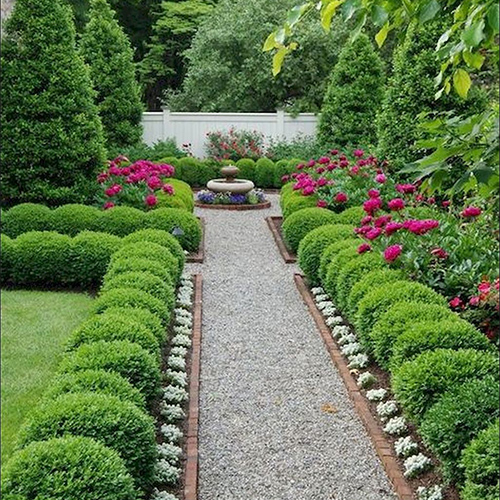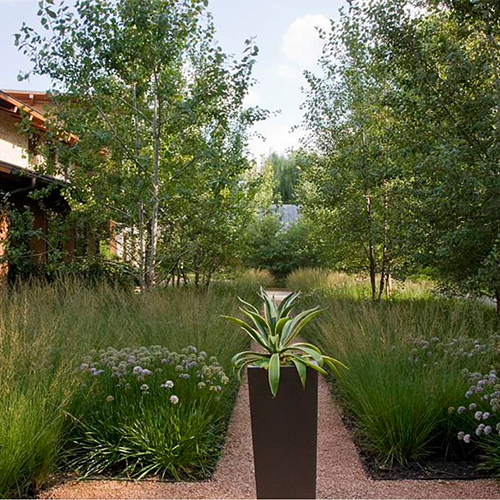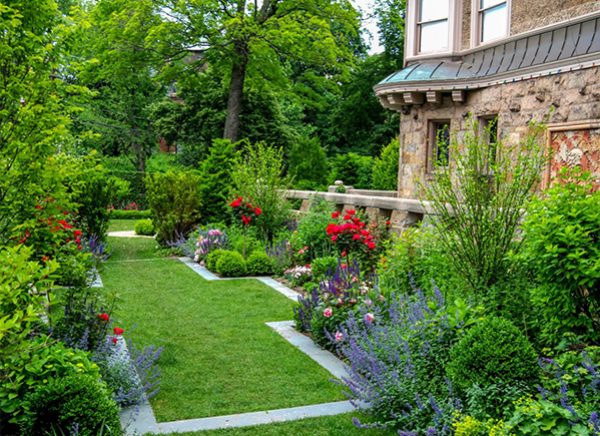 You might think of a formal border as a grand boxwood affair you see in articles about gardens in France. However, each of these are also examples of formal borders.
(Left) The combination of blue stone edging set in crisp right angles. Carefully manicured flower borders create a formal sensibility that's easy to replicate.
(Upper left) Hedged by a perfectly spaced row of boxwood globes and filled with peonies. This is an example of how romantic a formal border can be.
(Upper right) Clean lines and simple plantings set on an axis. This illustrates how a formal garden can work in a modern setting even when filled with billowing grasses.
An informal garden border is laid out with curvy lines. Plus, free-flowing forms with plantings that are more relaxed, more ambitious in their color combinations. They typically feature lots of heights and textures mingled together. It seems like the majority of home gardens feature this kind of border. It's easy to see why–they're just so much fun to look at and to create.
Informal gardens are not usually about focusing on a particular plant. They're more about exuberance and a painterly eye for color and movement. While they seem to be a bit of this and a bit of that. Most informal gardens, done well, adhere to one of the most golden of golden rules of design. Borders look best with groupings of at least 3 of the same plant together. Even better with 5 or 7 depending on the proportions of the border.
Here are a few examples of informal gardens.
Informal border work well:
 Against tall walls or other structures where layers can be appreciated.
Where a deep, curvy border can be accommodated without feeling squished.
As a juxtaposition in a formal setting.
Where a sequence of bloom can be maintained.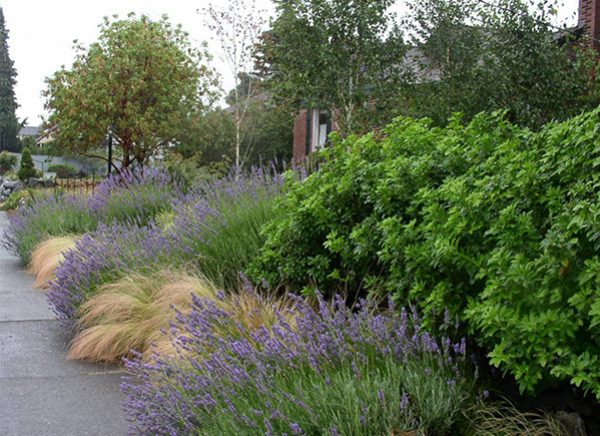 It is true that a "cottage" garden border is the most likely example of an informal garden. The style is not just limited to particular plants. In these three examples, there's not a rose or delphinium in sight, but each is totally informal.
(Left) The formal hedge creates the backdrop that defines this as a border. However, it's the staggered plantings of lavender and grasses tumbling onto the pavement that define it as informal.
(Lower left) Boxwood orbs are so much a part of a formal border. But, used here in small groups softened with perennials against a wall, they're so at ease.
(Lower right) This border proves any kind of planting scheme, even one that's solidly drought-tolerant, can be defined as informal. (If you just keep it soft and have no fear of color.)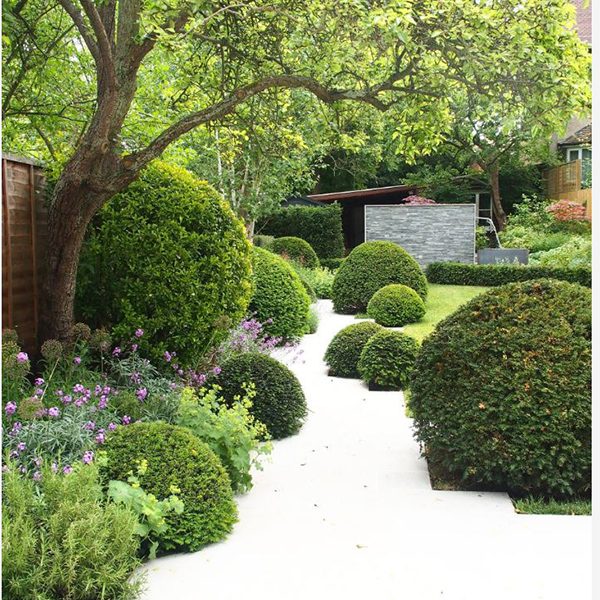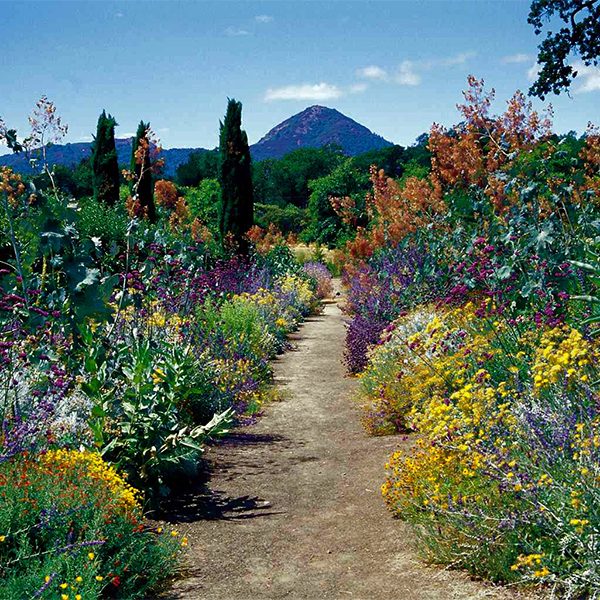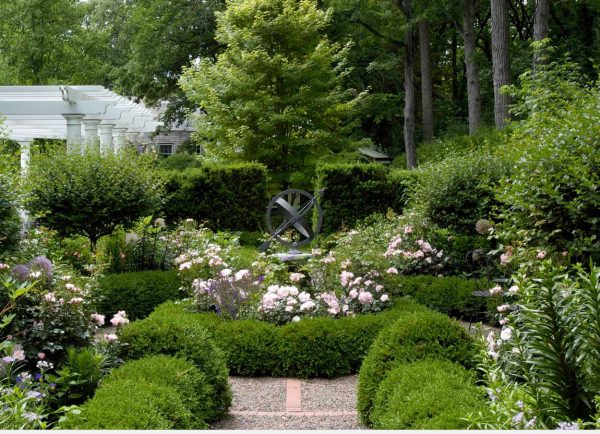 Of course, as with all "rules" there are exceptions. Some garden borders are neither formal nor informal but a mash-up of all kinds of ideas.
Check out the top image–is this formal because of the bed lines or informal because of the layered plants? Or this one to the left with those trademark boxwood hedges yet also a feeling of informality. What do you think?
Tell us about your favorite garden border style. If you have questions or would like more advice on building a border you'll love. Feel free to leave a comment below or email kate@monrovia.
We're here to help you Grow Beautifully!